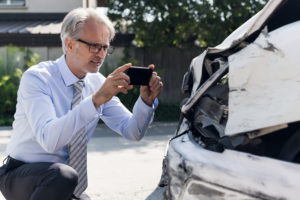 Intact Insurance, Canada's No. 1 property and casualty insurer, confirmed that it has begun to offer photo estimating as an option in Ontario.
Intact says it is "Canada's largest home, auto and business insurer" with a 17 percent market share in 2018, and personal auto represented 37 percent of its direct written premiums last year. In 2017, it had 15.46 percent of the entire Canadian P&C market compared to No. 2 Aviva's 9.67 percent, according to the latest Insurance Bureau of Canada figures.
So the carrier's move to offer photo estimating to Canada's largest province could be significant to Canadian collision repairers and perhaps even offer more fuel for the trend in the U.S.
"At Intact, we are always looking for new ways to improve the customer experience and making the claims process easier and more efficient for customers," Intact said in a statement Thursday. "As an option for customers, we started offering Snapsheet in the auto claims process in Ontario, Canada, in March. The feedback from customers who have chosen this path has been positive as it saves them time – they no longer need to take their vehicle into a shop for an estimate before booking in for repairs."
CEO Charles Brindamour appeared to reference the rollout in the Intact Financial Corporation's first-quarter earnings call.
"Turning to strategy, our core tech renewals are now largely built and continue to be implemented across the country," he said, according to an Intact transcript of the call. "With good progress on the infrastructure, we're now deploying customer experience enhancements at an accelerating rate across lines of business and distribution channels. Earlier this year, customers began to have the ability to use their mobile phones to start a claim right at the site of the accident, loading pictures of the damage to speed up the claims process. Throughout the product lifecycle, options for digital interaction are delivering a faster, simpler experience, while at the same time generating useful data for AI. We expect improvements in customer experience, pricing, and productivity to accelerate as we continue to add to the over 40 AI models currently in production."
Intact external communication manager Hazel Tan confirmed that photo estimating is merely an option for consumers, not a requirement.
Snapsheet first entered the Canadian market in 2018 with Aviva, according to a March 1, 2018, announcement.
"During its pilot program, 93% of Aviva customers chose to opt in and use the virtual claims platform, enabling Aviva customers to settle claims 20% to 40% faster than with traditional channels," Aviva wrote in a news release.
LexisNexis' 2019 Future of Claims Study found 95 percent of carriers using or considering virtual claims processes. The number of carriers using virtual claims rose from 9 in 2016 to 16 in 2018.
In other Snapsheet news, the company announced May 20 it had closed $29 million in Series E funding, part of $71 million raised to date. Snapsheet said Tola Capital led the round, and prior investors Liberty Mutual, F-Prime Capital, OCA Ventures and a USAA affiliate participated as well. New investors included Nationwide, State Auto Labs and Sedgwick.
Intact Financial Group's Intact Ventures invested in Snapsheet at least once before, during a $20 million Series C round closed in October 2016.
Featured image: Photo estimating could continue to grow in popularity in the U.S. and Canada. (D-Keine/iStock)
Share This: