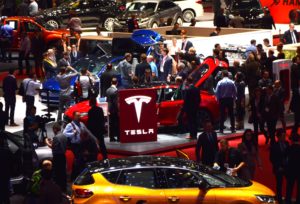 Tesla CEO Elon Musk earlier this month said the company's insurance product was still in the works.
"We're pretty close to being able to release that," Musk said June 11. "We have a small acquisition that we need to complete and better software to write, but it won't be long before we release that."
Musk told investors in April that the OEM's insurance product would come out "in about a month." (Special thanks to Seeking Alpha, whose transcript of the call helped us find and check quotes.)
Musk at the time described the Tesla fleet's telematics as an "information arbitrage opportunity" to know how risky a customer was. Buying Tesla insurance meant a commitment not to drive in a "crazy way."
"They can, but then the insurance rate's higher," Musk said.
Musk's new comments to shareholders June 11 came about a week before Porsche announced Oregon and Illinois vehicle owners can now sign up for insurance policies from the OEM.
The FAQ for the Porsche Auto Insurance on Thursday describes a system focused on repair quality and customer service, as well as privacy. Any Porsche from the 1981 model year forward is eligible.
Porsche will charge a base rate and then an additional amount based on the miles you drive, according to the OEM. The driver merely needs to shoot a photo of his or her odometer and upload it monthly — no dongles or other monitoring is required.
Insurance Technologies Corporation CEO Laird Rixford told Insurance Business America that other OEMs were likely to launch their own insurance, according to a Friday article.
"This is where connected vehicles will be transforming the insurance industry," Rixford said, according to Insurance Business America. "Moving forward, you're actually going to see more of this because car manufacturers are looking for other ways to monetize their vehicles after the sale, and doing insurance plays is always something they've wanted to – it's just without the connections, they've been unable."
Rixford told Insurance Business America OEM insurance programs wouldn't be edging out traditional brokers and agents until 15-20 years down the road, though these comments might have been more in reference to OEMs insuring autonomous vehicles rather than typical cars.
CNBC reported May 4 that Berkshire Hathaway CEO Warren Buffett, whose company owns No. 2 GEICO, didn't see OEMs as a threat.
"It's not an easy business," Buffett said, according to CNBC.  "The success of the auto companies getting into the insurance business is probably as likely as the success of the insurance companies getting into the auto business."
He told Berkshire Hathway shareholders that "I'd bet against any company in the auto business" getting into insurance.
However, OEMs have both a parts and a customer loyalty stake in the insurance claims process, and potentially are far more at risk from poor-quality repairs than insurers. They're also not wedded to 100 years of tradition in how to evaluate risk and charge premiums and can jump right to new telematics-based systems or models of insurance.
Consider Porsche's sales pitch:
"When life happens, we get you back on the road and behind the wheel of your Porsche vehicle as quickly as possible," Porsche wrote. "With Accident Assistance we tow your vehicle to the nearest qualified Porsche Approved Collision Center. Our network of Porsche Approved Collision Centers provides quality collision services and uses Porsche Genuine Parts. Our Claims Concierge is with you every step of the way during the claims process to answer any questions. While your Porsche is being repaired, we provide rental reimbursement on a high-end rental vehicle to drive until your repairs are complete."
Agreed value coverage and diminished value coverage are also standard, Porsche confirmed Monday.
The company opted for a lower-tech pay-per-mile insurance system relying on uploading photos of the odometer monthly rather than in-vehicle tracking. However, Porsche said software does analyze the images themselves to check for fraud.
Porsche partnered with Mile Auto on the coverage — it's not completely going it alone.
A Porsche FAQ stated its insurance included comprehensive and collision. We asked if Porsche felt drivers would be willing to split off those lines of coverage rather than pursue all policies at a single carrier — or even bundle auto with even more coverage, such as home.
"Porsche Auto Insurance offers full coverage auto insurance, including property damage and uninsured/underinsured coverages, to help protect you if your vehicle is involved in an accident or is stolen or damage," Porsche wrote in a response Monday. "Porsche Auto Insurance also offers homeowner, multiple vehicle, and Porsche Club of America member discounts."
Porsche said auto glass coverage also was included in all policies.
OEM certification and insurance might focus more on quality than traditional insurance direct repair programs, which emphasize cost-cutting. But automakers do care about cost of ownership on the front end — such as higher insurance premiums driven indirectly by higher claim costs. With in-house insurance programs, the repair costs would directly affect the automaker.
However, when we asked Porsche if it was requiring further concessions on its certified shops following the launch of Porsche Auto Insurance, it said no.
"There are no specific requirements, caps or limits when it comes to vehicle repair," Porsche wrote in a response. "Porsche Auto Insurance is committed to properly repairing each Porsche vehicle."
More information:
"Tesla Annual Shareholders Meeting" (See insurance comments around 1:54:25)
Tesla YouTube channel, June 11, 2019
"How connected cars will help manufacturers make inroads into insurance"
Insurance Business America, June 21, 2019
"Buffett knocks Elon Musk's plan for Tesla to sell insurance: 'It's not an easy business'"
CNBC, May 5, 2019
Tesla first-quarter 2019 earnings call
Tesla, April 24, 2019
Tesla first-quarter 2019 earnings call transcript
Seeking Alpha, April 24, 2019
Featured image: A Tesla booth is seen at the Geneva Auto Show on March 1, 2016. (Tramino/iStock)
Share This: