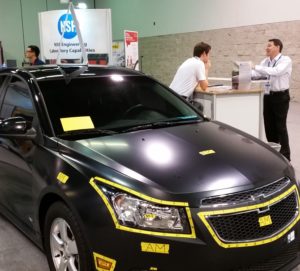 NSF on Thursday announced it would cease certifying aftermarket auto body repair parts and collision-related companies effective Oct. 1.
"NSF International continually evaluates its programs and services and we considered many factors when making this decision," NSF Chief Technical Officer Lori Bestervelt said in a statement. "Ultimately, we are choosing to focus on programs and services that are more directly aligned with our long-term, strategic vision for the organization."
Individual parts manufactured on or before Sept. 30 may be considered NSF-certified, assuming they're part of a parts line that met NSF's criteria. However, any such part rolling off the assembly line Oct. 1 or later can't be called certified.
"NSF certified parts that meet all applicable NSF certification requirements and are manufactured on or before September 30, 2019 will be considered 'NSF certified' for the lifetime of the part," NSF wrote in a news release. "Manufacturers of NSF certified parts may continue selling existing inventories of NSF certified parts after September 30, 2019 as long as the parts meet all requirements and were manufactured on or before September 30, 2019. Parts manufactured after September 30, 2019 are not certified nor eligible to be certified. Any use of a sticker bearing the NSF mark on parts manufactured after September 30, 2019, is prohibited and such marked parts are not certified." (Emphasis NSF's.)
NSF certified parts can be searched here. A full list of parts can be seen here.
NSF certified body shops, recyclers and distributors aren't so lucky. Their certification just expires Oct. 1, period. "After that time, they must discontinue use of the NSF certification mark in advertisements and marketing material," NSF wrote.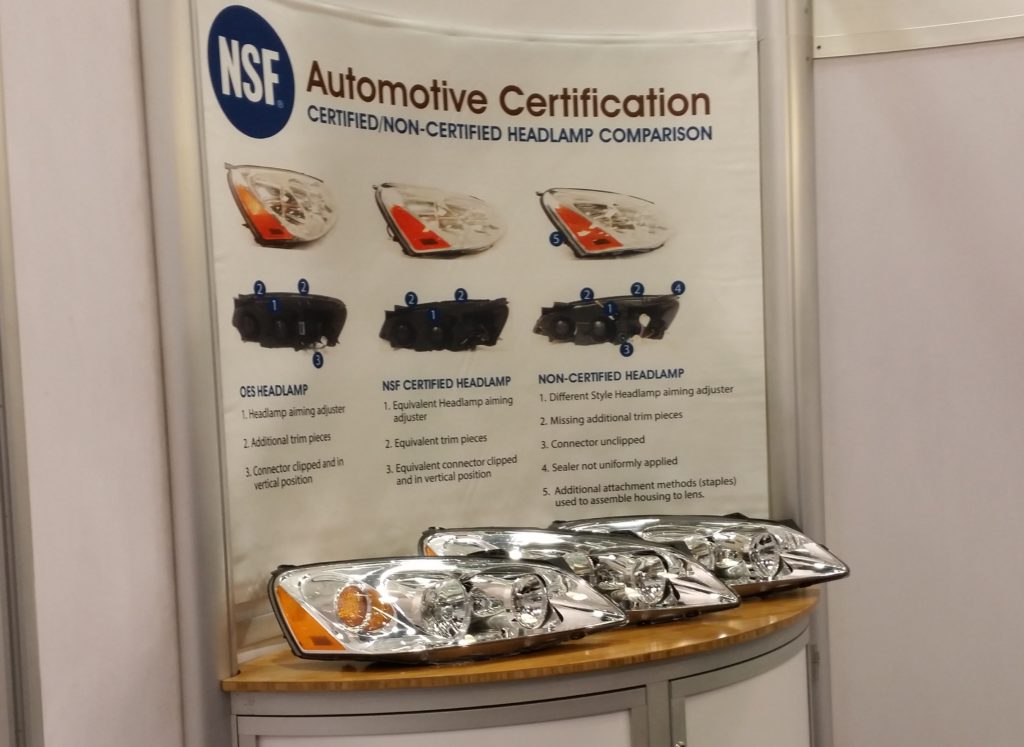 Asked for more perspective into its termination of the programs, NSF senior communications manager Thomas Frey wrote: "As noted in the press release, NSF International continually evaluates its programs and services and we considered many factors when making this decision."
"… As background, NSF International is a global public health organization founded in 1944 with operations in 175 countries. NSF facilitates the development of standards, and tests and certifies products for the food, water, health sciences and consumer goods industries to minimize adverse health effects and protect the environment."
The certifications ending as of Oct. 1 include:
Automotive Parts Certification Program (APCP)

NSF Protocol P367 Light Duty Multi-Purpose Vehicle Step Bumper
NSF Protocol P368 Vehicle Reinforcing Beam (Rebar)
NSF Protocol P369 Vehicle Bumper Brackets
NSF Protocol P370 Vehicle Energy Absorber
NSF Protocol P371 Front Bumper – Multi Purpose Vehicle
NSF Protocol P377 Automotive Exterior Lighting Parts
NSF Protocol P378 Automotive Exterior Plastic Body Parts
NSF Protocol P379 Automotive Exterior Sheet Metal Body Parts
NSF Protocol P472 Front and Rear Bumper Proximity Sensors
NSF Protocol P471 Radiator Support Assemblies
NSF Protocol P474 Rearview Cameras

Automotive Collision Repair Shop Certification
Automotive Parts Distributor Certification
Automotive Recycler Certification

NSF Protocol P470
NSF Protocol P482

Mirror Registration
Camera Registration
Reconditioned Parts Certification

NSF Protocol P509
NSF Protocol P510
NSF Protocol P511
NSF Protocol P512

Automotive Coating-Substrate Registration
Automotive Tire Pressure Monitor Sensor Registration

NSF Protocol P436 (Minor formatting edits.)
The Automotive Body Parts Association said Friday it would keep members informed as it learned more.
"On 6/20/19, NSF made the announcement that they were discontinuing their Automotive Parts Certification Programs," the trade group wrote Friday. "The ABPA has the same level of information received at the same time as the general public regarding the NSF decision. Until we learn more about the decision made by NSF, our members can be assured that there is continued availability of certified collision parts from other entities including long-time certifier, CAPA/Intertek. As we acquire more knowledge from NSF, we will share with our members."
We also asked NSF how it would handle decertifications of parts lines made on or before Sept. 30 and if it'd provide refunds to recently certified companies.
"We are communicating directly with all NSF certified manufacturers, distributors and collision shops," Frey wrote. "Requests for refunds will be handled on a case-by-case basis. Questions can be submitted to nsfautomotive@nsf.org."
NSF as recently as February had celebrated the certification of a regional multi-shop organization: Illinois-based Crash Champions. Contacted for comment Monday, the chain — which also has multiple OEM certifications — said it was surprised by the end of the NSF program.
"Crash Champions was notified on Thursday, June 20th via email that the NSF Certification for Collision Repair Facilities was ending as of September 30th, 2019," Crash Champions said in a statement. "Our entire organization (7 locations) obtained our NSF Certification last year and just went through our reinspection with NSF a few months ago.  While we are disappointed that this program will be discontinued, Crash Champions remains steadfast in our organizational vision and we are fully focused on our OEM Certifications, training and safety.  Our goal remains the same, to have state-of-the-art facilities, filled with only the best equipment and the most highly trained technicians in the collision repair industry."
More information:
"NSF International Discontinues Automotive Parts Certification Programs"
NSF, June 20, 2019
Images:
NSF's NACE 2016 booth. (John Huetter/Repairer Driven News)
A display at NSF's NACE 2016 booth compares certified and uncertified headlights. (John Huetter/Repairer Driven News)
Share This: