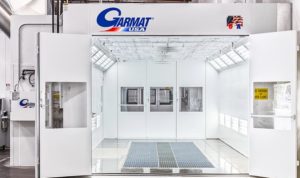 Morganthaler Private Equity has invested in Garmat USA, the collision repair paint booth manufacturer announced Thursday.
MPE Partners said the money would help with "growth," while Garmat described a desire to "enhance our position as the innovation leader."
"MPE's operating executive resources and their long track record of partnering with entrepreneur-led businesses make them a great partner for Garmat USA," Garmat CEO Johan Huwaert said in a statement. "It is an exciting time in the collision repair industry, and we thought it was the right time to bring in a partner with the resources and experience to help us enhance our position as the innovation leader in our industry."
"We are excited to partner with Johan and his team to help them achieve their next phase of growth." MPE Vice President Mike Duffy said in a statement. "Garmat USA has developed a market leading brand in the collision repair sector and industrial applications."
MPE describes its investment strategy on its website:
We invest in lower middle market leveraged buyouts, recapitalizations, and build-ups in two sectors: high-value manufacturing and commercial & industrial services. We focus on working with entrepreneur- and family-owned businesses and corporate divestitures. We target companies where a sustainable competitive advantage, combined with strong management, will enable the company to achieve substantial and sustainable improvements in growth rates, profitability, and ultimately shareholder value.
The firm's portfolio includes automotive suppliers Plastic Components and dhBOWLES.
"MPE is an investment firm focused on high value manufacturing companies," Garmat marketing director and national account manager Debbie Teter wrote in an email. "They have been partnering with entrepreneur-owned businesses for decades. MPE is a growth-oriented investor, focusing on healthy and growing businesses. Johan Huwaert will continue to lead Garmat as the CEO, and the current management staff and employees will stay intact.
"We will maintain our focus on industry leading product design, quality, and engineering support.  With MPE's support, we will be seeking additional ways to serve our distributors, and customers.  We plan to grow with our customers and distributor partners by continuing to innovate and collaborating to address constantly evolving customer needs."
Teter said MPE Partners was the first investment group to work with Garmat.
"The acquisition of Garmat by a private equity firm is another example of PE's strong interest in the entire auto physical damage segment," collision industry financial consultant and analyst Vincent Romans said Thursday.
Romans, founding partner of the Romans Group, said private equity continues to show interest "even with smaller collision repairers today." Firms are investing into the paint body and equipment jobber market, and now they've moved into paint booth suppliers, he said.
"I suggest we'll see additional investments" in other auto physical damage segments "within the foreseeable future," Romans said.
He said that collision repair consolidation slows — though he noted it's by no means finished — "we'll see more interest … in these other segments."
More information:
"Garmat USA Announces An Investment From MPE Partners"
Garmat, June 27, 2019
Featured image: A Garmat USA paint booth is shown. (Provided by Garmat)
Share This: