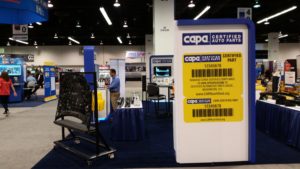 Following NSF's announcement it would cease certifying aftermarket copies of OEM parts, the Certified Automotive Parts Association on Tuesday said it was "fully committed" to continuing its work.
"CAPA's commitment to the aftermarket industry spans more than 30 years," CAPA Chairman Clark Plucinski (Collision Repair Education Foundation) said in a statement. "We understand that the recent developments in the aftermarket parts certification industry have caused concern amongst stakeholders, but CAPA is fully committed to servicing the industry with the same diligence and passion we have since our founding."
CAPA has standards for metals, plastics, "Nonwoven Fabric," bumpers, radiators, condensors, mirrors and backup cameras.
"Over the past several years CAPA has maintained double digit growth year over year, in certified part applications available to the industry. CAPA intends to accelerate this trend over the coming years, through the development of additional standards across a wider variety of replacement parts," Plucinski said in a statement.
CAPA is working on a glass standard now.
"CAPA will work individually with various stakeholders to minimize the impact of recent changes in the automotive parts certification business," Plucinski said in a statement. "We will reach out to determine areas CAPA can develop solutions or programs to support the industry, and we look forward to industry feedback."
Plucinski said CAPA wouldn't compromise its standards.
"CAPA's mission is and always has been to offer the market high-quality, fairly-priced parts that are functionally equivalent to the car company brand replacement parts," he said in a statement. (Emphasis his.) "As stated in the press release, CAPA's commitment to the aftermarket industry spans more than 30 years. The CAPA standards are approved by a multi-industry Technical Committee who meet regularly to review, develop and approve any changes. Suggesting we compromise the quality of CAPA Certified parts by 'relaxing' our standards would not serve our long-standing mission."
LKQ confident
LKQ on Thursday also weighed in on NSF's departure. The publicly traded aftermarket parts giant frequently reports increases in certified part SKUs to investors, likely because some insurers' insistence on only certified aftermarket parts makes that inventory an important sales factor.
Any parts manufactured after Oct. 1 can't be considered NSF-certified. However, any copies of a certified part made on or before Sept. 30 will retain NSF status, a point an LKQ executive stressed Thursday.
"The notification describes that all NSF certified parts that meet all applicable NSF certification requirements produced before September 30, 2019 will be 'NSF Certified' for the lifetime of the part," LKQ North America insurance, sales and marketing Vice President Terry Fortner wrote Thursday. "LKQ is the industry leader in providing quality Aftermarket Collision parts and will continue to stand behind any NSF certified part sold prior to and after September 30th with our 'Promise of Protection' and 'Limited Lifetime Warranty' policies."
Fortner said many of LKQ's parts carried dual certifications.
"LKQ has a high level of confidence in all certification processes and the control of quality parts we distribute within the KeysIQ quality program," he wrote. "Many parts are dual certified; LKQ Product Management and Quality Assurance teams are in the process of reviewing parts that may be unique to NSF Certification to minimize any availability concerns short and long term. LKQ will continue to support certification processes and encourage manufacturer participation to bring quality collision parts to the market.
"In summary, with our KEYSIQ program and our Promise of Protection, we feel very comfortable and confident going forward."
LKQ is also affected by NSF's decision to end its certified distributor program effective Oct. 1. Unlike parts, NSF's certifications for distributors and other automotive businesses (including body shops) won't be retained after that point.
Fortner said LKQ would continue to uphold NSF and other standards anyway.
"The notification also includes the discontinuation of the Certified Distributor program of which LKQ – Keystone was the first participant," he wrote. "LKQ will continue to follow ISO 9001 distribution requirements as well as guidelines set forth by NSF's certified distributor program that are important practices for distribution controls and our Insurance partner concerns."
More information:
"CAPA Reaffirms Its Ongoing Commitment to the Collision Repair Industry"
Certified Automotive Parts Association, June 25, 2019
Featured image: The Certified Automotive Parts Association booth at NACE 2016 is shown. (John Huetter/Repairer Driven News)
Share This: