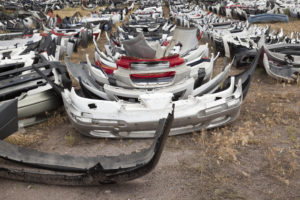 Collision repairers, auto recyclers and OEMs might have a new and potentially lucrative means of disposing of bumper fascias: Give them to the plastics industry to melt down and reuse.
The Plastics Industry Association in May said its End-of-Life Vehicle Recycling Demonstration Project successfully proved that "valuable" thermoplastic polyolefin ("TPO") could be collected from bumper fascias.
As described above, the initiative isn't intended to refurbish or resell bumper fascias — something OEMs and some shops oppose. The plastics industry researched turning fascias into shredded or pelletized stock that could be converted into new plastic products.
Bumper seemed like good targets because there's an average of 20 pounds of plastic per vehicle there and the material is consistent, according to the association. The trade group described the TPO inside as better than your average plastic — it's a "higher value material, containing a valuable rubber package for improved impact and durability."
Testing revealed success with fascias both carrying paint and with the coating stripped off by plastic recycling companies.
Plastics Industry Association industry affairs Vice President Kendra Martin said the paint actually might be desirable. It provides the additives a plastics company might have to add anyway and brings down the TPO to a lower price point, she said.
"Overall, all participating recyclers confirmed that if the bales of TPO bumpers are prepared according to the Institute of Scrap Recycling Industries (ISRI) specification, the ELV bumpers could be reprocessed at a cost less than prime TPO," the association wrote.
The association said auto shredders didn't see an economic benefit to removing bumpers from what are often crushed cars before the vehicle was fed into a shredder. However, "Auto Recycler Association (ARA) members were keenly interested in understanding the economic potential that existed for recovery of TPO bumpers."
The ARA built a calculator for members to see if removing and selling fascias to the plastic industry made economic sense, and a version of the item might work for body shops as well. It can be found here.
The project could be ideal for body shops in that they're naturally removing fascias and stripping them of unwanted contaminants like metal clips during the course of business. (Though the plastics recyclers have gadgets to remove some of that stuff too.)  As the plastics association report states:
ACI received 2,513 lbs. of post-consumer automotive bumpers for the Phase III project. After dismantling the parts, we were only able to recover 1,269 lbs. There was a tremendous amount of metal, lights, rub strips and other parts (assemblies) that should not be allowed on a bumper for this program. Under normal operating circumstances, the entire load would have been rejected and sent back to the vendor.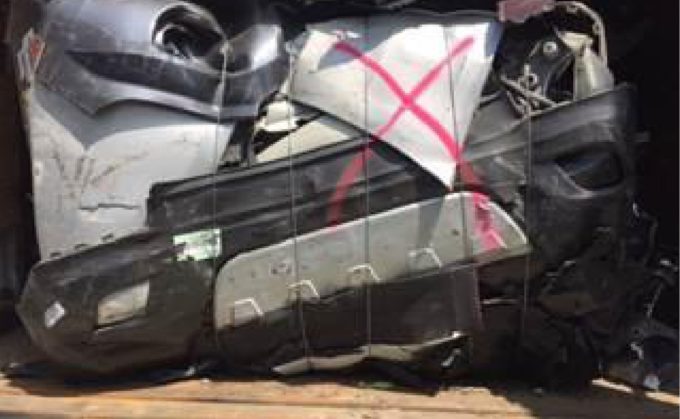 Selling the plastic scrap to be melted down could be particularly attractive to repairers whose OEM core programs only require a piece of the original part rather than the complete fascia.
After all, Consumer Price Index data showed trash costs rose higher than inflation over most of the past decade, spiking 4 percent in 2018 compared to the 2.4 percent inflation seen for all items that year. It's continued to rise between 3.9-5.1 percent year-over-year in each of the first five months of 2019.
Waste Business Journal in 2018 reported that the national average cost per ton of landfill waste in 2017 was about $50.30 per ton.
So if a repairer could send fascias to the plastics industry for lower net expense than the cost of a landfill — or better still, make a net profit on the process — it could be a pretty good deal for everyone involved.
Martin said the trade group has members trying to line up a steady stream of product.
Body shops, "they have a ton," she said. She said she met many repairers at the 2018 CIECA symposium, and "that really is where they probably are."
One question surrounds the "reverse logistics" of collecting enough fascias in one place. However, Martin said for a shop it could be as simple as filling a gaylord (a big box for trash) and, "when it's full, call us."
"They are looking for the volume," she said.
So it doesn't sound like you'd necessarily be required to have a means of baling the fascias on site despite the association stressing the ISRI baling standard and space as barriers to auto yards:
The second barrier was space for storage and baling of bumpers. To optimize transportation costs, recyclers need to obtain maximum densities and truckload quantities. This requires operating a baler on site, having a forklift and the space to house a trailer onsite. If collection points are unable to optimize shipping, the economics of transportation alone can wreck the economics of the effort, even more so than the labor costs for recovery.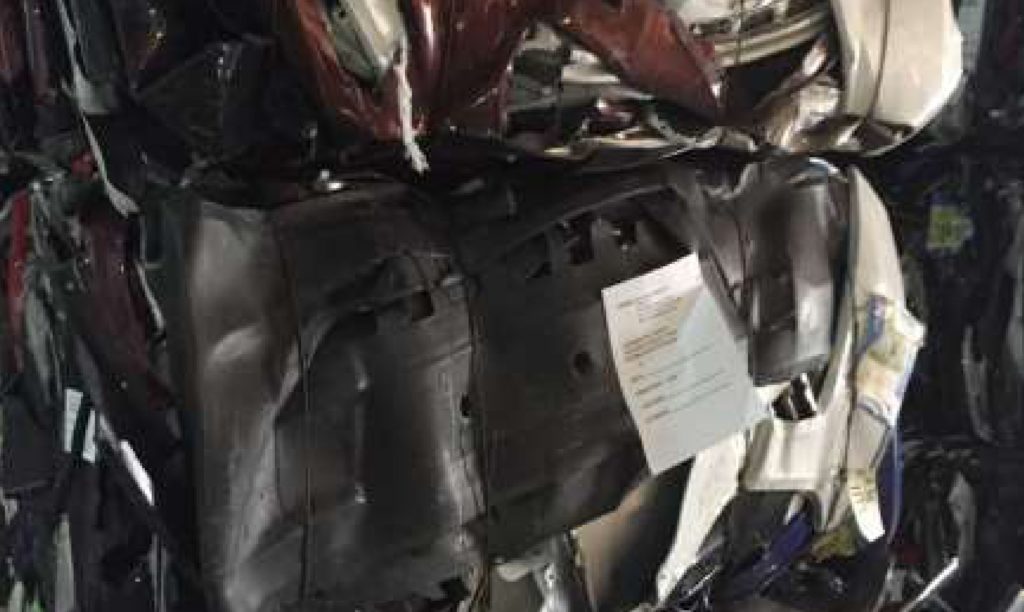 Another issue lies in making the recycled plastic price-competitive with virgin stock, according to Martin. Our current state of low gas prices mean a plastics manufacturer can just buy the new stuff, she said.
However, there's a marketing benefit for companies to say they're using recycled material, Martin noted. (One wonders if there's any regulatory benefit as well.)
She said one OEM is looking into the process, viewing it as a way to create a supply chain with collision repairers that improves the automakers' ability to audit the fascias are being destroyed.
If you're interested in the fascia recycling effort, contact Martin at 202-974-5239 or KMartin@plasticsindustry.org or one of the other association personnel listed on Page 32 of the Phase II-III report. The association also has a list of participating plastic recyclers if a shop owner wants to take the initiative and set something up directly with one.
"Through these phases of research, it has become clear that efficient collection of ELV bumpers remains the greatest barrier to scaling up the recovery of ELV bumpers across the nation," the report states. "It is our recommendation that further recovery opportunities be explored with other industry sectors, including auto body repair shops, which are removing bumpers through their normal course of business."
Program research
The plastics association's Phase I and Phase II-III reports shed additional light on why plastics processors want stuff removed from the fascias and what kind of products your bumpers could eventually yield.
Phase I of the project saw auto recycler Gary's U-Pull-It sending 4,500 pounds of baled bumpers to Geo-Tech Polymers in 2016.
"The material was generally prepared as agreed-upon; however, the bumpers did require some manual sorting and preparation prior to separation," the Plastics Association wrote.
Contaminants included headlamps, nylon and metal clips, and acetate bumper covers included by mistake. After removing such items, Geo-Tech shredded the bumpers and then fed the result into a system to separate out paint and other impurities. This produced a "very uniform TPO pellet, free of visible impurities," according to the Plastics Industry Association.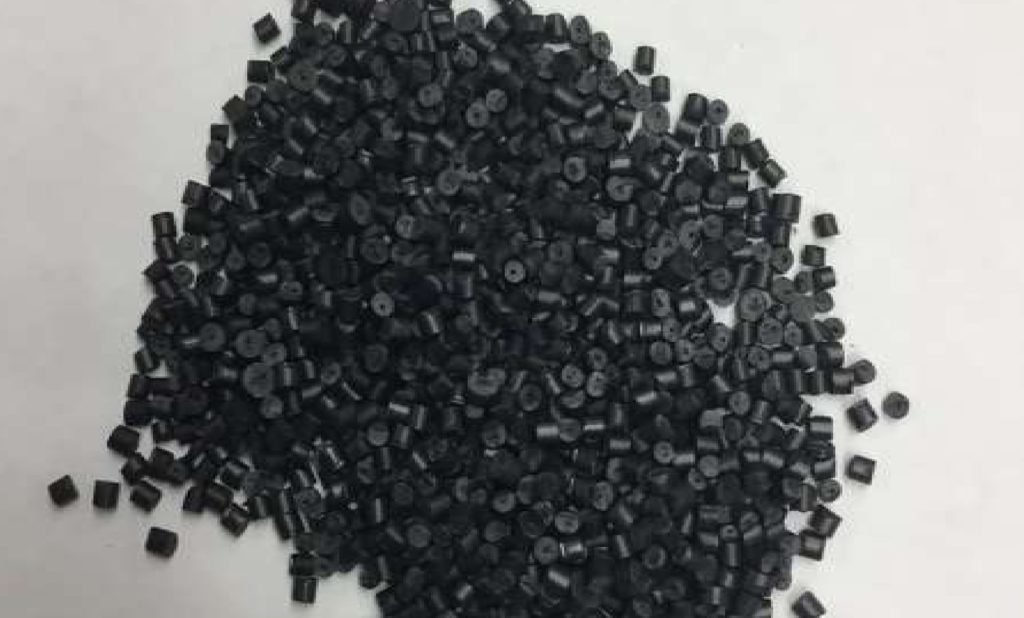 Compared against ASTM standards, the material indeed had "desirable physical properties, including high strength, low moisture and high resistance."
Bumpers removed by a collision repairer or auto recycler would be considered "post-consumer." Geo-Tech also has experience processing "post-industrial" bumpers, which refers to bumpers discarded at the factory level.
"Post-industrial TPO material is of high value and quality and can go back into many high-performance applications," the plastics association wrote.  Geo-Tech confirmed that the post-consumer bumpers yielded stock of similar ash and melt flow quality — a good sign.
Midland Compounding & Consulting then took a crack at processing post-industrial bumper material with the paint remaining on the part. One batch received a polymer to make the paint compatible with base TPO resin, while the other didn't.
MCC found it worked reasonably well.
"MCC concluded from this work that the residual paint can be made compatible with the TPO, due to the increased elongation and IZOD impact strength," the plastics industry report states. "However, the resultant modified material is too soft to returned for utilization as raw materials for automotive bumpers. Furthermore, the surface of the parts molded from both materials was 'pitted' due to the presence of the paint."
It also found a sample of paintless pellets from Geo-Tech wasn't too far off from the spec of one OEM. (It's unclear from the report this was BMW or Mercedes).
When an unspecified OEM asked the company to provide some recycled TPO for a secondary mudflap, MCC sent some of that recovered plastic and saw the automaker's Tier 2 molder deem it acceptable.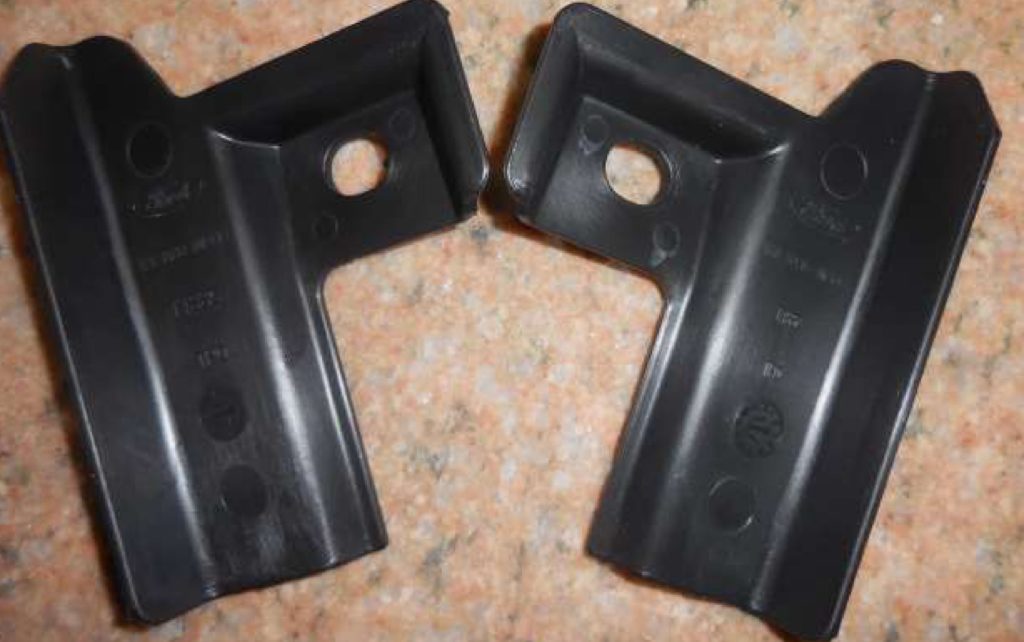 Finally, MCC tested the Geo-Tech paintless material against shredded painted bumpers from Canada-based Post Plastics — which the Plastics Industry Association said "largely recovers (end-of-life) bumpers from collision centers and auto body repair shops."
The painted stuff actually posted higher strength and impact resistance. "A primary contributing factor to the differences in mechanical properties could be due to the additional heat history of the pelletized Geo-Tech material," the plastics association wrote.
However, the paint also made for a rougher-looking part. "Based on appearance alone, this regrind would only be considered as feedstock for non-visible utility application," the association wrote.
Phase I also involved a molding company, i2Tech, which "was looking for cost-competitive materials to deliver on price point and performance expectations" for a customer seeking some plastic pallets, the plastics association wrote.
Both the paintless and painted TPO recovered from the bumpers "processed much better" than what the customer had received before, according to the association. However, the painted TPO generated smoking and liquid out of the extruder.
"In the end, i2Tech was able to mold two different version of pallets with the PCR Repro TPO-paint—a one-time use pallet and a more robust racking pallet," the association wrote. "These pallets outperformed current materials and overcame some creep issues in molding that had been experienced with the traditional mix of material that had been used. Performance of the PCR Repro TPO-paint exceeded expectations for pallet applications. If the economics can be worked out, this could be a very good drop-in replacement material for some of i2Tech's customer applications."
Last, Toyota tried the paintless stuff and liked what it saw.
"While this batch of PCR Repro TPO-paint from Geo-Tech failed to meet any Toyota material specifications, for trim parts, filled PP, instrument panel (dashboard) or bumper fascia, members of the Toyota materials team believes this TPO has a promising future in other non-auto applications. The low density of the material is appealing. It is possible that the properties could be balanced by compounding with additives and minerals to improve applicability, which should be further explored in future phases of research, but specifically the variability in elongation would need to be addressed."
Phase II explored if other recyclers could produce high enough quality stock, while Phase III examined whether the final recycled plastic continued to deliver sufficient quality, with at least one reporting leaving the paint on wasn't an issue.
More information:
"END-OF-LIFE VEHICLE (ELV) PROJECT PROVES VIABLE MARKET FOR RECYCLED PLASTICS FROM AUTOMOBILES"
Plastics Industry Association, May 29, 2019
End-Of-Life Vehicle Recycling Project webpage
End-Of-Life Vehicle Recycling Project Phase I report
End-Of-Life Vehicle Recycling Project Phase II report
Plastics recyclers who process fascias
Images:
Collision repairers, auto recyclers and OEMs might have a new and potentially lucrative means of disposing of bumper fascias: Give them to the plastics industry to melt down and reuse. (temizyurek/iStock)
Gary's U-Pull-It sent 4,500 pounds of baled bumpers to Geo-Tech Polymers in 2016 in Phase I of the Plastics Industry Association's fascia recycling research project. (Provided by Plastics Industry Association)
Gary's U-Pull-It sent 4,500 pounds of baled bumpers to Geo-Tech Polymers in 2016 in Phase I of the Plastics Industry Association's fascia recycling research project. It converted them into these pellets. (Provided by Plastics Industry Association)
ACI Plastics said this bale of bumper fascias was not acceptable for recycling. However, after it stripped away the unwanted parts left on the bumpers, it was able to produce plastic up to ACI's TPO Class A specification. (Provided by Plastics Industry Association)
When an unspecified OEM asked Midland Compounding & Consulting to provide some recycled TPO for a secondary mudflap, MCC sent some of that recovered plastic and saw the automaker's Tier 2 molder deem it acceptable. (Provided by Plastics Industry Association)
Share This: