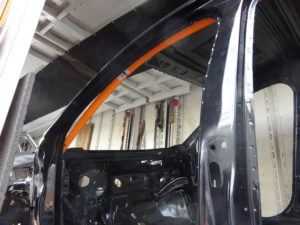 Collision repairers will encounter martensitic ultra-high-strength steel tubes running from the A-pillar to C-pillar and "plentiful boron" on the 2020 Ford Escape, according to a Ford body representative.
The May 15 Great Designs in Steel presentation by Mike Kozak of Ford body structures application shed more light into the body design of Ford's No. 2 seller and described a means for an OEM to ramp up ultra-high-strength steel but keep vehicles affordable.
Skin panels used extensive mild steel, with outers bake-hardened or high-strength low alloy if Ford needed more durability, according to Kozak.
The aluminum hood — which Car and Driver reported was also present on older Escapes dating back to at least the 2017 — made for a "great weight buy," Kozak said.
Kozak said Ford used dual-phase 600 and 800 steel for ductility and strength; a diagram provided by Ford in April shows extensive use in the front end of the vehicle. He said the "plentiful boron" in the SUV provides a good way to get "ultimate strength" and keep the weight down.
The martensitic roll-formed tube is a "constant-section tube" spanning from the A-pillar at the shotgun to the C-pillar, according to Kozak. He said it forms a "really essential suspension bridge" between the front and back of the Escape and mechanically fastened for "good load transference."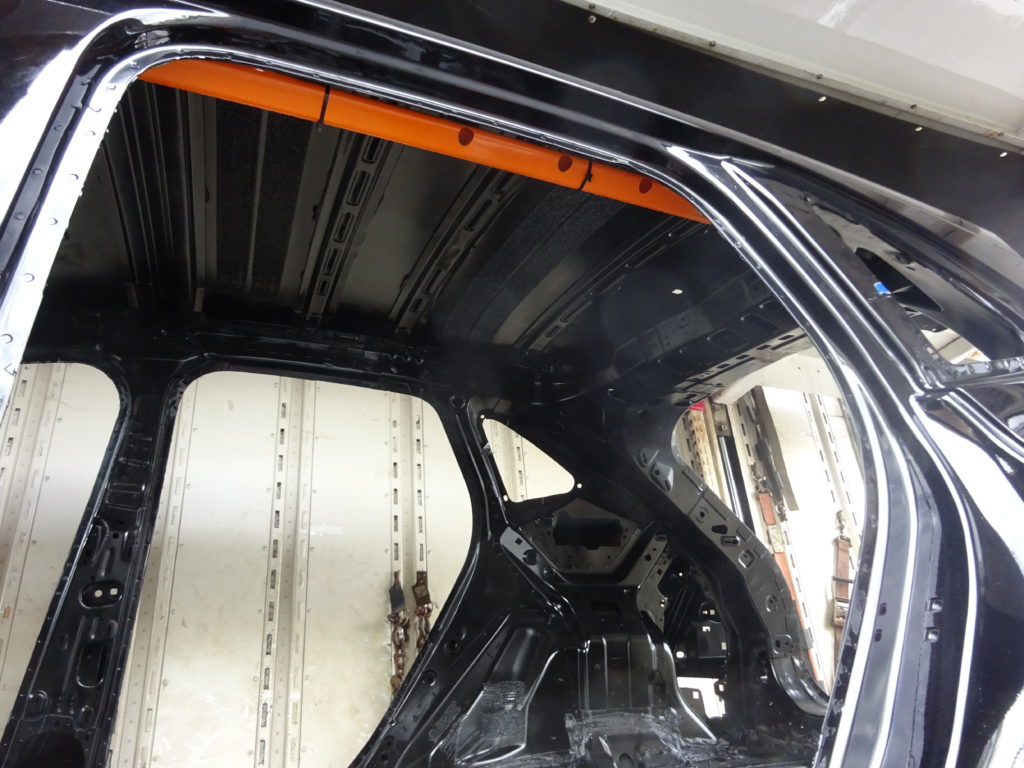 Kozak described it as a "really efficient section" 50 percent smaller than the old architecture, allowing more efficiency in placing parts.
Ford in April said the next-generation Escape was more than 200 pounds lighter than its 2019 predecessor.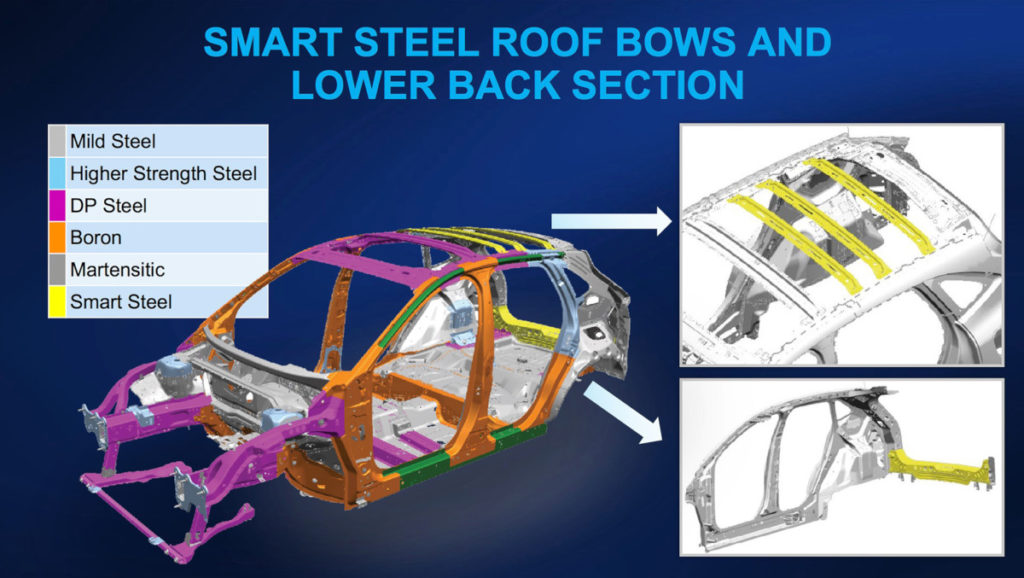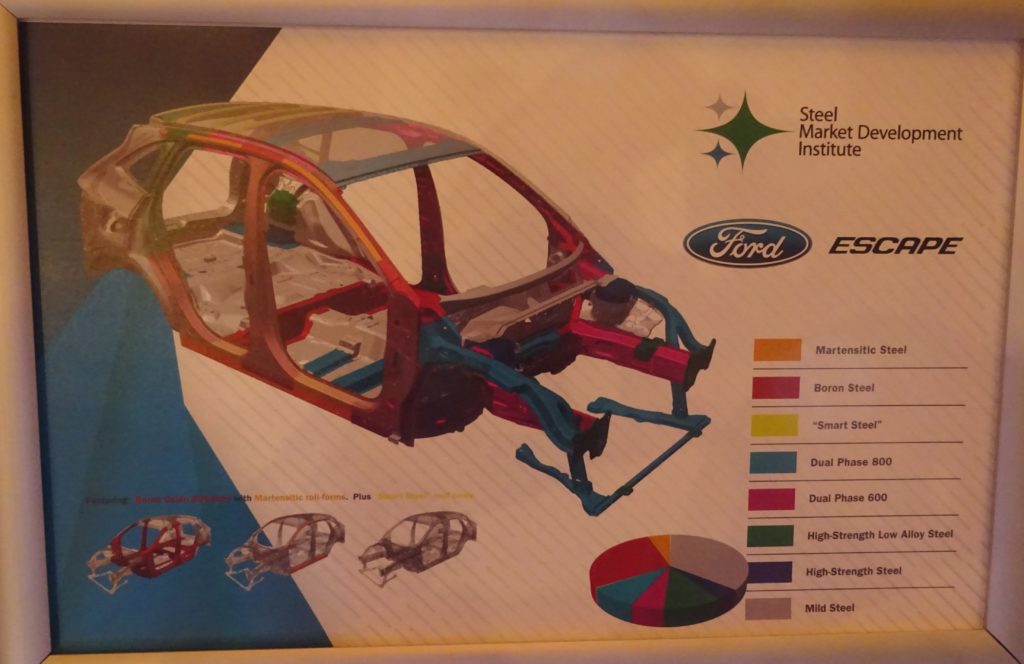 Kozak said Ford juggled the more expensive boron with the Escape's role as an entry-level SUV by creating bundles of boron components that could be manufactured together. The OEM matched parts by size, depth, gauge and powertrain — a hybrid and plug-in hybrid 2020 Escape will be available — for maximum hot-stamp throughput, he said.
Ford could balance forming, cooling and "get a really good result" in tooling and capital expense, he said.
Kozak said the Escape was the second example of the C2 platform, following the 2019 Focus and preceding the Lincoln Corsair. Design considerations included spaciousness but also safety performance and optimization for regional demands, he said.
Kozak said Ford designed the Escape taking into account frontal and offset crash requirements for its global regions and desiring to use all of the front end structures laterally and vertically to handle the barrier as needed.
He discussed how the shotguns were designed to transfer load to the edge of the rolled martensitic tube Kozak said the main load path was the vehcile's rails, which were designed to transfer crash load in a "very specific way" to what Ford calls the "bionic backup structure."
The OEM sought a "gliding response" to the IIHS' small-overlap crash test, he said.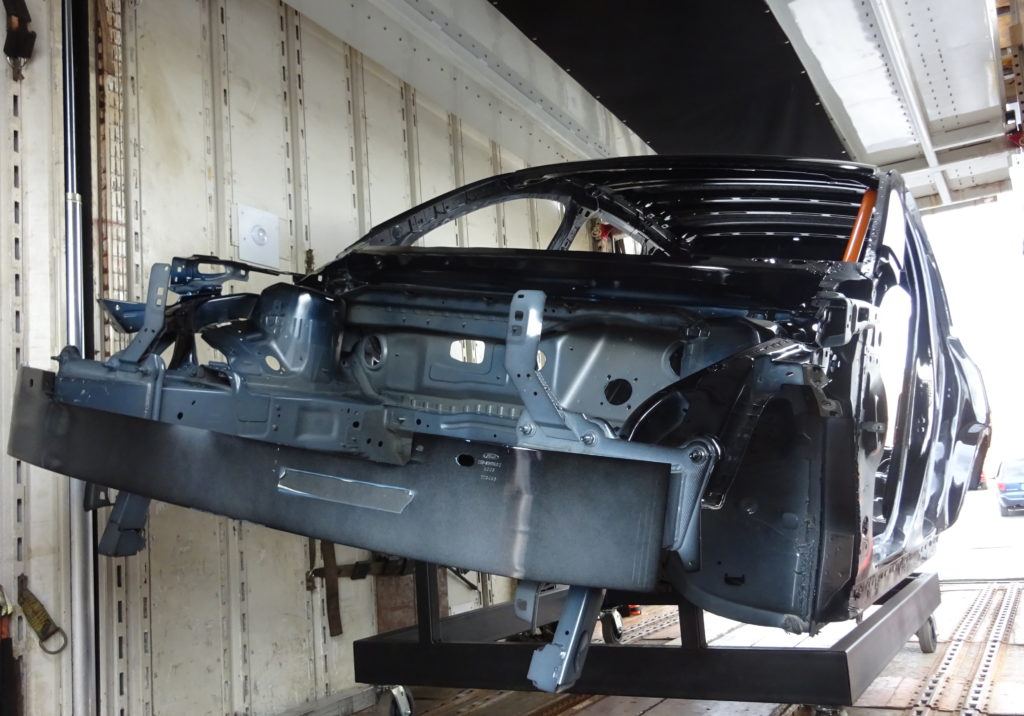 Repairers working on the plug-in hybrid 2020 Escape will also notice an extruded aluminum reinforcement which "fills our rocker structure" to fend off side impacts to the battery, Kozak said. However, the internal combustion engine owners receive a different structure, for Ford didn't want to force them to accept less space, he said.
It's yet another example of why repairers absolutely must check repair procedures specific to their vehicle at hand.
Repairers will also notice a different design in the rear of the vehicle for customers who pay for a certain audio option.
According to Kozak, Ford erred in the prior-generation Escape by making it impossible to fit four sets of golf clubs in the back without dropping second-row seats. However, the 2020 Escape packaged the optional subwoofers with more than 90 percent external, outside of the traditional quarter panel inner plane, Kozak said.
This meant option buyers didn't have to sacrifice space for their foresome's golf clubs (all four sets fit laterally, he said) or four large suitcases.
Two other interesting pieces of design trivia:
Kozak said that ditching a moonroof for a larger panoramic sunroof allowed Ford to give drivers more headroom (you could ditch the parts needed to open the moonroof). It'll be interesting to see if other OEMs and buyers opt for that exchange.
Asked about the benefits of moving the liftgate hinge to the Escape's roof hitch mount, Kozak said it provided more liftgate stability. Structurally, it was "pretty easy to do," he said – the craftsmanship around the area was the hardest part.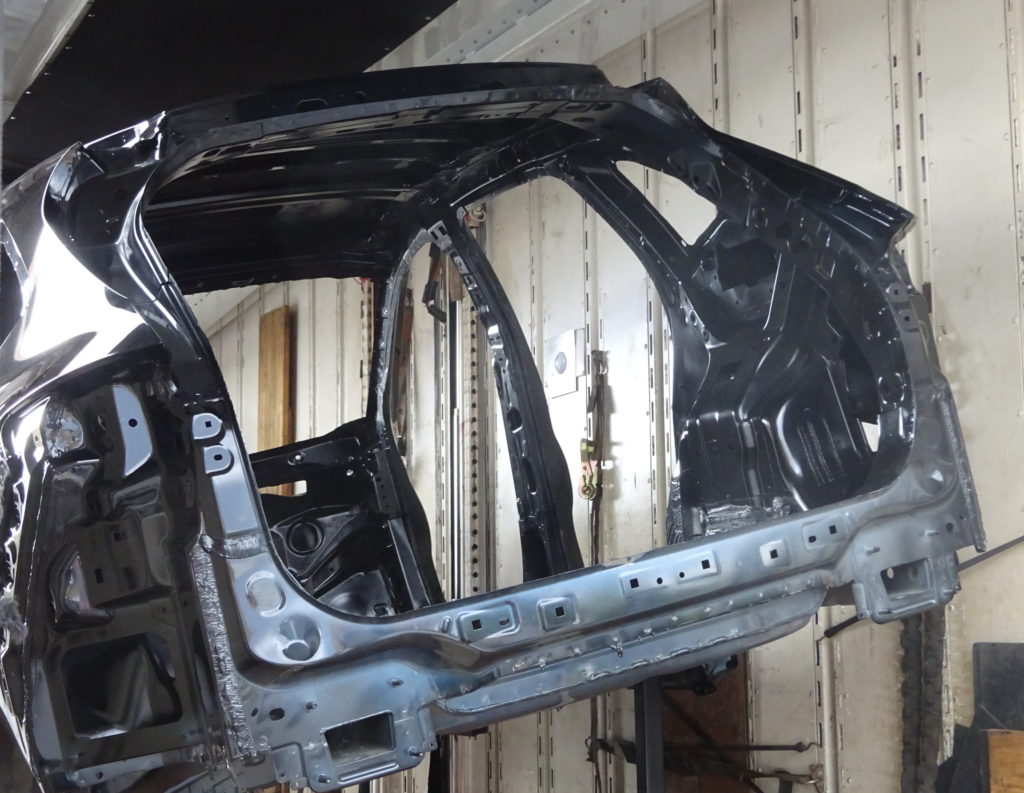 More information:
"ALL-NEW FORD ESCAPE BRINGS STYLE AND SUBSTANCE TO SMALL SUVS WITH CLASS-LEADING HYBRIDS, FLEXIBILITY AND EXCLUSIVE TECHNOLOGY"
Ford, April 2, 2019
Images:
One of the martensitic roll-formed tubes running up the A-pillar all the way back to the C-pillar is seen here in orange. (John Huetter/Repairer Driven News)
Ford on April 2, 2019, revealed the next generation of its No. 2 seller Escape, declaring it to be more than 200 pounds lighter "due in part to the extensive use of high-strength, lightweight steel." "Ultra-high-strength steel 3D-rolled tubes run up each A-pillar and along the rooflines, and high-strength boron steel solidifies the subframe," Ford wrote on a 2020 Escape microsite. (Provided by Ford)
A diagram at the 2019 Great Designs in Steel demonstrates different steel types on the 2020 Ford Escape. (Ford/Great Designs in Steel slide; photo by John Huetter/Repairer Driven News)
The front of the 2020 Ford Escape body-in-white is shown. The orange structure is a martensitic roll-formed steel tube. (John Huetter/Repairer Driven News)
The back of the 2020 Ford Escape body-in-white is seen. (John Huetter/Repairer Driven News)
Share This: