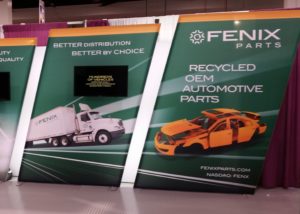 Fenix Parts on Tuesday announced its first purchase since being taken over by affiliates of private equity firm Stellex in 2018.
As a publicly traded company, Fenix Parts had dreams of being a "strong No. 2" to LKQ but ran into financial and reporting difficulties. It was eventually delisted from NASDAQ and sold on the "Pink Sheets" — speculative, high-risk stocks not traded on traditional major stock markets.
Terms weren't disclosed when Stellex Capital Partners' affiliates closed the sale in April 2018, but Fenix in February 2018 said it had accepted an offer of $8.1 million, with Stellex paying just $0.40 a share and taking on $33 million in debt and $7 million in other liabilities. At the time, shareholder approval was pending.
Fenix Parts' 2015 prospectus estimated LKQ held less than 10 percent of the market, and no other competitor's share exceeded 1 percent.
"The automotive recycling industry is highly fragmented, with few multi-facility operators," the prospectus states. "According to the ARA, there are an estimated 9,000 vehicle recycling facilities in the United States and Canada."
The company said Tuesday it bought one of them: Georgia-based Cox Truck and Van. The deal for an undisclosed amount is expected to close this month.
The more than 40-year-old recycling operation owns full-service and self-service recycling sites in Gainesville, Ga., and Moultrie, Ga.
Fenix called the locations "key additions to the Southeast supply chain."
"We are very humbled and excited to bring our family business into the Fenix Parts fold," Joey, Jason and Randy Cox said in a statement. "We look forward to contributing to the great success Fenix Parts has achieved in the Southeast region."
"We are pleased to announce this agreement with CTV," Fenix Parts CEO Bill Stevens said in a statement. "We look forward to welcoming CTV to Fenix Parts and are excited to work with this highly talented team. CTV is a high-quality auto recycler whose strategic locations will allow us to expand our distribution, dismantling, warehouse and yard capacity in the Southeast region. Their strong leadership and company culture are an excellent fit for Fenix Parts."
It'll be interesting to see if the Cox sale marks the start of the kind of investor-fueled recycler consolidation Fenix had originally hoped and other collision industry ecosystem sectors have encountered.
Fenix's 2015 IPO priced shares at $8 and brought in $101.3 million, but the company in the first quarter of 2016 had $71.8 million in debt, in part because of acquisitions.
Buying the whole shebang for $8.1 million and only $40 million in debt and liabilities doesn't seem like a bad starting point for a new Stellex-backed consolidation effort. The company has 12 locations (not counting the incomplete Cox deal), less than the 16 it had when the board approved the Stellex bid in 2018.
Of course, LKQ is a S&P 500 business doing $12.26 billion in sales and posting more than $700 million in cash flow. Its size might scare off other would-be recycler consolidators and give it the capability to stymie Fenix's plans too.
Mergers & Acquisitions magazine reported in October 2017 that Stellex planned to invest $100 million in the automotive sector, and the company said in July 2017 that its first private equity fund had raised an $870 million war chest.
"We are thrilled to be investing in this space and to have the opportunity to work with such an experienced operating team," Stellex managing partner Michael Stewart said in a statement about the April 2018 closing. This is a great fit for us given our extensive experience investing across the automotive supply chain."
As of Tuesday, Stellex's automotive businesses included Fenix Parts, Paragon Metals (closed in February) and Custom Glass Solutions (purchased in late 2018).
Stellex was founded by two men from the Carlyle Group, which has owned Service King since 2012. For an interesting look at how one of them, former Service King board member Ray Whiteman, participated in the turnaround of a failing aluminum drivetrain company, see this 2012 Washington Post article.
More information:
"FENIX PARTS ENTERS DEFINITIVE AGREEMENT TO ACQUIRE ASSETS OF COX TRUCK AND VAN"

Fenix Parts via Business Wire, July 19, 2019
"Auto Industry Veterans Team Up with Stellex Capital Management to Acquire Fenix Parts"
Fenix Parts via Business Wire, April 18, 2018
Featured image: The Fenix Parts booth is seen at NACE 2016. (John Huetter/Repairer Driven News)
Share This: