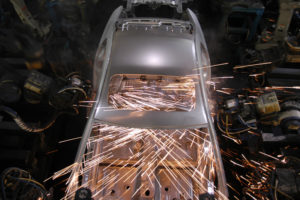 An Auto/Steel Partnership study confirmed a variety of aftermarket auto body repair techniques could match factory-level joining of ultra-high-strength steels, a representative from the partnership reported earlier this year.
The results shared at the May 15 Great Designs in Steel also raised questions about the value of the more expensive higher-strength-steel welding wire required by at least one OEM, Honda.
The information made available seemed an expansion upon the lessons from a more limited set of AS/P data presented at the 2018 SCRS OEM Collision Repair Technology Summit at SEMA.
Michael Palko of Ford body construction engineering told the steel conference audience in May the project was intended to evaluate various welds for repair procedures.
The experiment looked at three ultra-high-strength steels: martensitic 1500, martensitic 1700 and press-hardened, heat-treated PHS 1500. All were welded with common repair methods or blind/pop rivets.
In some cases, the metal was pre-strained 2 percent to simulate the stress of being stamped at a factory, according to Palko.
Researchers compared the results done with service-market equipment and adhesive to factory-level squeeze-type resistance spot welds done with and without factory-level ("production") adhesive.
Achieving similar-sized welds to the factory was a goal, though Palko noted the service spot welds tended to have more indentation.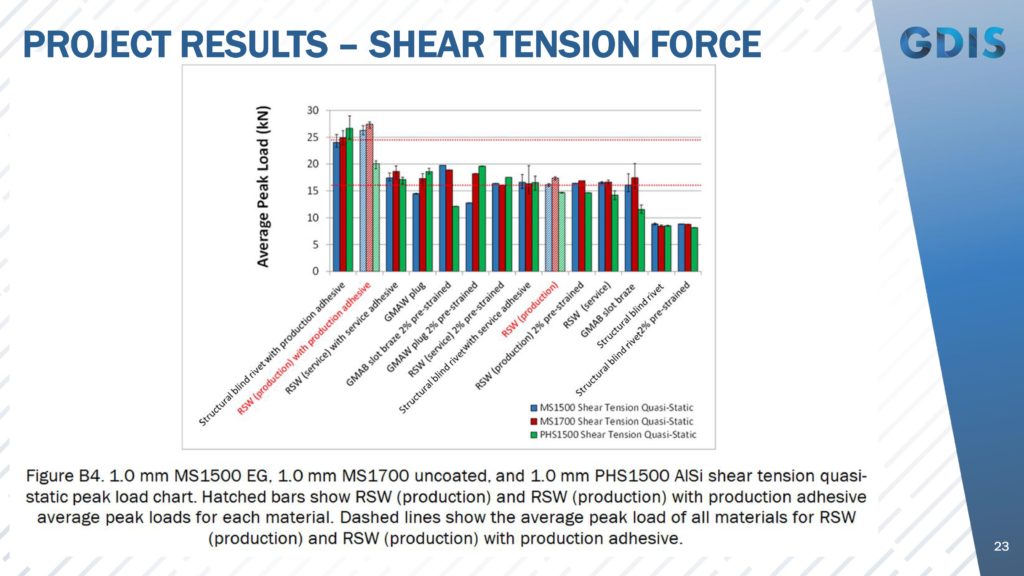 Factory resistance spot welding with factory adhesive proved strongest in terms of shear tension strength, followed by structural blind rivets with production adhesives, for two of the three steels.
However, the structural rivet-production adhesive proved far stronger on the press-hardened 1500 steel. Palko suggested heat was to blame.
"Presumably, something happened when you put that heat in that boron steel spot weld to make it less strong than it was," he said.
The shear tension study found the aftermarket techniques unable to match the performance of those two factory joining methods. However, most for at least one steel were able to meet or exceed the strength of a factory resistance spot weld. In the case of martensitic 1700 steel, all techniques met or exceeded the factory, which probably isn't surprising given the higher strength of the steel.
Structural blind rivets by themselves weren't able to measure up on any of the steels, however.
Palko noted that gas-metal arc brazing came out weaker on the PHS 1500, and noted that the destructive test left the braze on the lower sheet. "It just kind of separated from that upper sheet," he said.
He said he thought that might have been a function of the welding process — some joints have more reinforcement than others.
"Results vary," he said later, mentioning the brazing results. The study was meant to replicate human beings welding in the aftermarket, not robots. "We wanted to keep it that way," he said.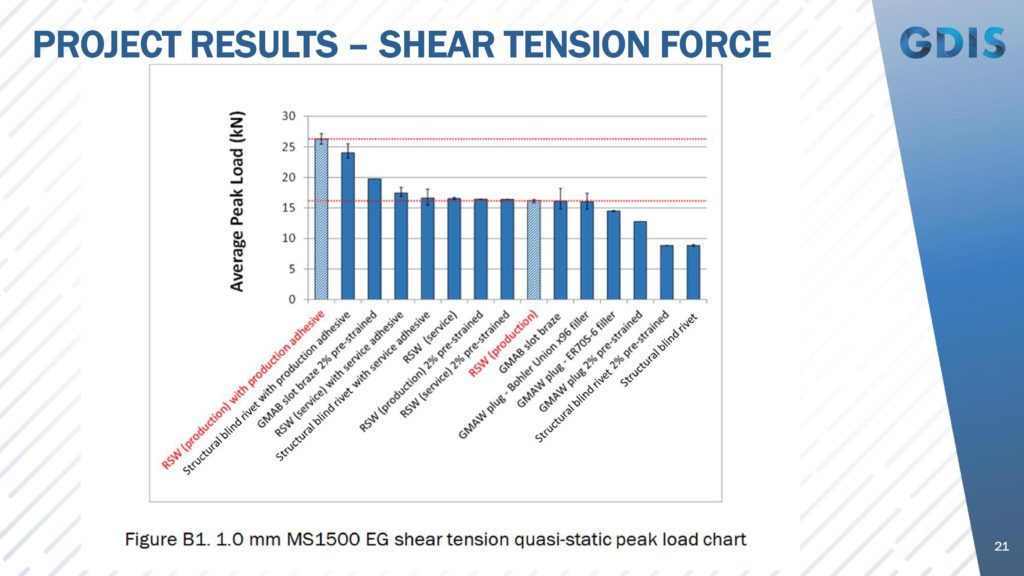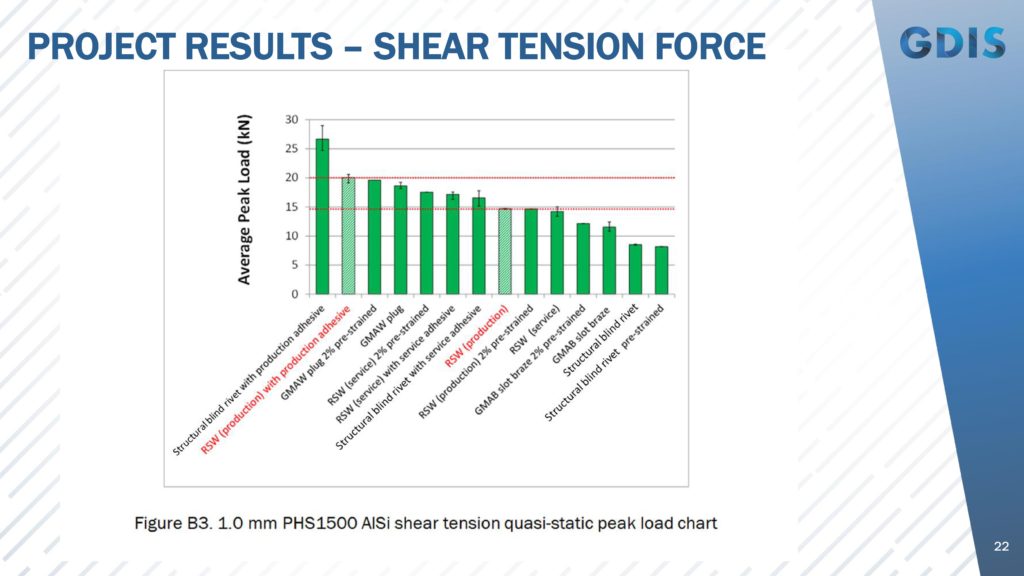 The results for the martensitic 1500 were more detailed and included the shear tension strength of gas-metal arc plug welding (8 mm) with the regular ER70S-6 wire and what Palko called the "more expensive" Bohler Union x96 wire.
Palko said there was "really, not a whole lot" of difference in shear strength, though the ER70S-6 filler comes up short compared to the average factory resistance spot weld.
While structural pop rivets without adhesive didn't do well in shear tension strength (seen below at right), they did very well in cross-tension testing (seen at left).

Only structural blind rivets with either production or service adhesive managed higher peak loads during cross-tension tests. Even the structural blind rivet on 2 percent strained metal beat out all other rivetless joining methods.
Palko also noted that at the factory level, the addition of production adhesive to a production spot weld doesn't "do a whole lot for you." Both fail at a similar point when subjected to the cross-tension test.
He also said he thought it was interesting that ER70S-6 plug welding with "the cheap stuff" came out stronger on martensitic 1500 steel than welding done with the Bohler Union x96 wire.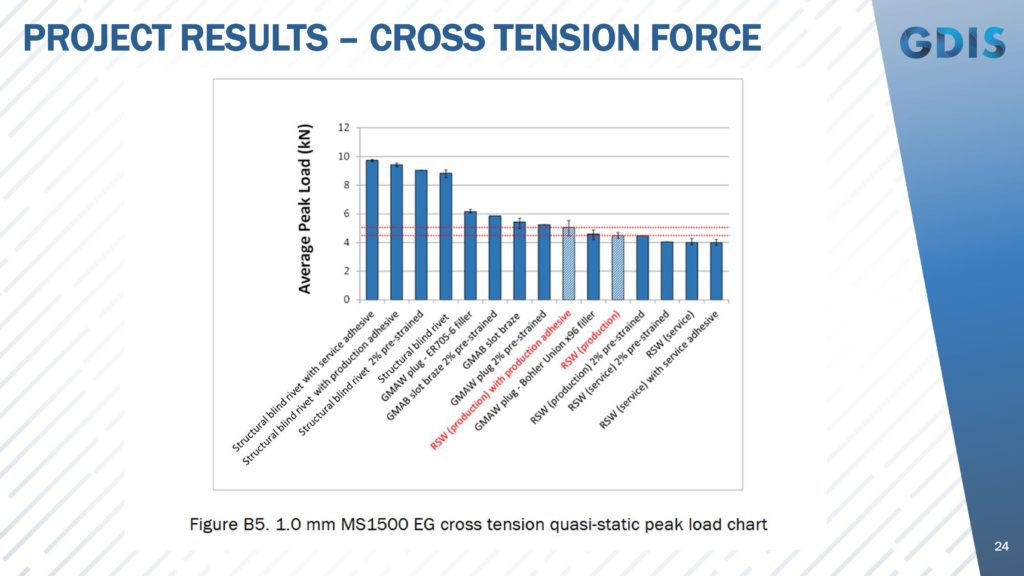 Palko said following the presentation he was curious to find out the rationale for the more expensive wire. However, he noted he was a process engineer, not a design engineer. For example, he might ask if it'd be better to just use the cheaper wire, make the plug hole bigger and "'use the cheap stuff,'" he said.
On the whole, the project demonstrated acceptable repair methods could be selected by an OEM on ultra-high-strength steels, according to a slide. It indicated adhesive helped in shear tension loads but contributed little in cross-tension stress — and production adhesive performed better than service glue.
Interestingly, all repair methods tested better for shear tension fatigue than production spot welding without factory adhesive.
Palko called it a "very good project."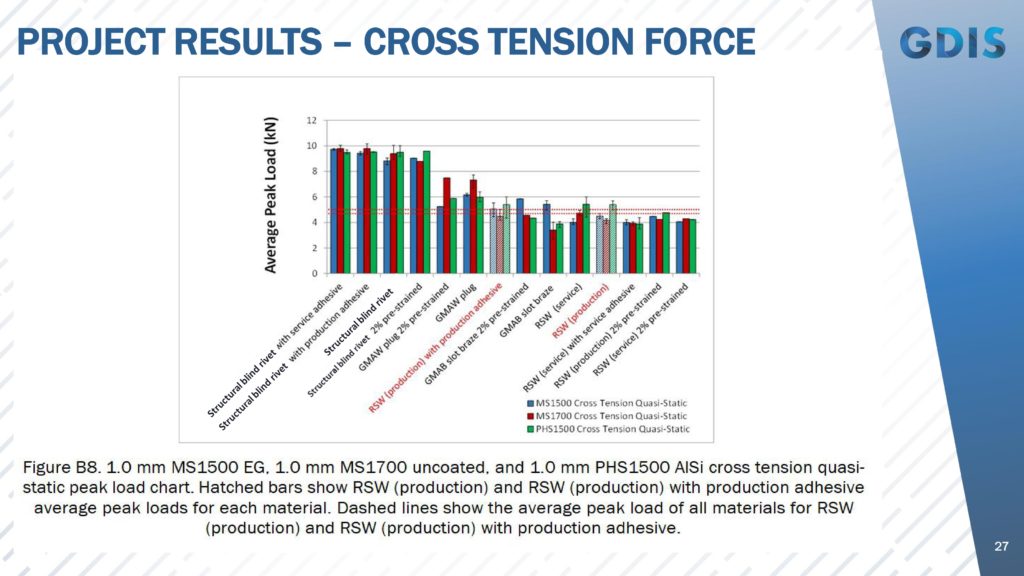 Follow the OEM
The different results within and between the loads being tested demonstrate why a body shop must follow official OEM repair procedures. Attempting to guess the correct repair method won't always deliver factory-level performance — or perhaps could lead to too much performance if the OEM intended the joint to fail at a certain time.
Palko during at one point observed that anyone developing repair methods should consult the design authority at an OEM, who ideally would do some computer simulations and possibly even full-scale testing of the method.
The answer might be to use any of the available repair methods, or it might include prohibitions on a particular technique, Palko said. Perhaps a combination of methods would be called for — or perhaps an OEM might conclude a certain type of damage means "'That's one's a scrapper.'"
And speaking of OEM repair procedures, we stress that the partnership's research shouldn't be construed as grounds to cease using higher-strength welding wire when called for by an OEM like Honda. (The John Eagle case demonstrated the danger of attempting to substitute a Honda repair procedure with something that worked for another OEM.)
As noted above, the results of the shear testing do indicate the ER70S-6 wire still came up short while the x96 wire matched the factory resistance spot weld. It's possible that other stresses are also handled significantly better by the stronger wire.
Asked about the partnership's findings regarding the two welding wire types, a Honda spokeswoman said in June she couldn't comment.
"Thanks very much for reaching out. I've been in touch with our colleagues in Japan on this topic and unfortunately, they've elected not to provide comment due to competitive reasons," Honda's Jessica Pawl wrote in an email. "I apologize that we're unable to share any context."
Honda said in 2016 that ER70S-6 wire is only 483 MPa, compared to the Bohler x96's 980 MPa. This means that in impacts involving metals 590 MPa and higher, the wire could fail before the metal does — something Honda doesn't want.
At 980 MPa, the wire would be as strong as or stronger than any steel Honda generally permits to be plug-welded. (Honda only case-by-case allows plug welding on 1,180 MPa or 1,500 MPa steel.)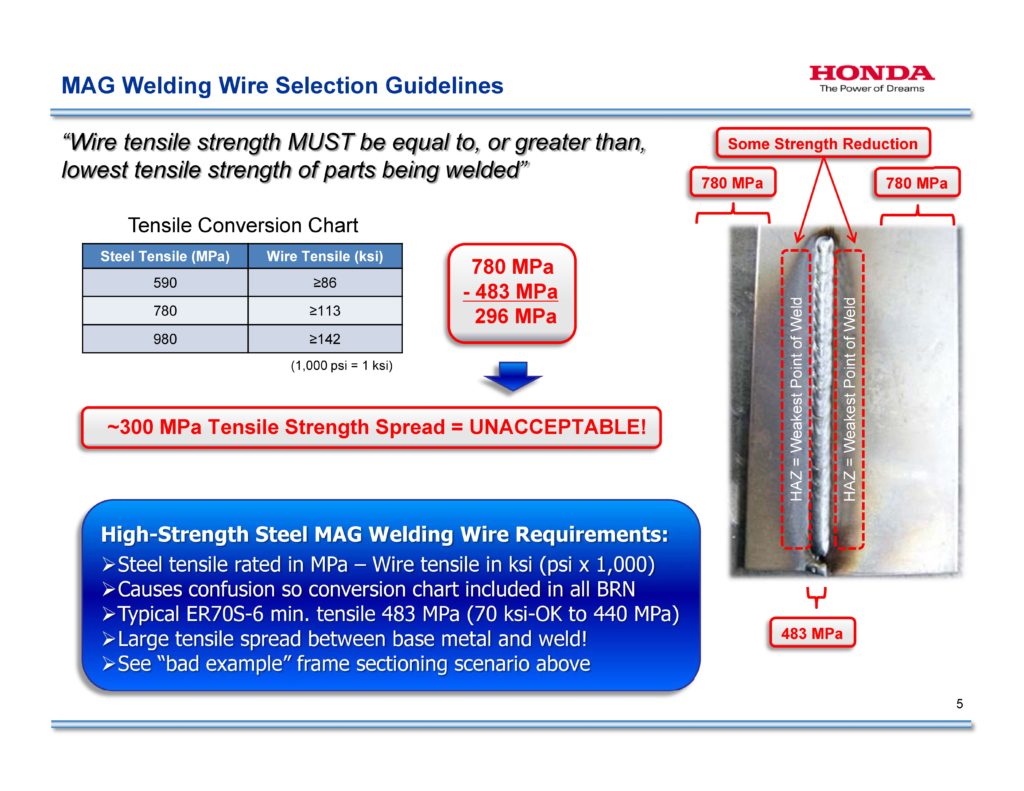 One also wonders if Honda's wire choice allows for a hedge against real-world errors in the welding process.
When we asked Palko if the testing process had findings from welds that weren't up to standard (for example, too cold a weld or an unprepared substrate), he indicated the lab was highly qualified and was delivering welds of the appropriate standard. That's not always a given in the collision industry.
More information:
"Repairability of Martensitic Steel (MS1500 & MS1700) and Press Hardened Steel"
Auto/Steel Partnership, Ford via Great Designs in Steel, May 15, 2019
Honda steel repairability matrix
Honda, April 2018
"Additional High-Strength-Steel Welding Wire Approved"
Honda Body Repair News, June 2019
Images:
Robots weld an unspecified vehicle at Honda's Marysville, Ohio, plant. (Provided by Honda)
An Auto/Steel Partnership experiment tested repair methods against factory resistance spot welding with and without factory adhesive. (Provided by Auto/Steel Partnership via Great Designs in Steel)
Examples of cross (left) and shear tension testing of a weld or other joining method are shown. (Huin, T.; Dancette, S.; Fabrègue, D.; Dupuy, T. Investigation of the Failure of Advanced High Strength Steels Heterogeneous Spot Welds. Metals 2016, 6, 111. CC BY 4.0.)
Honda in December 2016 explained why auto body shops needed to weld higher-strength steels with equally strong wire. (Provided by Honda via VeriFacts)
Share This: