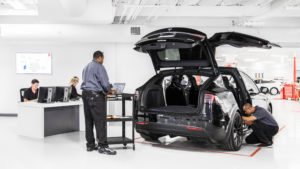 Tesla on Wednesday described an emphasis on expanding the number of service centers and storing parts within those centers going forward.
CEO Elon Musk said on a second-quarter earnings call "continuing to improve customer service" was a goal for the rest of the year and into 2020. (Special thanks to Seeking Alpha, whose transcript helped us find and check quotes and learn who besides Elon Musk was speaking.)
Tesla has made "massive improvements" in service, particularly in "time to wait for parts and in collision repair," Musk said. "… We've insourced a great deal of the collision repair activities, which has had, I think, quite a good effect on customer happiness. And this will continue in the months to come."
Musk said he meets with the service team "multiple times a week" and gets daily reliability updates.
"The best service, of course, is no service," he said. The "main goal" was quality and reliability so strong "service is rarely required," Musk said.
Musk said the company also made "massive" improvements in the logistics for "getting parts to service centers."
Automotive President Jerome Guillen said Tesla was trying to improve vehicle quality and fewer service visits were required on new cars, according to Seeking Alpha. The company was "on a good trend there," he said. The company also needs a "lot fewer work" to finish vehicles at its manufacturing plant, according to Guillen.
Many more parts are stored at service centers, and "we ship everything same-day, pretty much, so that people don't have to wait for parts," Guillen said.
Many improvements are in place, with "many more" on the way, Guillen said. He described himself as "relatively optimistic."
Asked how Tesla would increase parts availability without having to spend more working capital, Musk said it was merely a matter of keeping parts inventory at  service centers instead of at Tesla warehouses. The idea was to store parts used more frequently than, say, every six weeks, on the wall of the service center, he said. The facility wouldn't order the part; it would just grab it off the shelf and fix the vehicle.
The company would like to get to "same-hour" service, Musk said.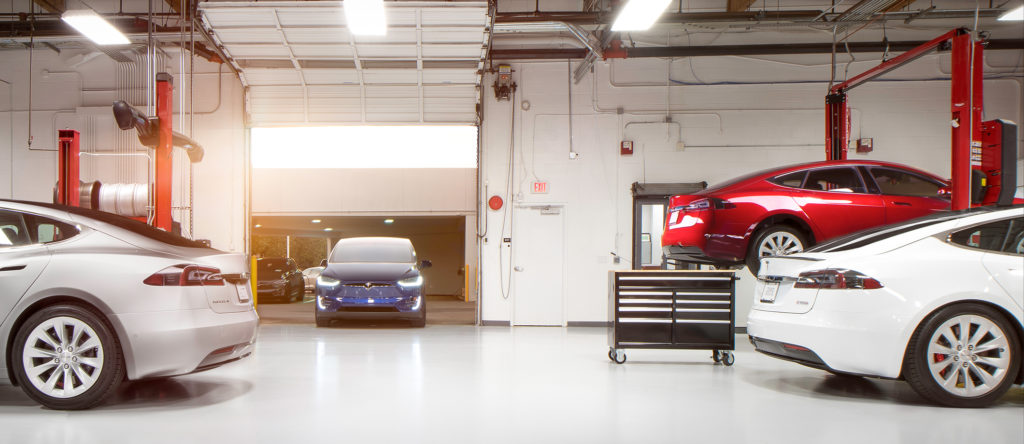 According to Seeking Alpha, Tesla Chief Financial Officer Zach Kirkhorn said the company actually had a "significant amount" of service part inventory — it just wasn't housed at the service centers. The issue was getting it from the distribution center to a service center, he said.
Rather than spending significant capital, Tesla might see a financial benefit under the new plan, for it didn't need to store as many parts, Kirkhorn said.
Musk shared an example from a visit in China. He learned that parts intended for Chinese-market Teslas were made in that country but shipped to New Jersey before returning to China — "literally across the road" from where they were originally manufactured. He said he promised to fix this.
Kirkhorn said centralized parts warehouses made sense earlier in the company's life to reduce expense, but as Tesla grows, localized parts distribution made more sense.
Tesla said it added 25 new service locations and added more than 100 mobile service vehicles in the second quarter to support a fleet which Musk said had doubled over the past year.
"We're opening service centers as fast as we can," Musk said. The rate will increase "dramatically" through the year, he said.
"Service scales … as the total fleet scales," he said. He said Tesla wanted to scale service to a level sensible from an expense standpoint, but it was "quite a difficult challenge" to scale.
Musk said across the world, consumers basically want the same things: a price that makes sense, good consumer financing, supercharging and charging — and a convenient service locations.
Any place where all four conditions are met, "our sales are great," Musk said.
"Service centers are the key to sales," he said.
Kirkhorn said Tesla service center expansion was "very systematically being mapped out," according to Seeking Alpha. In some areas, "the drive time is too long," he said.
The company was focused on service and supercharging expansion, not retail location growth, he said.
Tesla said it delivered 95,356 vehicles and produced 87,048 globally in the second quarter.
More information:
Tesla second-quarter 2019 earnings call
Tesla, July 24, 2019
Tesla second-quarter 2019 earnings call transcript
Seeking Alpha, July 24, 2019
Featured images: A Tesla service center is shown. (Provided by Tesla)
Share This: