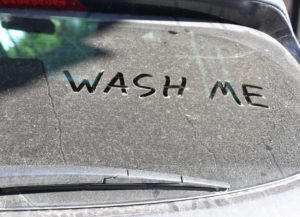 Though many collision repairers don't ask to be reimbursed for either procedure, some shops who do invoice washing a vehicle before and after a repair report consistent success being paid for it.
The latest "Who Pays for What?" quarterly survey results polling several hundred responding shops found more than half of them never asked eight of the nation's largest insurers to be paid to "Pre-wash" a car. CRASH Network and Collision Advice conducted the body operations study in April and announced results in July.
Help the industry by taking the current "Who Pays for What?" survey on not-included frame repair operations through July 31. All answers are kept confidential; data is published only in the aggregate.
Of the shops that did bill for pre-repair washes, roughly 10 percent "always" or "most of the time" were paid — though more than 50 percent "never" succeeded.
The eight insurers — State Farm, GEICO, Progressive, Allstate, USAA, Liberty Mutual, Farmers and Nationwide — were similarly receptive to shops seeking compensation for "Clean vehicle for delivery." Twelve percent of the repairers who asked were paid "always" or "most of the time."
Ironically, far more shops requested to be paid for that "post-wash" — more than 60 percent of repairers reported asking — than for the pre-wash.
However, the proportion of insurers "never" paying the claim when asked was far higher, with between 67.9 percent (USAA) and 75 percent (Farmers) of the shops that asked always being denied.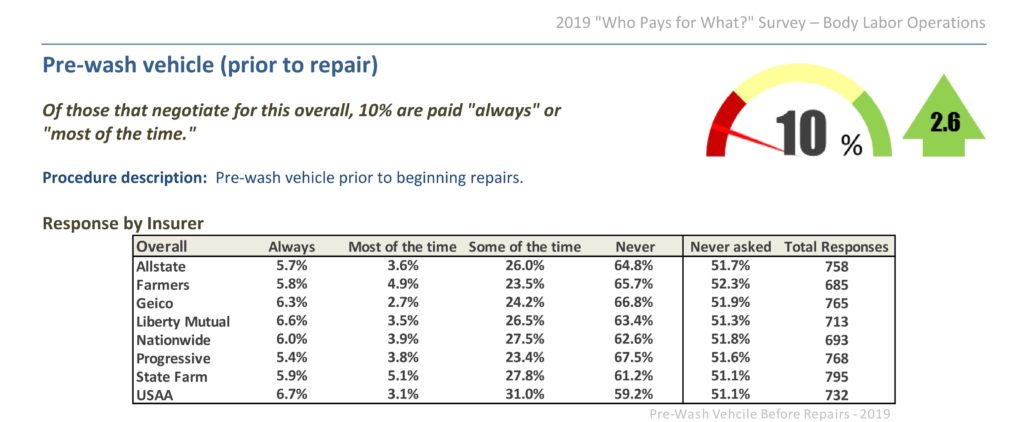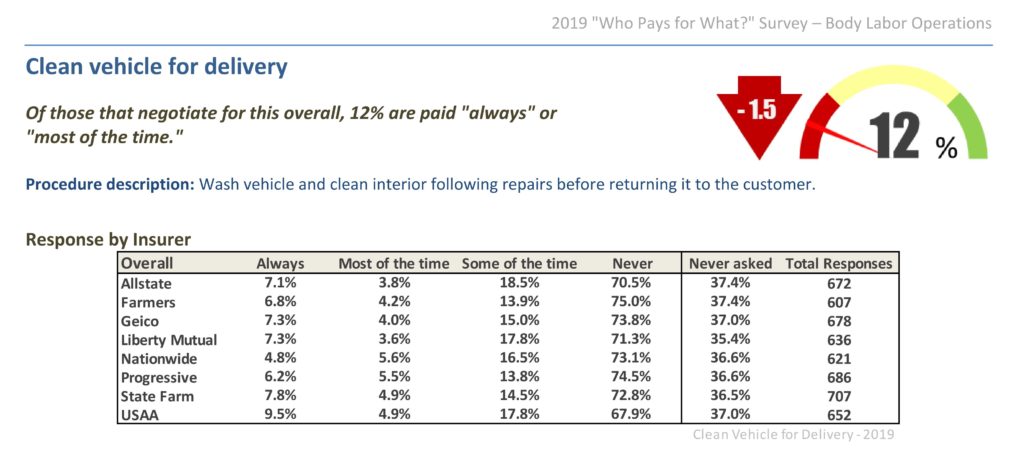 Technically, a shop would bill the vehicle owner, who then pursues reimbursement from the insurer based upon the repairer's invoice. The quarterly "Who Pays?" studies smooth this process by demonstrating that insurers do in fact "pay for that" and measuring how often they do so.
The "Who Pays?" studies also track answers based on shops' direct repair program affiliation, and the washing-related results painted an interesting picture.
For State Farm, Progressive, Allstate, Farmers and Nationwide, both DRP and non-DRP shops reported fairly similar success in being paid for a pre-repair wash. However, GEICO was much more likely to consistently pay a non-DRP shop who asked, and Liberty Mutual somewhat more likely. USAA, on the other hand, was more likely to consistently agree to a DRP facility's request than a non-DRP shop's bill.
But when it came to cleaning a vehicle for delivery, insurers across the board paid non-DRP shops with greater consistency than they did their own network shops.
The difference doesn't appear to be attributable to a uniform contractual waiver of the right to charge, for the results show between 48 percent and 64.5 percent of DRP repairers sought payment at least once, depending on the insurer.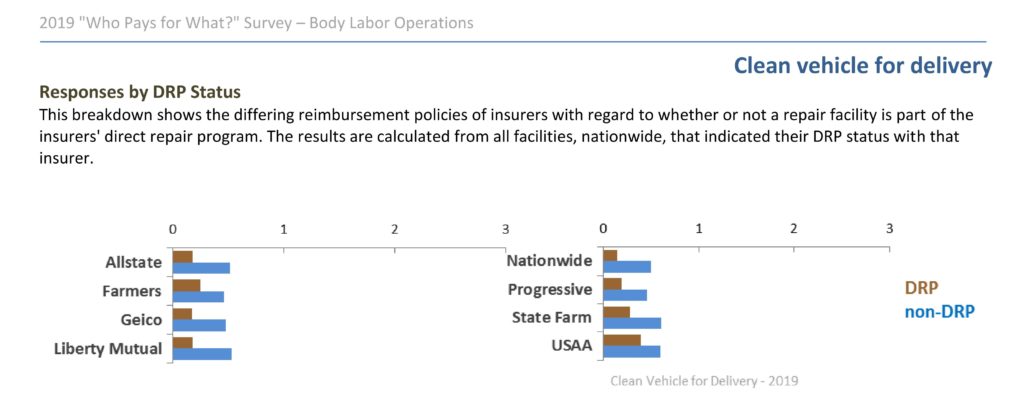 "You can find documentation that this is a not-included procedure within the estimating system guides," Collision Advice CEO Mike Anderson wrote of cleaning a vehicle before delivery.
He cited the "De-Nib & Polish" section of CCC's P-pages, which lists "Wash, clean, wax or detail entire vehicle prior to delivery if required" as a not-included operation.
The report included a Database Enhancement Gateway inquiry related to washing a vehicle. A user in 2015 asked if cleaning a 2012 GMC Yukon before and after a repair was included in Audatex.
"When a vehicle arrives at the shop during the winter or even during the summer, it may be necessary to remove bird droppings, neutralize acid rain, or wash the exterior of the vehicle to remove snow salt, or grime.as well as numerous other things," the user wrote. "in addition, when the vehicle is completed, the windows may need cleaning due to finger prints from transferring or installing glass, the vehicle may need to be cleaned to remove any sanding residue, the vehicle exterior may need to be cleaned due to an eraser wheel being used to remove old adhesive, leaving particles all over the vehicle, there are a variety of reasons for having to clean a vehicle after repairs."
Audatex replied that "'Clean for Delivery' is a standard manual entry" and was mentioned as such in its P-pages.
Mitchell's P-pages list "Clean vehicle to pre-accident condition" as not-included. 
Water leaks
Speaking of putting water all over the car, 16 percent of shops billing insurers to test for water leaks after a repair said they were paid "always" or "most of the time." (Hopefully, they thought to leak-test prior to pouring water all over the car in a post-repair washing.) Nearly 60 percent of repairers said they never asked to be paid for leak testing, however.
"This is a not-included operation, and the amount of time required will vary," Anderson wrote of leak-testing. "It can be necessary after a variety of repairs, including replacement of a quarter panel, rear body panel, apron, door post, roof, sunroof or even taillight. It's particularly necessary on areas that require seam-sealer, such as near the door or floorboard area after replacing a door post or apron."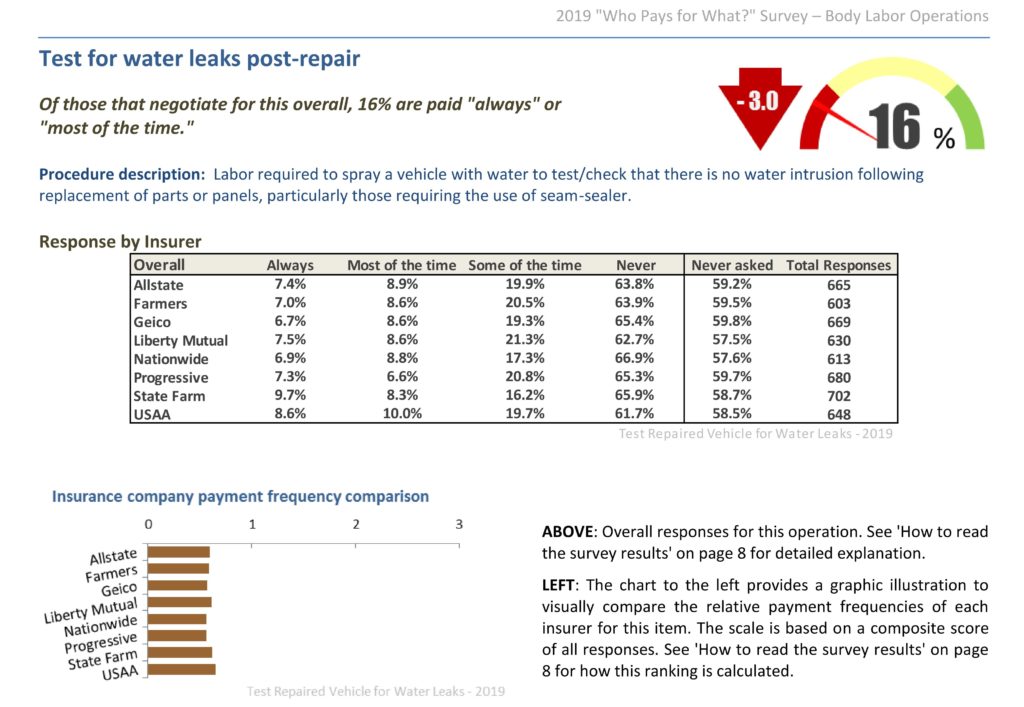 Repairers and insurers will both want to review the P-pages to ensure both sides are clear about the nuances of their particular estimating system. CCC's P-pages, for example, specifically call out leak testing as not-included — "except Windshield, Back Glass, and Stationary Glass."
Audatex's P-pages don't mention leaks at all. However, Audatex in response to an April DEG inquiry about a 2008 Honda Civic wrote: "We have reviewed Audatex internal procedures and determined that water leak testing is not included in any time allowances supplied by Audatex."
More information:
Take the 2019 frame operations "Who Pays for What?" survey
April 2019 "Who Pays for What?" body operations results
Images:
Mitchell's P-pages say leak testing is included in the context of glass, air conditioning and the radiator. It doesn't appear to discuss it otherwise.
Some body shops report success billing leading insurers for pre- and post-repair vehicle washes, according to the April 2019 "Who Pays for What?" study. (tzahiV/iStock)
A small proportion of body shops report consistent success billing leading insurers for pre-repair vehicle washes, according to the April 2019 "Who Pays for What?" study. (Provided by Collision Advice and CRASH Network)
A small proportion of body shops report consistent success billing leading insurers for post-repair vehicle washes, according to the April 2019 "Who Pays for What?" study. (Provided by Collision Advice and CRASH Network)
A small proportion of shops reported consistent success billing leading insurers for post-repair leak tests, according to the April 2019 "Who Pays for What?" study. (Provided by Collision Advice and CRASH Network)
Share This: