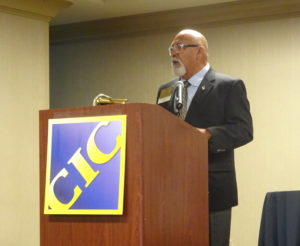 The ASE Education Foundation seeks to create an entry-level collision repair school accreditation program which might alleviate the financial burden of accreditation on some vocational programs while still producing technicians the industry would want.
Collision Industry Conference Talent Pool Committee member Gene Lopez (Seidner's Collision Centers), likened the ASE Education Foundation effort to a 2012 initiative by its predecessor the National Automotive Technicians Education Foundation. (NATEF and Automotive Youth Educational Systems merged in 2018 to create the ASE Education Foundation.)
NATEF realized on the automotive service and repair side that many technicians were doing "light maintenance repair," Lopez said. It created a separate accreditation for those skills in 2012, he said.
At the time, NATEF called its creation of the three-tier Automobile Program Standards "one of the most significant changes to the program in the organization's history." It split the program into "Maintenance and Light Repair," "Auto Service Technology" and "Master Auto Service Technology."
"The industry mix of work has changed," NATEF President Trish Serratore said in a statement then. "Employers are seeing more maintenance-related services in their shops and want entry-level technicians with more foundational knowledge. The new standards address these needs and provide more flexibility for automotive training programs nationwide."
"The new accreditation levels allow programs to more effectively use the limited number of hours available for instruction," NATEF wrote in a 2012 news release. "Secondary programs will now be able to teach across all systems to help better prepare students to maintain today's vehicles. Post-secondary programs will have the ability to provide the complete spectrum of tasks and hours to allow for more in-depth training."
Lopez said the ASE Education Foundation's current task list covers 377 collision repair tasks that a repairer is supposed to be able to complete. According to his presentation, there's a desire to create an entry-level version with just 161 tasks.
Committee member Kyle Holt (SP/2) said an entry-level option would be a "heck of a lot easier" for trade schools to offer. It would allow a program to produce technicians without the higher expenses of a "full collision program."
Out of 1,000 programs in the country, only "355-ish are accredited," committee member Christen Battaglia (Collision Repair Education Foundation) said.
Lopez said he thought of Ron Ray, former executive director of the I-CAR Education Foundation. Ray built employment opportunities focused on four skill sets, according to Lopez:
Remove and replace a bolted-on part
Fix a small dent.
Prep a car for paint. (This didn't mean putting on primer or working in a booth, just entry-level paint prep, Lopez said.)
Detail a vehicle.
If someone came to your shop today with all four of those skills, you'd be raising your hand to hire them, Lopez said — "'Where can I find that individual?'"
According to Lopez's presentation, a survey to help the ASE Education Foundation pare down to an entry-level set of skills will be sent to CIC participants and other stakeholders. The ASE Education Foundation hopes to have a revision by early October, according to a slide.
This could make a program far more obtainable and palatable to a school. You don't need a paint booth; you just need the equipment to train a prepper. You don't need a squeeze-type resistance spot welder; you need the equipment to cover small dent work and R&Is.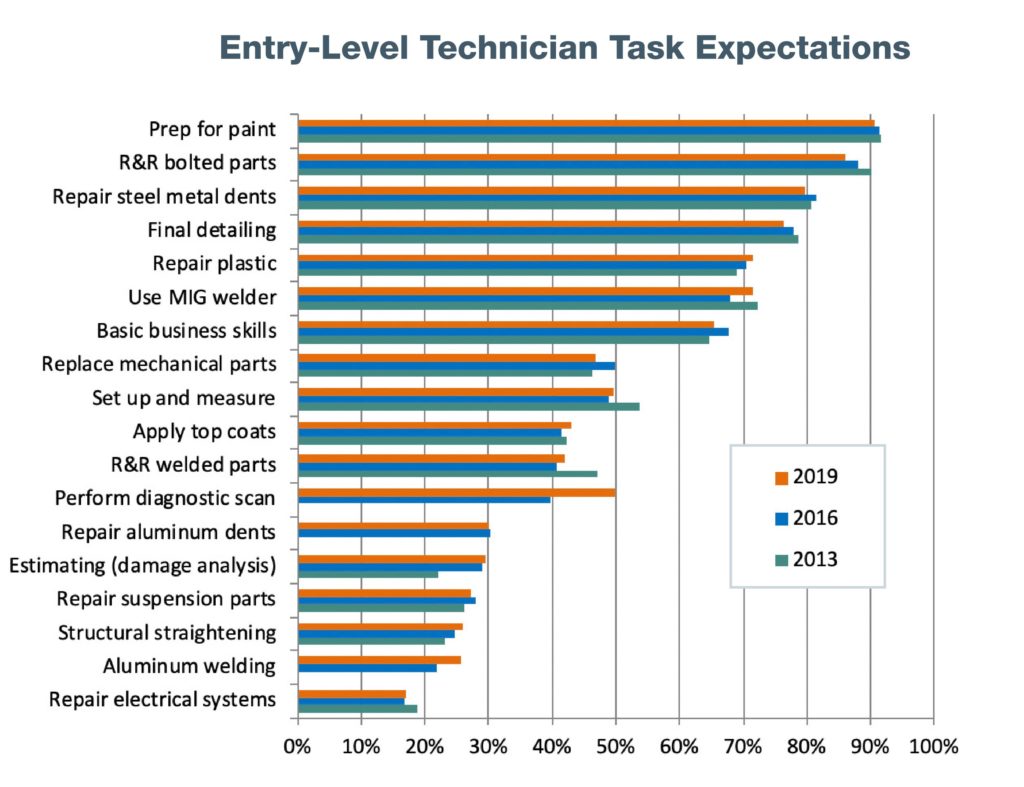 Results from the latest CREF and I-CAR industry study released Thursday indicate the ASE Education Foundation has the right idea.
"Survey respondents indicated which tasks they would expect a technical school program graduate to be able to perform with very little supervision," states an executive summary of the survey, which drew responses from more than 675 collision companies. "Respondents chose an average of 9.3 tasks, similar to selections made in 2016 (9.2 tasks).
"The top four requested tasks remained the same, as they have since 1995. Electrical Repairs is still the least expected entry-level skill.
"Notable is a sizeable increase for Performing Diagnostic Scans, reflecting new automotive technologies becoming more commonplace in collision repairs."
If a trade school cranked out technicians who could perform Lopez/Ray's four tasks, repair plastic, use a MIG welder and had "Basic business skills," they'd be producing a graduate with skills sought by more than half of the shops polled, according to the survey.
Add in scanning, replacing mechanical parts, and setup and measure — not structural straightening, just setup and measure — and the school's graduate is guaranteed qualified for half of the industry. No other skill studied mattered to half or more of the respondents. (Mechanical R&R didn't even reach the 50 percent threshold of shop expectations in 2019, but it did in 2016, so we left it in to be conservative.)
More information:
"COLLISION REPAIR EDUCATION FOUNDATION AND I-CAR ANNOUNCE UPDATED SNAPSHOT OF THE COLLISION REPAIR INDUSTRY EXECUTIVE SUMMARY AVAILABLE"
Collision Repair Education Foundation, Aug. 1, 2019
Executive summary of 2019 CREF, I-CAR study
CREF, Aug. 1, 2019
Images:
Collision Industry Conference Talent Pool Committee member Gene Lopez (Seidner's Collision Centers) speaks July 24, 2019, during the Collision Industry Conference. (John Huetter/Repairer Driven News)
The basic skills demanded of an entry-level technician remain fairly consistent, according to a Collision Repair Education Foundation and I-CAR study. (Provided by CREF)
Share This: