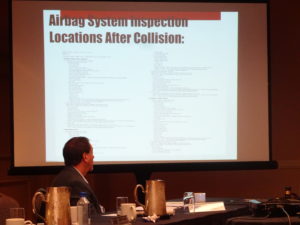 A Subaru can require extensive inspections after a collision, and such close scrutiny has been required by other OEMs as well, experts said last month.
SCRS Vice Chairman Bruce Halcro said he and former Chairman Ron Reichen used a 2019 Subaru Ascent Limited to illustrate inspections during a Society of Collision Repair Specialists open board meeting on July 24.
Halcro (Capital Collision Center) and Reichen (Precision Body and Paint) own Subaru-certified facilities and they picked the OEM for the presentation because "they're pretty intense."
However, "this is not new," Vehicle Collision Experts CEO Mark Olson told the audience following the presentation. And "this is not just Subaru," he said.
It was General Motors, FCA, and other automakers, Olson said.
Reichen estimated that less than 1 percent of body shops were aware of the need for inspections after a crash.
2019 Ascent OEM repair procedures displayed during the presentation called for various inspections "If the vehicle is involved in a collision, even if it is a slight collision."
Olson said collision repairers must use the specific OEM procedures for the vehicle in front of them. I-CAR had a generic list of items, which while helpful couldn't substitute for the real thing, according to Olson. (And in that vein, don't think the static information from repair procedures here and in the presentation slides will be enough. You need the real Subaru procedures, even for a 2019 Ascent Limited like the one discussed here.)
Reinforcing the idea of consulting specific OEM repair procedures, Reichen said that each automaker will have a different process. In the case of the 2019 Ascent Limited alone, "the marching orders are different" depending on whether an airbag has deployed, he said. Halcro said the type of impact also could command different requirements.
It wasn't a one-size-fits-all situation, according to Reichen.
Lawsuits
Olson said he knew of at least three examples of ongoing litigation on a failure to perform safety inspections. The lawsuits would likely be settled out of court and repairers wouldn't hear about them, he said. However, attorneys will use the kind of OEM repair procedures demonstrated by Olson and Halcro as a checklist to nail a shop who hadn't followed those directions, Olson said.
A former shop owner shared a harrowing example of such litigation during the 2017 SCRS OEM Collision Repair Technology Summit.
Assured Performance technical compliance Vice President Aaron Clark, the former owner of Collision Solutions, said the lawsuit all started when his shop fixed a "very minor accident." The airbags on the vehicle failed to deploy in a subsequent crash, and all of the other defendants were able to avoid the lawsuit — including the vehicle manufacturer, who proved it had made repair procedures available.
Clark said an OEM repair procedure, one present on "a lot of vehicles," declared that in the event of a frontal impact — a vaguely defined term, he pointed out — with undeployed airbags, about 14 different elements on the vehicle needed to be checked by a shop.
The OEM's instruction would have required 15.5 hours of labor to remove items like the dash, console and steering column to check every one of the relevant modules, sensors and wiring connections.
"I did not perform any of those operations," Clark said.
Clark said expert witness and testimony indicated the shop did everything right, but "however, we didn't check these other things."
"It was a devastating thing to go through," he said.
Halcro said his shop takes photos and documentation to prove they've inspected the correct items. He said they're adamant about performing the work correctly, for the company is "not in the liability business."
Physical work
Halcro said insurers sometimes are also confused by the need for an inspection, arguing that they already paid for a diagnostic scan.
However, a scan won't address certain factors detectable by a physical inspection, according to Reichen.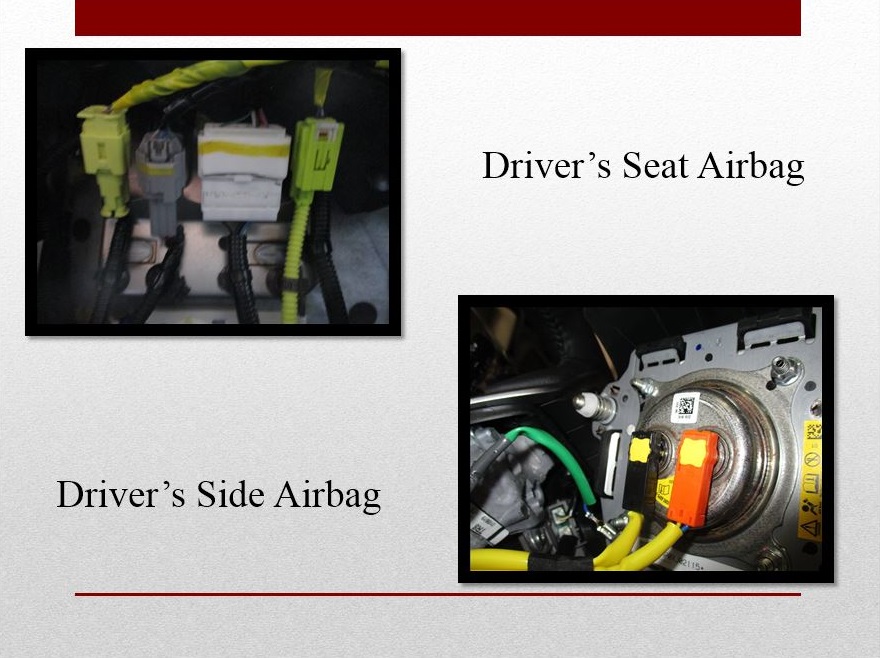 He described checking items like cage nuts for stress points and stranded wiring for stretching that could cause connection or conductivity issues.
Wires might be connected but strained in the crash to the point where only 50 percent are truly connected. The scan might check out fine, but the visual inspection would reveal the problem before future travel strains the wiring and causes an airbag system failure, Reichen said.
Body weight inertia during a collision can mushroom mounting points, another item that wouldn't be detectable with a scan, he said.
Under certain conditions, Subaru demands the steering column be checked, according to Halcro. (Olson noted that FCA had collapsible steering columns requiring an inspection almost 18 years ago. )
He said his shop encountered one that collapsed once the technician unbolted it.
"It didn't move while it was in the mount," he said.
Halcro said the company has handled other repairs where he thought the steering column would have collapsed in the accident and was proved right.
The steering column had "already failed" and wouldn't function correctly in a subsequent accident, Reichen said. Without releasing the column from the mount, the energy transfer preload upon the column wouldn't have been known, he said.
Educate dealers
Anything that creates a bill can be a "friction point," Halcro said, and a problem can arise if an insurer contacts an uninformed dealership for confirmation the procedures are required, he said.
"They're gonna get called," he said.
The insurer sees the dealer as a point of authority, according to Reichen. But often, the dealership will deliver incorrect information, Halcro said.
For example, Reichen called wheels a "big issue" in his Oregon market. Dealership employees are reconditioning wheels, according to Reichen — despite OEMs typically banning such work.
He said he's found that as a collision repairer, "we need to educate those service advisers."
Reichen pointed out that dealership service advisers have a large turnover and might have worked for a different OEM in the past than the one whose procedures generated the inquiry. Often, they don't understand collision repair procedures at all, he said.
Educating a dealership on their own OEM's procedures can be huge for a shop, Halcro said.
Halcro said Capital Collision will at the time of an estimate print out the safety inspection requirements for a customer and tell them the insurer might object to all of it. When the consumer double-checks with an informed dealership and receives the same information from the retailer, "that's really been helpful," he said.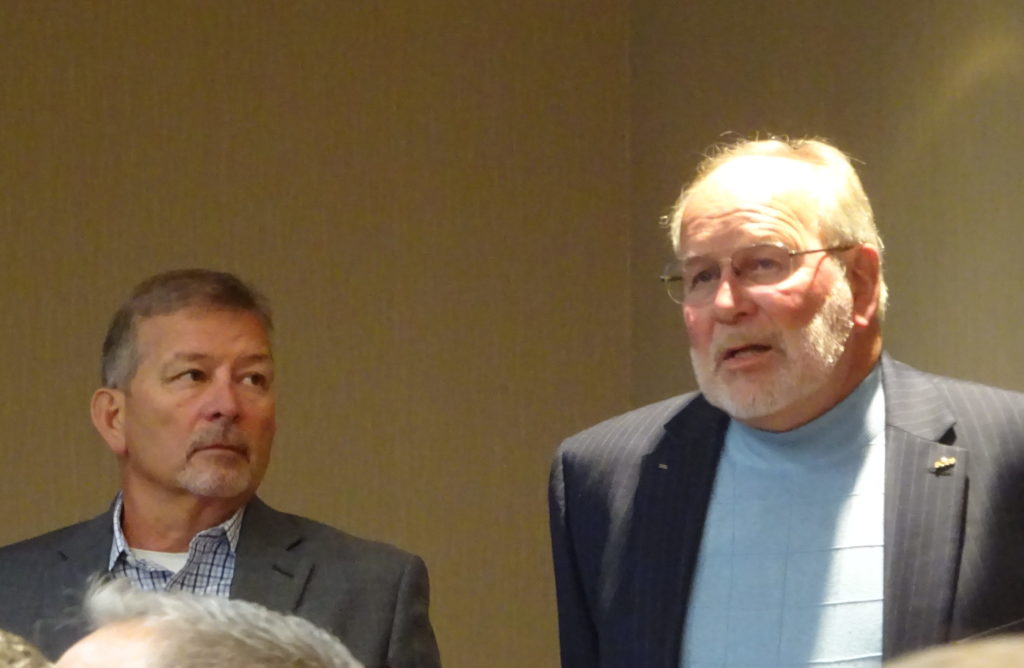 'It is what it is,'
Halcro said he was congnizant that such extensive inspections added to the repair bill.
However, "really, it's the only way to be sure" the vehicle is safe to put back on the road.
Reichen acknowledged the billpayer, but he said his shop would follow OEM, and "it is what it is."
Halcro said at first, Capital Collision sublet the inspections to dealers and would receive bills listing 15-20 hours of work on the dealer's part. Now, the shop does them in-house. "They're intensive," he said.
Halcro said that while the inspection operations often wouldn't be performed during another repair, the work to access the area needing inspection might be overlap.
If a headliner was already down for work on a quarter panel, you could inspect the safety items beneath without the R&I headliner operation  normally required to perform that inspection, according to Halcro.
That'd be an example of overlap, and his shop would charge for just the single R&I, Halcro said.
"This is a tough enough fight," he said. You wouldn't want to get "caught double-billing."
However, while the headliner R&I was already done and overlap, the repairer would still have to perform the inspections on items like airbags and mounts to fulfill the safety requirements, Halcro said.
Asked about less intrusive inspections, Halcro said Capital Collision has a boroscope, and "that works in some areas" — but not for every inspection, he said.
If there are means of doing the work correctly while generating less friction, "we're all about that," Halcro said.
More information:
"Required Manufacturers Safety Inspections" slides featuring 2019 Subaru Ascent Limited
Society of Collision Repair Specialists, July 24, 2019
Subaru OEM repair procedures website
Images:
Some of the possible inspections required on a 2019 Subaru Ascent after a collision are shown in this slide from a July 24, 2019, Society of Collision Repair Specialists open board meeting. (Subaru procedures in SCRS slide; photo by John Huetter/Repairer Driven News)
Examples of safety system inspection documentation on a 2019 Subaru Ascent Limited. (SCRS slide; photos by Capital Collision Center)
SCRS Vice Chairman Bruce Halcro, left, and former Chairman Ron Reichen used a 2019 Subaru Ascent Limited to illustrate post-collision inspections during a Society of Collision Repair Specialists open board meeting on July 24, 2019. (Subaru procedures in SCRS slide; photo by John Huetter/Repairer Driven News)
Share This: