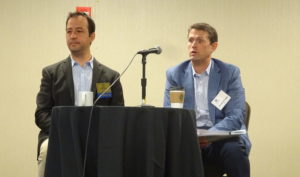 It's sometimes asserted that OEM and aftermarket parts made by the same manufactuer are identical. But a leading Tier 1 supplier producing both confirmed last month differences might exist.
David Williams, Denso original equipment service parts division director, told a July 25 Collision Industry Conference audience his company sells parts to every automaker and also features a remanufacturing plants and aftersales operation.
Denso specializes in electromechanical parts and thermal components, and its portfolio of what the industry would consider collision parts is primarily condensers and radiators, he said.
Asked if Denso ever sold aftermarket parts that exceeded manufacturer specifications, Williams called it "extremely, extremely rare."
OEM standards
Toyota's Eric Mendoza, a fellow CIC Parts and Materials Committee panelist, said Toyota as a DENSO customer will ask the Tier 1 supplier to "live up to certain standards." These could include performing quality control checks on a certain amount of parts at a certain frequency, Mendoza said.
An aftermarket distributor would also have their own set of standards, said Mendoza, Toyota's collision operations department manager.
Williams agreed. He said OEM criteria for factory parts include testing; form, fit and function; and consistency over the life of the contract. The same would be the case for OEM service parts.
He said automakers periodically audit the company, and do a great deal of "early detection, early resolution," or EDER. If Denso quality or delivery flags at all, "They are there," Williams said.
OEM quality targets are less than 10 issues per million, Williams said.
Even 15 years later, a part must still meet material and performance specifications, Williams said. Any deviations must be reported to the OEM for approval.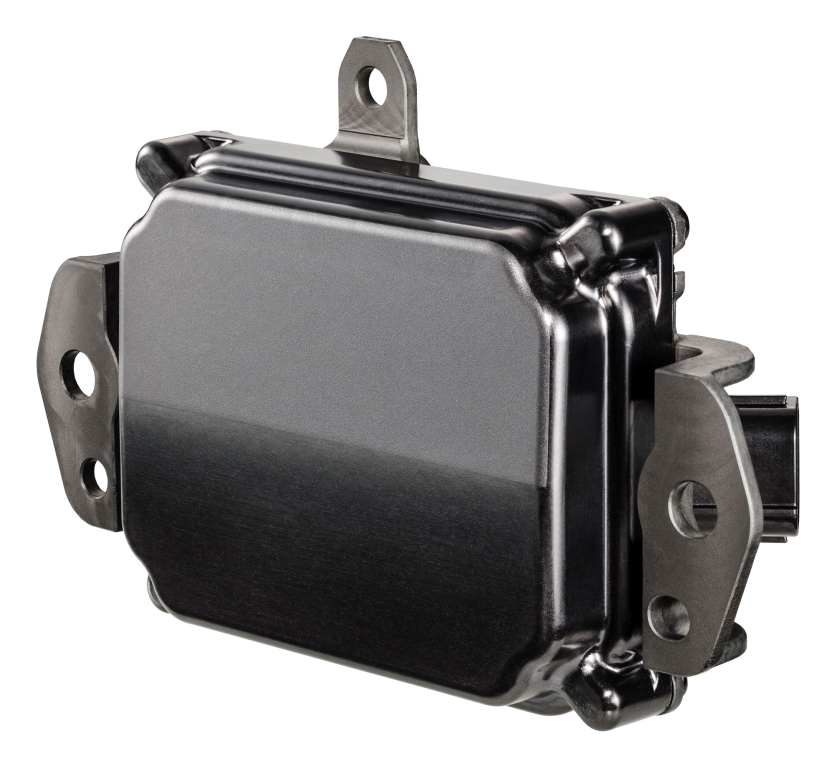 Toyota sells both "OES" (OE service) parts and a less expensive OE Second Line set of parts for repairers and consumers to use, according to Mendoza. Both are warrantied by Toyota, he said.
Asked about the "defining value" between the lower-cost OE Second Line parts and purely aftermarket copies of Toyota parts, Mendoza answered that both the OES and Second Line parts "came from Toyota."
Toyota engineers in Japan approved both, Mendoza said. "It's Toyota through and through," he said. Both are meant to deliver the reliability and quality consumers sought when purchasing a Toyota.
Williams called the OE Second Line parts a "phenomenal value proposition."
Aftermarket standards
When DENSO distributes its own aftermarket parts through retail channels, "it doesn't meet that same criteria" as what it builds for an OEM, Williams said.
Denso itself determines consistency, quality and form, fit and function targets for the aftermarket part, Williams said.
There is no OEM approval of any change; Denso's customers are distributors, Williams said. As distributors often don't have the capability to audit supply and quality, Denso must police itself, he  said.
Mendoza stressed this later. When an aftermarket part's standards are established, "Toyota is not included in that, at all," he said.
If a Denso aftermarket part shipped through a third-party channel has issues, Denso is responsible, Williams said. He said this might explain why certain aftermarket parts aren't made — the manufacturer isn't willing to risk an issue in that sales channel costing an OEM's mass-production business.
Aftermarket production involves Denso figuring out what would sell in the market and then reverse-engineering based upon its OEM knowledge.
Denso would analyze the shape, form, fit and function of a part and wonder how to "'back that off'" to meet a wider market, Williams said.
Williams gave the hypothetical example of an OEM platform with a 41 mm condensor. Denso might decide to make a 40 mm aftermarket condensor able to fit vehicles with 39-42 mm condensors for a  requirement like "'85 percent of OE cooling.'"
Williams said Denso will benchmark its aftermarket part internally based upon the part it built for the automaker.
For example, an aftermarket part might use the same core as the OEM but change elements like the tank position, material, fin density, according to Williams.
He said Denso typically targets about 85-90 percent of OEM specs in both its aftermarket parts and Toyota Second Line parts.
Williams said the 85-90 percent benchmark wouldn't be standard across all product categories or all vehicles. (It was unclear if this comment applied to both aftermarket and OE Second Line parts or one of the other of those two part categories.) He said Denso wouldn't compromise on safety or quality parts for Toyota.
Resell the same part?
Asked why Denso wouldn't just sell OEM parts in its own packaging, Williams joked, "I wish we had more time."
He said there are "two major buckets" of reasons — one "contractual," one "strategic."

One contractual barrier might arise when an OEM like Toyota pays Denso to develop a completely new part, one never done before, Williams said. The automaker owns the intellectual property, not Denso, he said. (Which means it'd be infringement for Denso to sell that IP on the side.)
The OEM might also request ownership of a tool, which also means "we can't distribute that part," Williams said.
A Tier 1 like Denso might also sign a master purchase agreement over a part upon which the automaker wants its logo, Williams said. The parts manufacturer couldn't distribute a component  branded in such a fashion.
Even without the presence of an OEM brand, capitalization might be a strategic barrier to reselling the same part, Williams suggested.
Denso will spend the money and build a factory line able to meet the terms of a OEM's production contract plus enough "safety stock" for wiggle room, according to Williams.
For some auto parts, "the capital investment is tremendous," Williams said. Denso wouldn't risk spending more money to expand capacity if the aftermarket sales aren't guaranteed, he said.
In other cases, a Tier 1 supplier might be too small, He said. They might not pursue an aftermarket capability for a few years, or avoid doing so to protect their OEM business, he said.
Finally, no distributor wants a distinct aftermarket part for every car ever made — they want to stock an aftermarket part from the Tier 1 that's able to fit multiple models, Williams said.
"Nobody wants one radiator, one car," he said. "They want one radiator, 50 cars."
OEM and aftermarket supplier versus aftermarket-only supplier
Williams said Denso will identify itself as an "OE supplier" to differentiate itself from other aftermarket companies. The idea is to demonstrate Denso's part manufacturing skill is at a level where even an automaker will use its services, as opposed to other aftermarket part companies that reverse-engineer a component and find someone to build it, he said.
Denso might sell an aftermarket sensor different from the OEM version on a particular vehicle. However, that sensor might have been used on older versions of that vehicle or on other automakers' cars, he said.
Denso understands the sensor, as opposed to another aftermarket supplier who only knows what it learned from reverse-engineering the part, Williams said.
Denso also will focus on how an aftermarket part interacts with the rest of a vehicle architecture, Williams said.
An aftermarket part which was reverse-engineered "in and of itself," without consideration of the vehicle as a whole, might not behave in an "ideal way," Williams said.
OEM suppliers like Denso will go to that deeper level and consider the entire vehicle, he said.
Mendoza summarized Williams' message as that a distributor could take comfort in aftermarket parts made by an OEM supplier, for "they have the experience." Their parts can have a higher quality than other aftermarket parts manufacturers, Mendoza said.
Denso produces OEM parts and an "excellent" aftermarket part, Mendoza said. Nevertheless, "there's a very clear difference," as the discussion July 25 demonstrated.
At the end of the day, the aftermarket part was "still an aftermarket part," he said.
Mendoza said he didn't see a situation where automakers would set a particular standard for aftermarket parts or help manufacturers create them. The only way to obtain Toyota safety specifications for sure was to buy a Toyota part, he said.
He noted that it "scares the hell out of me too" that a distributor would ask an aftermarket manufacturer — even a Tier 1 manufacturer selling to OEMs — to build a safety part to manufacturer specifications without any OEM involvement or validation.
Correction: An earlier version of this article implied DENSO had called OEM and aftermarket parts from the same manufacturer different in all circumstances. DENSO didn't express things in such an absolute fashion; merely that strategic and contractual reasons existed why such differences would occur. The article has since been corrected to reflect this.
Images:
From left, Eric Mendoza, Toyota's collision operations department manager, and David Williams, Denso original equipment service parts division director, participate in a July 25, 2019, Collision Industry Conference panel. (John Huetter/Repairer Driven News)
Denso makes the millimeter-wave sensor for the 2018 Lexus LS. (Provided by Denso)
Denso Manufacturing Michigan, which produces OEM air conditioning products, is shown. (Provided by Denso)
Share This: