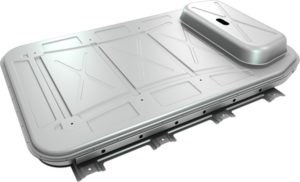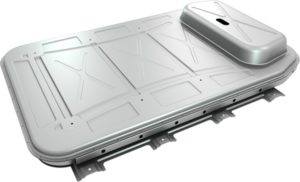 Novelis on Thursday announced OEMs could buy a new 6XXX aluminum automotive body sheet "that exceeds industry standards for strength, lightweighting, formability, performance and structural integrity."
"It is the strongest 6xxx series product with a 15 to 25 percent in-service strength advantage over incumbent high strength aluminum alloys and exhibits excellent crash behavior and corrosion resistance," Novelis continued in a news release.
The company said it sought to sell the Advanz 6HS-s650 aluminum to OEMs "for applications demanding high in-service strength, such as A and B pillars, floors, tunnels, rockers, side impact door beams, bumper beams, roof rail inserts, underbody frames and electric battery enclosures' components."
Novelis said Thursday it already "commercialized" the metal with its "Alumineering" electric battery case platform and "as a structural component for a major electric vehicle platform."
Advanz 6HS-s650 aluminum offered 45 percent lighter weight than "high strength steels" and "joins effectively with other automotive structural materials," according to Novelis. The substrate also cut complexity and costs by "eliminating post-form heat treatment" and you could keep it around for a while in the supply chain if needed given "superior shelf life characteristics."
Novelis also touted that it could be "easily recycled" into new high-strength aluminum in a "closed-loop process." Recycling in such a fashion at the factory level helped Ford offset the cost of using aluminum in the Ford F-150, a Ford production executive said in 2017.
In April, Novelis shared details about its Alumineering battery case without identifying the specific Advanz aluminum described Thursday.
Novelis called the case up to 50 percent lighter than a steel version but still able to hold enough battery for 160 watt-hours per kilogram. At that time, the aluminum supplier saw a use in electric trucks, SUVs and crossovers with larger battery packs, and it predicted the battery-electric vehicle market would triple globally by 2025.
"For mass production electric vehicles, Novelis' aluminum sheet design is the most cost-effective solution when compared to aluminum extrusion and casting-intense designs and has low $/kg saved premiums compared to equivalent steel designs at substantially lower weight," the supplier wrote in April.
"… With safety as a top priority, Novelis conducted extensive testing simulations to ensure its innovative, high-strength materials will protect batteries from road debris and vehicle crashes."
Aluminum also disperses battery heat better than steel, a Mississippi State University Center for Advanced Vehicular Systems student explained ahead of the school's autonomous electric Subaru unveil at SEMA.
More information:
"Novelis Launches High-Strength Automotive Aluminum Product for Next-Generation Body Sheet Design"
Novelis, Aug. 1, 2019
"Novelis Creates First Aluminum Sheet Battery Enclosure Solution"
Novelis, April 30, 2019
Featured image: Novelis said Aug. 1, 2019, that it "commercialized" the Advanz 6HS-s650 6XXX aluminum in its "Alumineering" battery pack. (Provided by Novelis)
Share This: