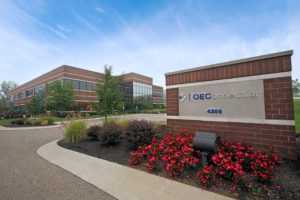 Private equity firm Genstar Capital will buy a controlling interest in OEConnection, though Ford and General Motors will retain their minority shares.
The deal with current majority owner Providence Equity Partners is expected to close sometime this quarter. Terms were not disclosed in OEConnection's Thursday announcement.
OEConnection handles 36 automaker brands and serves more than 30,000 dealerships and more than 135,000 auto repairers across the world. Its interests besides helping sell OEM parts include technology for OEM service, supply chain and data operations. The company started as an OEM partnership in 2000, with Ford and GM among the original automaker owners.
A 2016 news release announcing Providence's majority purchase said Ford and GM had 15 percent minority stakes at that time.
Genstar said it would provide money and assistance to help OEConnection grow.
"Our investment focus in the software sector is to identify companies operating in dynamic markets with opportunities to accelerate growth," managing director Eli Weiss said in a statement. "We will aggressively identify key acquisitions and opportunities to broaden OEC's product mix, expand its geographic footprint, and enter adjacent market segments. We look forward to helping build OEC's future."
Director Geoff Miller said his company would "provide the additional investment capital and resources to support realization of the Company's growth strategies."
Providence said OEConnection has already been booming. Numbers from OEConnection's 2016 news release on Providence's purchase reinforce that point.
At that point, OEConnection only served 20 automakers and 100,000 combined dealership and repairer customers worldwide, the company wrote.
"It has been a privilege to work with Chuck and the OEC team, as well as our partners at Ford and GM, to help accelerate the growth of the Company," Providence managing director Davis Noell said in a statement. "Through significant organic and inorganic initiatives, OEC has achieved tremendous success over the past three years, expanding into new international markets, enhancing its product offerings and data capabilities, and significantly bolstering its salesforce to better serve its growing customer base. We have the utmost confidence that the Company will continue its successful growth trajectory under Genstar's stewardship."
Providence has a portfolio of about $40 billion, while Genstar has about $17 billion in assets.
Providence's portfolio contains such familiar names as Autotrader and KPA. Among Genstar's holdings, repairers might recognize the Ohio Transmission Corporation.
Genstar focuses on financial services, healthcare, industrial technology, and software. Regarding software, Genstar wrote that it seeks "mission-critical application software businesses that are market leaders in vertical market segments. These software bases enjoy large customer bases with high levels of recurring revenue, established track records, low capital spending, and unique domain expertise and/or intellectual property."
"We are pleased to partner with the Genstar team as we continue our positive momentum and further expand OEC's product and service offerings for our customers around the world," OEConnection CEO Chuck Rotuno said in a statement. "We look forward to the benefit of Genstar's industry expertise and strategic insights from their many years of investing in the software sector. We are grateful to Providence for their support and guidance over the past three years, which has certainly helped transform OEC into a larger, high-growth business with a global footprint and enhanced capabilities."
More information:
"Genstar Capital to Acquire Majority Stake in OEConnection from Providence Equity"
OEConnection, Aug. 1, 2019
Featured image: OEConnection's headquarters is shown. (Provided by OEConnection)
Share This: