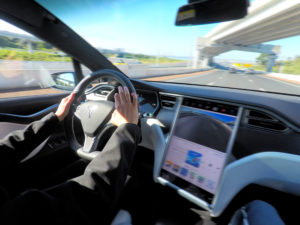 It's "mandatory" that collision repairers test-drive a vehicle following ADAS calibration, LaMettry's Collision operations President Darrell Amberson argued before the Collision Industry Conference last month.
Amberson, whose regional MSO handles many calibrations in-house, recalled a lesson he called "very powerful" regarding the shop's attempt to recalibrate a Hyundai radar system.
No fault codes existed, and the shop's aftermarket scan tool reported the calibration was successful, he told the CIC audience July 25.
Amberson said the shop performed a road test, which it calls a "dynamic systems verification" and which he felt was "mandatory." He said the test drive involves an employee who understands how the ADAS system works and can detect if it isn't working properly when engaged.
The shop learned from the test drive that the adaptive cruise control wasn't working correctly. LaMettry's contacted a dealership, which informed the shop that it lacked the calibration target and didn't want to buy one. The shop proposed using the OEM scan tool and LaMettry's' target.
The scan tool reported no fault codes and that the calibration had been completed successfully, but the adaptive cruise control still didn't work right.
After pulling the bumper and conducting some measurements, the shop realized that the radar mounting bracket was slightly tweaked. "And that's all it takes," Amberson said.
Eric Newell, director of field operations for asTech and a fellow panelist July 25, said a misaligned or uncalibrated component will not always trigger a dash light, nor will it always register during a pre-repair or post-repair scan.
Insurer-Repairer Relations Committee Co-Chairman Matthew McDonnell (Big Sky Collision) earlier in the session called test-driving vehicles logical anyway.
Shops aren't fixing a vehicle that will sit in a garage, he said. "They're gonna drive it," he said.
This is a "basic principle," he said during the joint Insurer-Repairer Relations and Emerging Technologies Committee session.
The Database Enhancement Gateway in a 2016 tip advised that test driving wasn't part of any estimating service labor times except for possibly those related to a wheel alignment.
Featured image: A Tesla Model X travels on a road in Auckland, N.Z. (chameleonseye/iStock)
Share This: