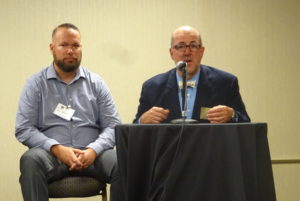 Identifying the need for calibration and blocking out the timing of repair procedures up front might help avoid uncomfortable situations with consumers and insurers, based on lessons from the July 25 Collision Industry Conference.
Insurer-Repairer Relations Co-Chairman Matthew McDonnell (Big Sky Collision) said we tend to think of recalibration as an "'if'" based on factors like an airbag deploying or a hard hit. But Ford, for example, actually calls for a dynamic calibration of a 2017 F-150 following work like a tire size change or a windshield replacement, he said.
The procedure might be even more common than that.
Eric Newell, director of field operations for asTech and a panelist at the Emerging Technologies and Insurer-Repairer Relations Committee session, said it was "pretty simple" to know when calibration would be needed. It's any time a module is manipulated outside of factory specifications, according to Newell.
This could happen under a variety of circumstances, including an R&I, R&R, an adjustment or damage, Newell said.
However, that's just a rule of thumb. Only the OEM procedures will truly tell you if a calibration is necessary, according to Newell. As he described it, a shop should think critically: Was the module manipulated? Then the repair procedures should be checked regarding calibration needs.
Such a rule of thumb might also help an estimator or customer service representative make a few predictions or offer an educated guess to a consumer prior to digging in and developing a formal repair plan.
An estimator can also start getting a sense of what calibration might be needed by looking for telltale indicators during a walkaround, according to Newell.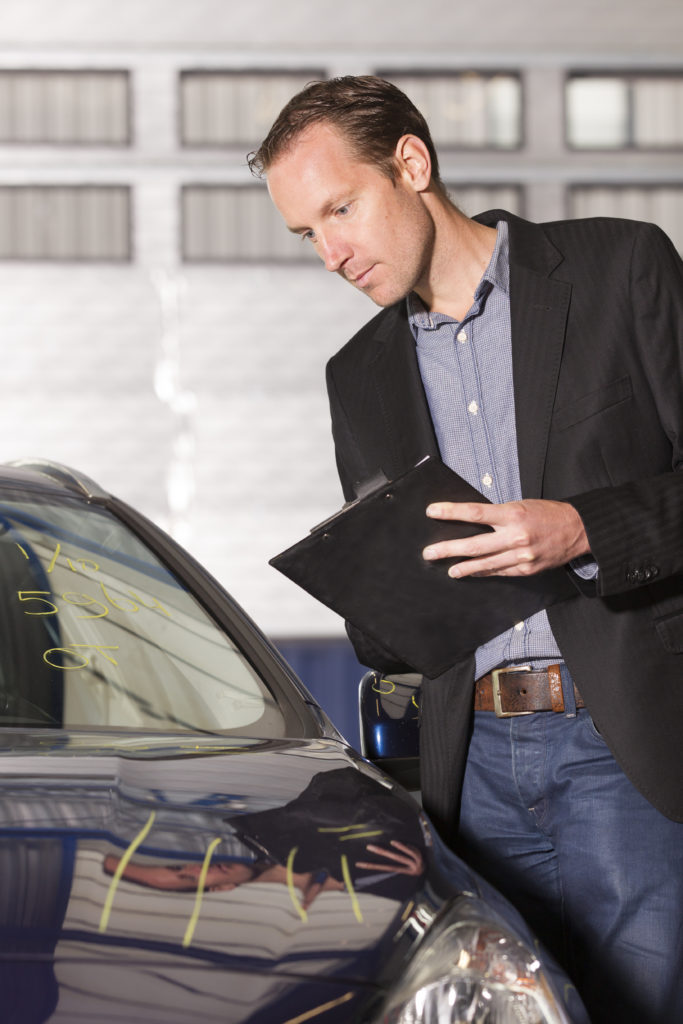 For example, take a BMW with a camera attached to the bumper, he said. Your quick one-hour bumper repair would trigger a recalibration, for you've manipulated the system.
Newell called glass something that's "missed quite often." A repairer will R&I the glass for a repair to the body and forget to recalibrate the camera behind the component.
A Toyota trend involves front radars attached directly to the grille — which in turn attaches to the bumper, according to Newell.
He gave the example of a seemingly simple $500-$1,000 front bumper scratch estimate the customer wants to do out-of-pocket.
It's important to know up-front if adaptive cruise control recalibration is necessary rather than having to surprise the customer with a supplement that could add 50 percent to the bill, Newell said.
"This ties in to customer service," he said.
Calibration also could affect the schedule of a repair along with its severity — something that's likely best understood and incorporated into a repair plan up front.
AirPro operations and technology Senior Vice President Chuck Olsen said it needs to be recognized that ADAS calibrations "are separate and apart" from other repair procedures.
Before a calibration can happen, the vehicle must first have a successful post-repair scan and "legacy" calibrations like steering angle sensors recalibrated, Olsen said. The ADAS systems are relying on inputs from technology like the latter, he said, later calling steering angle "probably one of the most important inputs."
Operations like suspension repair and wheel alignments are also prerequisites, he said.
Recognizing such factors and figuring out the timing of various operations at the start of the repair could matter for scheduling various sublet operations, not to mention calculating and hitting a delivery date.
Insurer-Repairer Relations Committee Co-Chairman Clint Marlow (Allstate) said a shop should plan ahead of time to reduce conflict with an insurer.
He used the analogy of a shop predicting it would snow and arranging a plow ahead of time, rather than waiting until 2 feet had fallen in the parking lot.
"I think we can apply some of (that planning)," he said.
A shop and insurer should hash out the process and find "alignment" prior to the repair, rather than figure it out after a vehicle is sitting in a shop and taken "half apart," he said.
This might avoid some conflict and friction, he said.
"That's my plea," he said.
You know calibrations are going to become more common, Marlow said.  "Repairers talk to your insurers, insurers talk to your repairers," he said.
Not everything will be resolved, but you can "eliminate some surprises," he said. He gave the example of a repairer that must sublet to a dealership. This adds two days to the repair and a large sublet charge.
"If you agree up front, 'Yeah, we don't really have any choice,' I don't know where that conflict then comes up," he said.
More information:
NASTF portal to official OEM repair procedures sites
Joint Collision Industry Conference Emerging Technologies and Insurer-Repairer Relations Committee presentation slides
Images:
CIC Insurer-Repairer Relations Committee Co-Chairman Clint Marlow (Allstate) speaks July 25, 2019, at the Collision Industry Conference. AsTech's Eric Newell is at left. (John Huetter/Repairer Driven News)
An external examination of a vehicle can allow an estimator to make a few predictions about the need for ADAS calibration. (BartCo/iStock)
Share This: