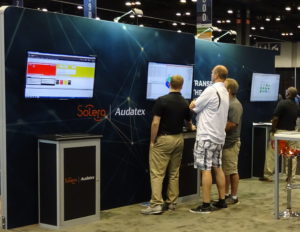 The Database Enhancement Gateway, which allows repairers and insurers to make inquiries and suggestions of the estimating providers at no cost, offers weekly tips for repairers on the Audatex, Mitchell and CCC programs online and through the Society of Collision Repair Specialists' email list.
If you haven't used the free service before to submit questions about estimating collision repair work or just browse responses to other carrier and shop questions, check it out. It's a good way to find IP best practices and help write the most accurate estimates or appraisals possible.
Here's our latest monthly roundup of areas spotlighted as tip-worthy by the DEG. To receive the tips as soon as DEG releases them, like/follow the DEG's Facebook and Twitter feeds. (It also posts videos to a YouTube channel once in a while.) Or just browse the nearly 15,000 inquiries and responses in the database and see what else you learn.
Audatex P-pages updated
The DEG in an Aug. 12 tweet alerted collision repairers to revisions in Audatex's Database Reference Manual. 
Considering the importance of P-pages in clarifying what's included in a stock labor time and what needs to be added manually, it'll be critical that estimators and adjusters review the changes.
One significant addition includes a definition of "Continuous Clear."
According to the revised P-pages:
Continuous Clear is defined as the application of clear coat to an undamaged adjacent panel when no breaking point exists between panels.
As a user defined entry, a Continuous Clear labor allowance is based on the estimate preparer's judgment, expertise, and consideration of the unique requirements of each repair. Entered in the Blend Refinish Labor Field, the adjusted time includes all necessary operations such as prep sanding, precleaning and masking, along with mixing of materials, application of clear, flash, and final steps/cleanup.
When continuous clear is applied, the labor allowance includes the application of clear coat to the entire adjacent panel.
Audatex also has revised its guidance on the "Prep Raw Bumper Cover" operation associated with the bumper cover part choice. Audatex deleted a sentence explaining that the "Prep Raw Bumper Cover" operation's inclusion "will apply only to manufacturers known to supply raw, unprimed bumper covers."
The IP also broadened another aspect of its P-pages. It appears to have removed language suggesting that scanning and calibration were included operations for Teslas through November 2017. Now, you apparently would consider a Tesla like any other vehicle — scanning and calibration aren't included.
Another change involved Audatex clarifying "A/C line disconnect / connect" and "Line Cap Off" should be considered part of the broader "A/C condenser R&I" operation. The DBRM treats that "A/C condenser R&I" as included in certain scenarios regarding new and recycled parts but not included in other recycled parts operations, so you might want to double-check the P-pages before making any assumptions.
Many procedures related to replacing the rocker center pillar are also clarified as included when the part is new, the DEG also pointed out. A prior generation of the DBRM failed to provide check marks sorting those operations into either the included or not-included category.
Cutting headliner holes not included in Audatex
The DEG tweeted another Audatex-related tip Aug. 5, this one related to headliners.
A July 12 DEG inquiry referenced in the tip explained that the "replacement headliner does not come with precut holes for the sun visor courtesy lamps or microphone hole" for a 2015 BMW "320XI" (possibly a reference to a BMW 320i xDrive).
The user asked Audatex to clarify if the time to measure and cut the holes were included, suggesting it would take an hour.
Audatex said it would have to be a manual entry.
"We have reviewed the current OEM procedure for the HEADLINER,ROOF (GN 0377)," Audatex wrote. "According to Database Reference Manual 'Repair, fitting or modification of new replacement parts (unless part is being sectioned)' is not included in our times provided. The customer would have to use manual entries to consider that additional time. No change warranted at this time."
Radiator support add-ons in Mitchell
DEG Administrator Danny Gredinberg in an Aug. 15 video also included as a tip demonstrated what he called a "pretty cool" Mitchell feature.
Noting that replacing a radiator support can lead to a grey area into what's included, Gredinberg showed how clicking on the radiator support operation for an unspecified vehicle (based on the part number, it appears to be a 2014-19 Infiniti) will bring up line notes. Those notes discuss what is included in the 6.5-hour base labor time.
A Mitchell user also then has the option for an "Add to R&R Radiator Support" add-on which allows the user to select other possible operations, according to Gredinberg's video. He demonstrated how a 1.6-hour R&R or R&R base model mechanical components option could be tacked onto the estimate. A line note states that this time "Includes R&I/R&R A/C Condensor Assy, Air Bag Sensor, Power Steering Cooler."
A base model radiator support might only require 6.5 hours, but a user might want to add more tasks in this fashion to a a vehicle with more options, Gredinberg said in conclusion.
Retroactive labor rates in CCC
Did the estimate of record get the labor rate wrong? The DEG in an Aug. 22 video used in a tip explained how to fix this in CCC.
Gredinberg said that when a CCC user creates a supplement, they can apply a new labor rate "versus the approved estimate of record" amount.
If you simply input that rate and move on, the new value won't apply to the estimate of record, only the supplement, according to Gredinberg.
Gredinberg said the CCC user can address this two different ways. In one, simply shift from the supplement to the estimate of record using the drop-down menu at the top left. This allows the estimate of record labor rate to be changed.
The second seems to be even easier. CCC offers an option to "Apply Rates Retroactively" on the supplement rate screen. By clicking on this, the supplement's rate will be transferred to the prior estimate of record as well, according to Gredinberg.
Have a question?
Have a question about AudaExplore, Mitchell or CCC? Submit inquiries to the DEG here. Inquiries, like answers, are free.
More information:
"Mitchell Ultramate: How to add additional labor operations for Radiator Supports"
DEG YouTube channel, Aug. 15, 2019
"Retroactively apply labor rate to supplements and estimate of record."
DEG YouTube channel, Aug. 22, 2019
More information:
Database Enhancement Gateway homepage
Featured image: Audatex is advertised on a Solera booth at SEMA 2017. (John Huetter/Repairer Driven News)
Share This: