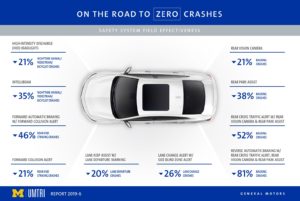 New General Motors and University of Michigan Transportation Research Institute research examining 3.7 million vehicles found multiple advanced driver assistance systems able to reduce crashes by double-digit percentages, GM announced Monday.
Only four of the 15 ADAS systems researched using police reports failed to reduce relevant crashes by statistically significant amounts. However, in at least three of those cases, researchers suggested a small sample size might have been the culprit rather than a deficiency in the tech.
It's important to note here that the operative phrase is relevant crashes — meaning collisions the system in theory should have been able to stop. For example, autobraking combined with a collision warning cut 46 percent of relevant frontal crashes — not 46 percent of all crashes or even every frontal crash.
Nevertheless, the data bears out that ADAS systems dating as far back as 2013 have the potential to eat into your shop's volume, and your business model might have to adjust accordingly.
"This study is groundbreaking in terms of the broad range of vehicles and active safety and headlighting features examined," GM safety technical fellow Raymond Kiefer said in a statement. "The results show that the GM active safety systems evaluated are addressing a wide range of common crashes that cause a staggering amount of injuries, property damage and cost to our customers and society, putting GM well on its way toward a vision of zero crashes."
The research found that systems grew more effective the more automated they became.
"In general, the current pattern of results indicated that newer systems that can provide under certain driving situations either brief, limited, vehicle control (e.g., an LKA steering wheel 'nudge'), and particularly more sustained, severe automatic vehicle control (e.g., AEB and RAB), resulted in substantially greater crash avoidance system field effectiveness benefits than 'alert only' system counterparts (i.e., LDW, FCA, and RPA)," the UMTRI-GM report stated. "Although these systems still require the driver to always remain attentive to driving, they have the advantage of not strictly relying on drivers to respond to alerts in a timely and appropriate fashion and to respond to imminent crash situations that unfold quickly."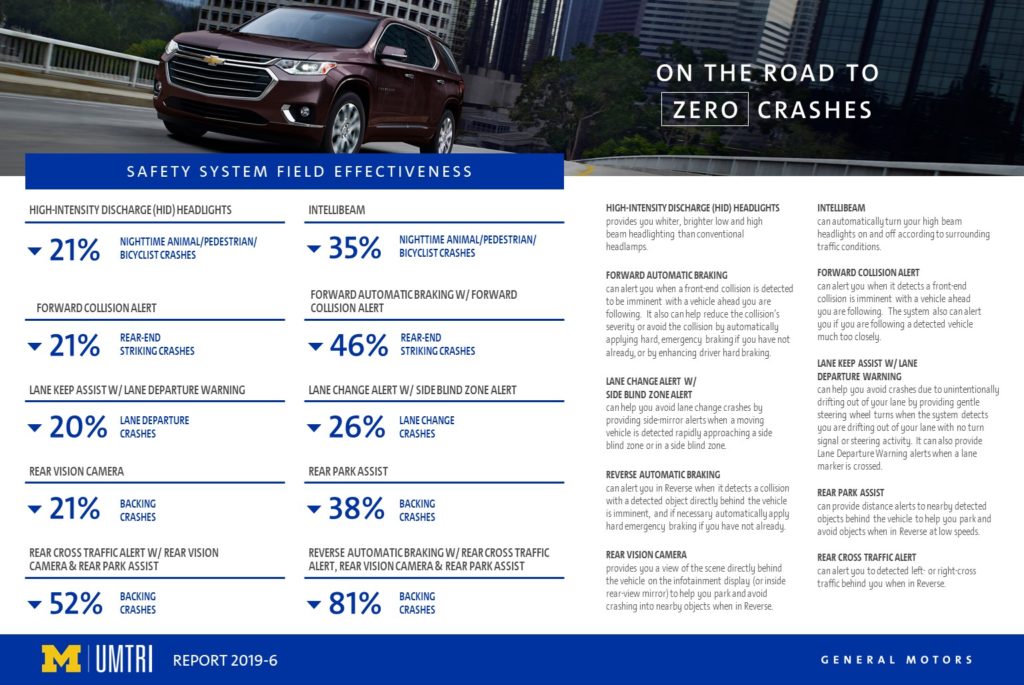 "A key finding of this work is that we can make substantial gains in safety through deployment of advanced driver assistance systems such as forward and rear emergency braking, rear cross-traffic alert, and others. In addition, we found that the more automated the system, the greater the benefits," UMTRI research associate professor and report co-author Carol Flannagan said in a statement. "This work looked at reduction in crashes associated with systems already in the hands of drivers in real-world driving environments. Our working relationship with GM is critical to our ability to evaluate the effects of these systems, and we hope that what we learned can motivate more widespread deployment of the most effective technologies."
Camera-based frontal crash alert systems cut relevant crashes 21 percent even with the driver completely responsible for taking the action. When the system received the ability for the car to stop itself for a threat, crashes fell 46 percent. Autobraking for pedestrians cut crashes 13 percent, but this wasn't statistically significant because of the low sample size researchers had to work with. Pedestrian crashes are thankfully rare, according the the UM report.
Lane-departure warnings alone cut relevant crashes 10 percent, while the addition of lane-keeping reduced lane-departure crashes 20 percent. Fortunately for shops, the researchers also observed, "It should be noted that large-scale telematics-based (OnStar) studies suggest that the relative low usage of LDW systems (compared to FCA and AEB) may be an important limiting factor in obtaining desired higher effectiveness estimates." In other words, consumers are leaving lane-departure alerts off despite the technology's success — good news for shops seeking crashes to restore.
Blind spot monitoring ("Side Blind Zone Alert") without lane change alerts was fairly irrelevant, cutting crashes a statistically insignificant 3 percent. However, GM's blind-spot alerts packaged with lane-change alerts was successful, dropping collisions 26 percent.
"This difference is likely to be due to the substantially longer vehicle detection ranges for the LCA with SBZA system relative to GM's earlier generation SBZA system," the researchers wrote.
GM always offers rear-camera mirror with the blind-spot and lane-change systems, and at a glance seems to reduce such crashes 36 percent. However, "the effect was not statistically significant due to small sample sizes," the researchers wrote. "This feature should be re-evaluated when RCM fleet penetration has increased."
Backing systems are interesting. Rear-view cameras — mandatory on all vehicles, GM or otherwise, as of 2018 — by themselves can cut relevant backing crashes 21 percent.
"For the variety of backing systems evaluated, a 'stack up' system effect was apparent under which the addition of more advanced backing features to less advanced backing features resulted in an increased reduction in backing crashes," UMTRI and GM wrote. "Rear Vision Camera (RVC) alone, Rear Park Assist (RPA) functionality, Rear Cross Traffic Alert (or RCTA; which is always included both RVC and nearly always is included with RPA functionality), and Reverse Automatic Braking (which includes all the aforementioned backing features) produced, respectively, an estimated 21%, 38%, 52%, and 81% reduction in backing crashes."
Finally, high-intensity discharge headlights cut crashes with "Vulnerable Road Users" like pedestrians, cyclists and animals by 21 percent. Automatic high-beam lights cut crashes 25 percent. If a GM vehicle had both systems, relevant crashes into those targets fell 49 percent.
As body shops might expect, most of the "Vulnerable Road Users" in the crashes studied here were animals. If HID and auto-high-beam lights together become more common and help prevent such crashes, deer season might not be as lucrative for shops as it used to be. Further technology might cut even further into those results.
"The inclusion of animals in VRU crashes was done to compensate for the rarity of pedestrian/bicyclist crashes, particularly at night," UMTRI and GM wrote. "In the matched crash crashes, approximately 87% of the VRU crashes involve animals, with the rest being pedestrians or bicyclists. At night, this shifts to animals being 97% of the VRU crashes. During the day, animals are only about 60% of VRU events, and there are also fewer VRU events overall."
Fancier HID headlights that turn with the road also were successful at preventing crashes on paper, but the results weren't actually statistically significant, according to GM and UMTRI.
"The estimated 17% reduction in VRU crashes for articulating HID headlights did not reach statistical significance," the researchers wrote. "Given the relatively small sample of articulating HIDs and the significant 21% benefit for HID headlights, we interpret these results to indicate articulating (steerable) HID headlights are likely to produce a benefit similar to HID (non-steerable) headlights."
ADAS seems like a hot new topic, but based on the report, repairers conceivably were encountering it on GM vehicles at least six, even seven, calendar years ago — and it was working pretty well then.
"GM indicated any differences in system behavior over the range of model years examined was too minor to produce a significant impact on system performance," the report stated at one point.
If at least one trim level offered autobraking for a vehicle, GM provided data about that vehicle's model year to the University of Michigan and in doing so defined the parameters of the fleet being studied. The report indicates that three Cadillac models (the SRX, ATS and XTS) carried that potential on vehicle dating back to at least the 2013 model year. By the 2017 model year (the last year studied), numerous Caddy, Buick, Chevrolet and GMC vehicles offered ADAS on at least one trim.
This potential demonstrates why repairers must research build data to avoid overlooking ADAS and as a result failing to restore it properly, in line with GM's repair procedures and cautions.
More information:
"General Motors, University of Michigan Show Automated Safety Features Preventing Crashes"
General Motors, Sept. 9, 2019
"Analysis of the Field Effectiveness of General Motors Production Active Safety and Advanced Headlighting Systems"
University of Michigan Transportation Research Institute and General Motors, September 2019
General Motors ACDelco full OEM repair procedure website
Featured images: New General Motors and University of Michigan Transportation Research Institute research examining 3.7 million vehicles found multiple advanced driver assistance systems able to reduce crashes by double-digit percentages, GM announced Sept. 9, 2019. (Copyright General Motors)
Share This: