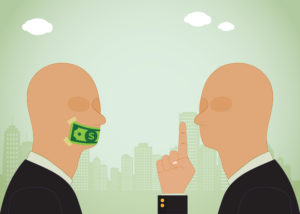 An open Collision Hub "Virtual 20 Group" presentation Wednesday cautioned auto body shops to protect themselves against vendors stealing trade secrets, employees or customer goodwill.
Facilitator Laura Gay, former owner of Fort Washington Auto Body, alerted shops to some potential horror stories which could arise if a shop hasn't executed certain legal agreements with a vendor.
NDA and confidentiality agreements
Two of these documents include nondisclosure and confidentiality agreements. They're similar, but Collision Hub CEO Kristen Felder drew distinctions between the two, as did a slide in the presentation. (As usual with these kinds of articles, they're not meant to be legal advice. Before taking any action, discuss it with a qualified attorney licensed in your state.)
According to Felder in a chat accompanying the event, NDAs "are addendums to an existing contract." Confidentiality agreements are separate documents "you can have a vendor sign when you're dealing with a job by job relationship. Glass Vendor is a great example." Both protect a business' trade secrets.
Gay and a slide on Wednesday offered a scenario in which a repairer develops a great blueprinting procedure.
"During your process you worked with local vendors and national consultants," the slide proposed. "You have invested thousands in tooling, travel and training fees."
Suppose your jobber decides to tell your process to "every shop in town," the slide asked.
Gay called this "so defeating" and said such a scenario had occurred at one of her businesses. Shops were trying to steal her employees and learn what she had taught them.
The shop had created a process that doubled sales, and it didn't want that lesson reaching competitors. Thus, a shop would execute a nondisclosure or confidentiality agreement with vendors, she said.
---
Learn other ways to mitigate risk at Repairer Driven Education
Find out more at SEMA about keeping your body shop out of hot water as David Willett of Intrepid Direct presents "How to mitigate risks and thrive" 12:30-2:30 p.m. Wednesday, Nov. 6. The session is part of the Society of Collision Repair Specialists Repairer Driven Education Series running Nov. 4-8. Register here for individual courses or the series pass package deal, which includes the entire week of classes, all three parts of the OEM Summit, IDEAS Collide and the Nov. 7 Sky Villa afterparty.

---
Another blabby vendor scenario could affect a shop's relationship with a customer.
Noting that she's seen a situation like it happen a couple of times, Gay and a slide offered the prospect of a couple going through a nasty divorce.
One of the vehicles involved in the property settlement was insured in the wife's name only, and she winds up wrecking it. A glass installer recognizes the vehicle, takes pictures and alerts the husband.
Nonsolicitation
Another useful document amid a tech shortage might be a nonsolicitation deal. According to Gay, they can be seen often with paint companies but aren't as common in the collision repair world.
A slide proposed a scenario where a multi-shop operation enters your market and needs to ramp up quickly. "They tell distributor reps they will pay $200 cash for every new employee hired from a confirmed referral," the slide stated.
Lo and behold, the distributor during their next delivery "offers your technicians jobs at the new MSO."
You spend money to train employees and you get them working the way you want to, and then they jump ship, Gay said.
A slide called nonsolicitation agreements "a common contract clause" and described it as the vendor not to "solicit any business clients, bring over any employees, or use any confidential information."
It's important to create a contract with "biteback," in which the vendor is liable financially or in some capacity, Gay said.
The days of operating with merely a handshake are over, according to Felder and Gay.
Featured image: Collision repairers might want to consider executing nondisclosure or confidentiality agreements with vendors, according to Collision Hub. (Vectorios2016/iStock)
Share This: