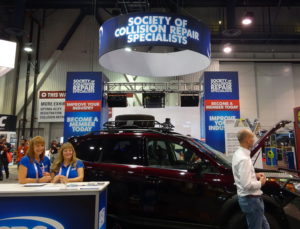 The Society of Collision Repair Specialists on Tuesday invited all collision repairers attending SEMA to meet with financial advisers on the trade group's multiple-employer 401(k) plan.
The plan offers SCRS members the opportunity to leverage their collective buying power and to pursue more affordable and attractive 401(k)s than might be possible going solo.
Both nonmembers and members alike are welcome to take advantage of the meetings Nov. 5-6 in SCRS' SEMA North Hall Booth No. 11173 to see if the plan would be a good fit.
Virginia Asset Management certified financial planner, accredited investment fiduciary and Virginia partner Scott Broaddus and Virginia wealth manager Coley Eckenrode will be on hand to meet with shops scheduling one of the 30-minute blocks available between 9 a.m.-5:30 p.m. Tuesday, Nov. 5, and 9 a.m.-4:30 p.m. Wednesday, Nov. 6. Virginia Asset Management is the investment adviser on the plan.
Sign up for a slot and see availability in real-time during the show at https://calendly.com/scrs401k.
"Less than 20% of small businesses are able to offer retirement benefits to their employees, and SCRS is determined to change that for the collision repair industry," SCRS Chairman Brett Bailey (A&B) said in a statement. "We want to reduce costs, and take the burdens off our members' shoulders, but we also see this as an important means of retaining and attracting people to our industry. We've seen a lot of great success for early adopters, and hope Show attendees take advantage of the opportunity."
SCRS said it offered "cost-effective retirement plans designed to reduce costs, mitigate administrative burdens and limit fiduciary risks" through its program.
Broaddus demonstrated in a July webinar how compounded returns and investment fees could play out over time for a shop trying to go it alone versus using the SCRS option.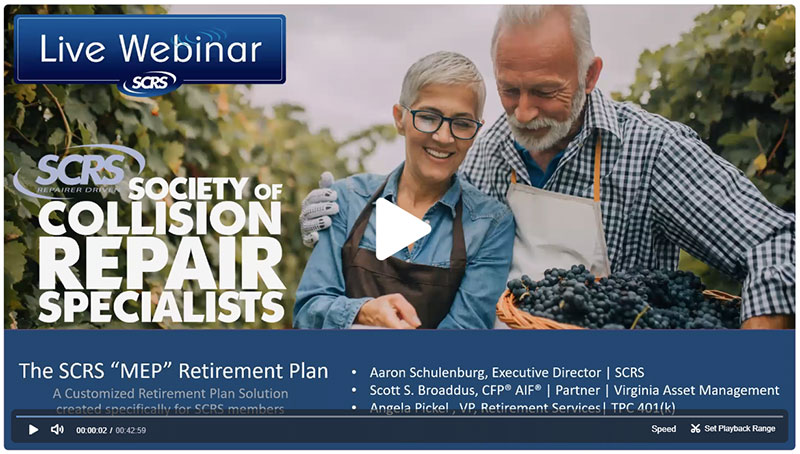 He presented a slide of a shop employee making $40,000 a year and with $40,000 already saved in a retirement plan paying in 10 percent a year. The plan earns 8 percent a year, but the employee gets charged 1.8 percentage points in fees for a net return of 6.2 percent.
That employee has $631,897 at the end of those 30 years. But since SCRS plan leverages the clout of multiple member shops to demand a better deal from their plan's financial management, the employee is only charged 1.02 percent in fees and earns $150,625 more, retiring with $782,522, according to the slide.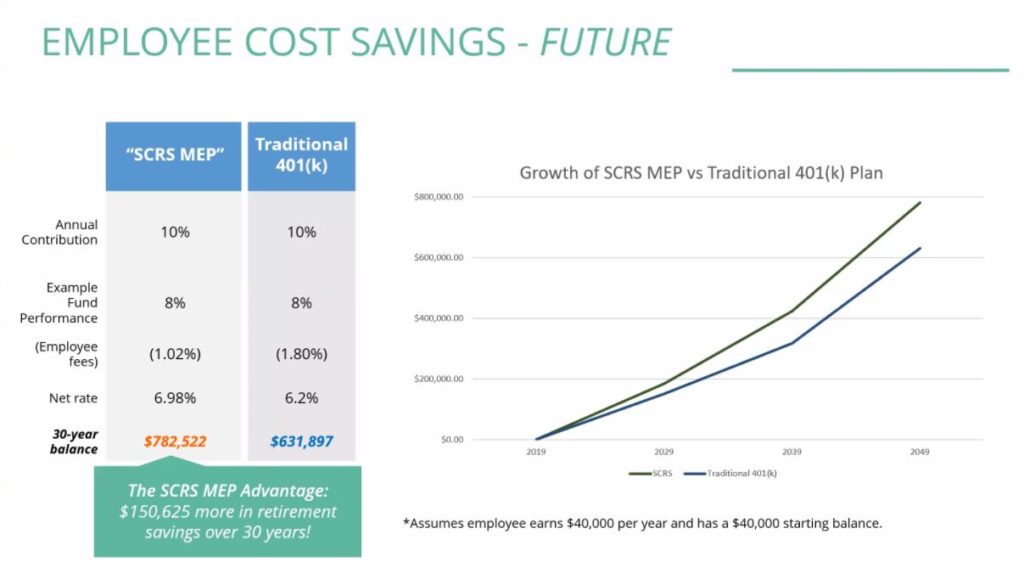 Even more shops joining means more assets under management — which means repairers can swing an even better deal. With $10 million in retirement assets being managed, SCRS member companies' employees will see those 1.02 percent fees, according to a slide from the webinar. But if a few more companies come on board and bring the combined asset pool to $15 million, the fees will drop to 0.93 percent. At $50 million in assets, the fees will fall to 0.73 percent, according to the slide.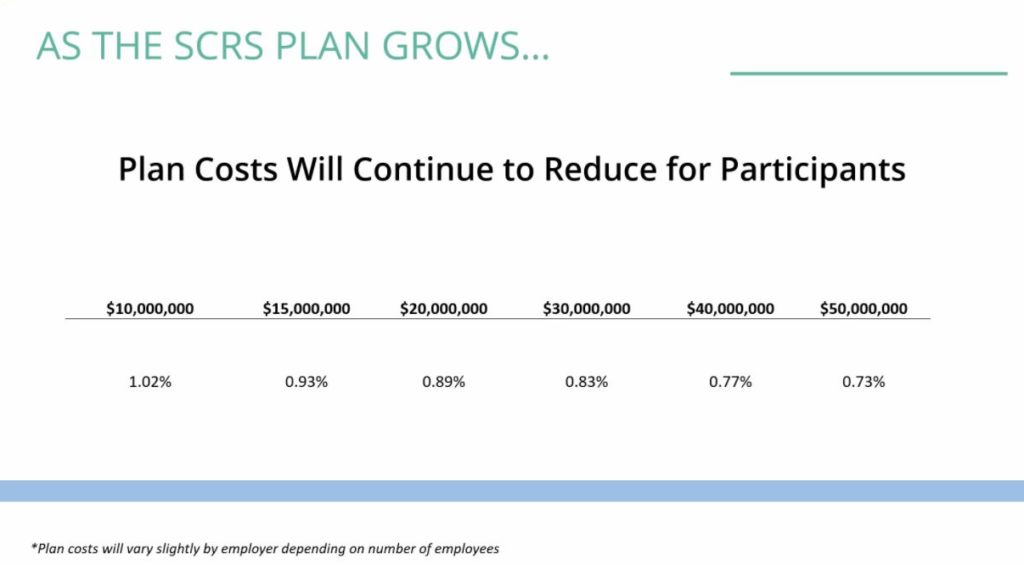 Better benefits might help repairers alleviate a technician shortage. 
The Boyd Group, which owns Gerber Collision, Boyd Autobody and Assured Automotive, last year put half of the projected $11 million CAD savings from the U.S. tax cuts into better perks for its technicians. It increased vacation and holiday pay for commissioned repairers, and it doubled its employer match and shortened vesting on repairers' 401(k)s.
On a first-quarter earnings call, the company's CEO suggested the improved benefits had helped attract or retain enough technicians to eat into a backlog and contribute to same-store sales growth of 5.2 percent.
'Be your own Berkshire'
Shops can learn even more from Broaddus at SEMA during SCRS' Repairer Driven Education series Nov. 4-8.
Broaddus will present "Be your own Berkshire," from 12:30-2 p.m. Tuesday, Nov. 5.
"The focal point of the session is how small businesses can learn from and model behavior after successful corporate business investors," SCRS wrote in a news release.
As the course description states:
Warren Buffett is famous for using the profits from GEICO to diversify Berkshire Hathaway when another opportunity looks more attractive than internal re-investment.
This session will ask you to stop and think of your company the same way Warren Buffett does with the 65+ businesses that make up Berkshire Hathaway.
This includes:
– Calculating internal vs. external return on investment
– Just because I earn money in the business does that means it needs to stay there?
– What opportunities do I have to invest outside my business?
– Can this help increase the value of my business when I'm ready to sell?
Sign up for Broaddus' course here or get the best value with the Full Series Pass, which includes all regular Repairer Driven Education Courses Nov. 4-6, the OEM Summit and Sky Villa afterparty Nov. 7 and the IDEAS Collide Showcase on Nov. 8.
Register for Repairer Driven Education and see course descriptions at www.scrs.com/rde or  www.semashow.com/scrs. To register for the SEMA Show proper and walk the show floor, visit www.semashow.com.
More information:
"Schedule Time to Meet with SCRS 401(k) Advisors at SEMA"
Society of Collision Repair Specialists, Oct. 15, 2019
"Understanding the Benefit of Retirement Solutions for your Business"
Society of Collision Repair Specialists, July 18, 2019
SCRS Repairer Driven Education registration
Images:
The Society of Collision Repair Specialists booth at SEMA 2018 is shown. (John Huetter/Repairer Driven News)
Virginia Asset Management partner Scott Broaddus, the investment advisor on the SCRS retirement plans, demonstrated on the Thursday webinar how both compounded returns and investment fees could play out over time for a shop trying to go it alone versus using an SCRS plan. (Provided by SCRS)
As more SCRS members take advantage of its retirement plans, the financial fees will drop further thanks to a deal the association has negotiated, according to Virginia Asset Management partner Scott Broaddus, the investment advisor on the plans. (Provided by SCRS)
Share This: