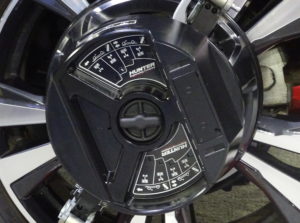 Using an alignment machine to inspect a vehicle prior to a collision repair can save a shop, insurer and customer from unexpected delays, Hunter Engineering technical trainer John Shewbridge said Monday.
Shewbridge will teach "Using wheel alignment to diagnose suspension" from 3-5 p.m. Wednesday, Nov. 6, during the SCRS Repairer Driven Education series at SEMA.
"Diagnostic Alignment Measurements can be very helpful during the estimating process to locate potentially hidden suspension damage up front, reducing supplements and cycle time," a course description states.
With 5-7 minutes worth of measurements from a traditional alignment system, a trained technician can pinpoint which specific parts are damaged before the repair begins, according to Shewbridge. Otherwise, the issue might go unnoticed until later in the repair, creating a "waste of time" while the issue is resolved, he said.
The measurements can take a repairer to a list of two or three potentially affected parts rather than a whole suspension of possibilities. Shewbridge said he could tell if the issue was a bent strut or a bent control arm; it provides"that much precision."
The technique is "taking damage analysis to another level," he said.
You can avoid "the shotgun approach, if you will," in which a repairer replaces numerous components in the hopes one was the source of a camber problem, according to Shewbridge. The repairer also can avoid having to spend a half hour armed with a flashlight and tape measure trying to detect an offending part.
The part might not even be visible to the repairer with the naked eye but will be exposed by the alignment system, Shewbridge said. A bent or broken tooth in the steering system, "you can't see that," he said. And some tie rods "look bent from the get-go," according to Shewbridge.
"At the end of the day, the numbers don't lie," he said.

Some of the parts detectable through alignment diagnostics might also fall through the cracks of a traditional measuring system, according to Shewbridge.
Hunter is trying to advise shops "they actually need this equipment" to do the work in-house, Shewbridge said. In 2016, we reported "Who Pays for What?" survey results by Collision Advice and Crash Network which found 61.7 percent of 522 shops sublet alignments.
Shewbridge argued that subletting to a typical alignment company left the vehicle in the hands of a shop unprepared to make such diagnostic determinations. The kind of shops repairers typically use for the work are used to maintenance alignments, not collision alignments, according to Shewbridge. He called the latter "a different animal." (In all, there are four types of alignments, according to Shewbridge; the other two are corrective alignments using aftermarket kits and modified alignments involving raised or lowered vehicles.)
"Absolutely" the same issue exists if the shop used a dealership instead for an alignment, he said. He said dealerships don't even sometimes know to reset the steering angle after an alignment.
He said less than 1-3 percent of Hunter's customer base makes it through to the company's diagnostic class.
Shewbridge, whose career includes time at State Farm, said "the insurance companies are now starting to pay" for a "pre-alignment diagnotic," or what Hunter calls an "alignment check."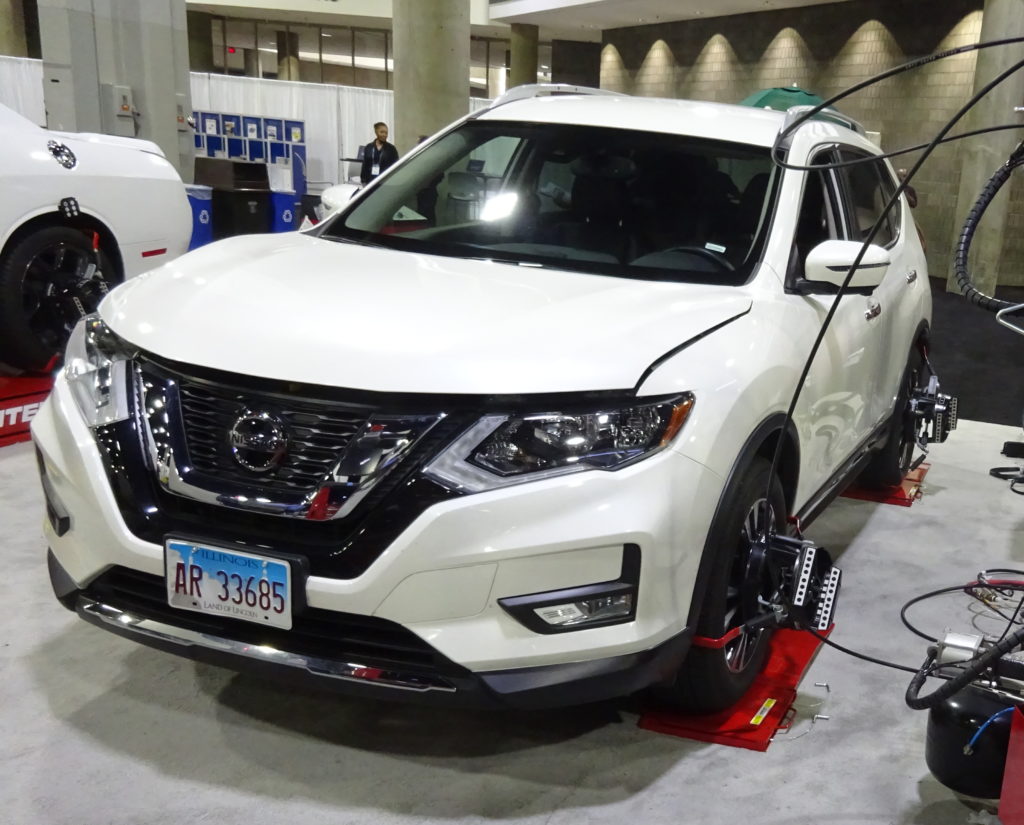 He said "it's much cheaper for everybody" to detect the issues at the beginning, even if the insurer does incur the added cost of the diagnostic. He said insurers are paying up to 0.5 hours of mechanical time for the process.
Shewbridge said he'd like to see a diverse mix attend his SEMA course, including estimators, owners, technicians and insurers, so the class can host "adult discussions" about the problem and how the alignment diagnostics can solve it.
"Awareness needs to be brought" that damaged parts can be found this way, Shewbridge said.
Sign up for Shewbridge's Nov. 6 class individually for $85, or get access to it and everything else in Repairer Driven Education SEMA Week by purchasing the $400 full series pass. The latter lets you into any any class Nov. 4-6, the OEM Summit and Sky Villa afterparty Nov. 7 and the IDEAS Collide Showcase on Nov. 8. Learn more at www.scrs.com/rde.
Images:
A Hunter wheel alignment apparatus is shown at NACE 2018. (John Huetter/Repairer Driven News)
Hunter wheel alignment equipment is shown at NACE 2018. (John Huetter/Repairer Driven News)
Share This: