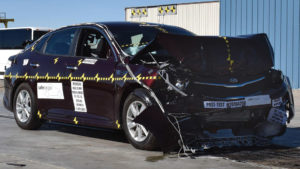 The National Highway Traffic Safety Administration said Wednesday it plans to propose changes to the nation's 5-star ratings system in 2020.
The proposed New Car Assessment Program alterations, which the agency said would involve "significant updates and upgrades" could prompt OEMs to alter vehicle safety structures and technology. That could have trickle down to mean ramifications for collision repair.
NHTSA wrote in a news release that it would pursue "new technologies, new test procedures, updates to vehicle labeling, advancements in crash-test dummies" and possibly "new technologies tied to the safety of pedestrians and other vulnerable road users such as cyclists."
The safety agency's ratings and associated crash testing seem to have lagged behind the Insurance Institute for Highway Safety. The IIHS in recent years has introduced the small-overlap crash test — now expanding to the passenger side — and withheld Top Safety Pick+ status without OEMs making an effort on factors including autobraking and headlights.
NHTSA in 2015 said it would take action on the 5-star ratings, but the effort doesn't appear to have gone anywhere. Reuters reported it was delayed to gather more public comment.
At the time, it wanted to add a new frontal oblique crash test and upgrade the full-frontal test to better consider rear passenger safety. Front and rear pedestrian detection and autobraking were also to be included in a new 5-star pedestrian rating. A crash prevention technology rating also was planned.
The agency also planned more advanced crash test dummies and half-stars "to provide consumers more discriminating information about vehicle safety performance" under the proposal.
Here's a promo video it did back then:
"Our program has been a tremendous success and has saved many lives, but far too many American families still lose loved ones every year, and we firmly believe that vehicles can and should be even safer in the future," Owens said. "That is why NHTSA is working on improving the program to make the 5-Star Safety Ratings Program even more dynamic, and to accelerate NCAP modernization to keep pace with advancements in safety technology.  American car buyers want safety, and NHTSA wants to help by creating additional market-based incentives for automakers to continue investing in innovative safety technologies that will save lives and prevent injuries."
According to Reuters, "Critics note the vast majority of new vehicles achieve four or five-star ratings, making it difficult for consumers to differentiate between vehicles."
NHTSA said will publish a Federal Register Notice in 2020 seeking comments on the changes.
More information:
"NHTSA Announces Coming Upgrades to New Car Assessment Program"
National Highway Traffic Safety Administration, Oct. 16, 2019
"U.S. safety agency to jumpstart revamp of new car rating program"
Reuters, Oct. 16, 2019
Featured image: The National Highway Traffic Safety Administration is considering changing its New Car Assessment Program in 2020. (Provided by the Insurance Institute for Highway Safety)
Share This: