Hyundai on Sunday announced it planned to incorporate a new "Machine Learning based Smart Cruise Control" into future vehicles, another interesting ADAS wrinkle for collision repairers to watch.
Hyundai said its "SCC-ML" would learn the driver's habits. "Through machine learning, Smart Cruise Control autonomously drives in an identical pattern as that of the driver," Hyundai wrote in a news release.
Typical adaptive cruise control adjusts the vehicle's speed automatically to balance the driver's velocity preference with staying a preset distance from the car in front of it. The driver must set both speed and distance themselves.
"It was impossible to meticulously fine-tune the settings to accommodate the (driver's) individual preferences without machine learning technology," Hyundai wrote of its existing adaptive cruise control.
"For instance, even the same driver may accelerate differently in high-speed, mid-speed and low-speed environments depending on circumstance, but detailed fine-tuning was not available. Therefore, when Smart Cruise Control was activated and the vehicle operated differently than they prefer, drivers, sensed the difference, resulting in a reluctance to use the technology because it made them feel anxious and unstable."
Hyundai will address this issue by grafting machine learning into the process. Such artificial intelligence teaches itself how to behave in certain situations by studying patterns found in prior data — in this case, how the vehicle owner reacted under similar conditions.
The technology will use "sensors, such as the front camera and radar," according to Hyundai.
---
Learn more about vehicle technology and trends at Repairer Driven Education
Find out more at SEMA about vehicle technology and trends with "From substrate to surface – preparing for emerging trends in automotive technology" featuring Mircea Gradu of Velodyne, Matt Murphy of Materials Science Corporation,  Christian Ruecker of DEKRA Services and John Waraniak of SEMA; "Repair process 2020" featuring Doug Craig of LORD; "Mobility: The Future of Automotive Protection and Beautification" with Jennifer Boros, Gareth Hughes and Ranju Arya of PPG; "Auto industry disruption: Win despite change!" with Frank Terlep of asTech; and "Unraveling the Mystery of Structural Bonding Adhesives" with Shawn Collins of 3M. The sessions are part of the Society of Collision Repair Specialists Repairer Driven Education Series running Nov. 4-8. Register here for individual courses or OEM Collision Repair Technology Summit sessions or get the series pass package deal., which includes every class Nov. 4-6, the OEM Summit and Sky Villa afterparty Nov. 7 and IDEAS Collide Showcase on Nov. 8.

---
Such ADAS and infrastructure might raise the stakes for collision repairers and glass shops to correctly restore and recalibrate the vehicle. Otherwise, it seems as though the computer might incorrectly identify the conditions demanding a particular reaction, teach itself the wrong lesson, and drive in a way neither Hyundai nor the owner would appreciate. Hyundai said "SCC-ML is programmed specifically to avoid learning unsafe driving patterns, increasing its reliability and safety," but if the system naturally misreads proximity or other conditions because of a repairer's error, it seems like this might not be a sufficient hedge.
"SCC-ML makes analysis to distinguish over 10 thousand patterns, developing a flexible Smart Cruise Control technology that can adapt to any driver's patterns," Hyundai wrote.
"The driving pattern information is regularly updated with sensors, reflecting the driver's latest driving style."
The Hyundai A.I. will study the car's distance from the vehicles in front of it, the speed at which the driver reacts to a certain situation and the vehicle's acceleration. The system also examines speeds and driving conditions.
"The new SCC-ML improves upon the intelligence of the previous ADAS technology to dramatically improve the practicality of semi-autonomous features," Hyundai Vice President Woongjun Jang, said in a statement. "Hyundai Motor Group will continue the development efforts on innovative AI technologies to lead the industry in the field of autonomous driving."
Hyundai said the advanced adaptive cruise control would be part of a "Level 2.5 self-driving" system also involving Hyundai's automatic lane-centering system (Highway Driving Assist) with "automatic lane change assist." This appears to be another example of a system like Tesla's Autopilot adopted by a mainstream automaker. Hyundai provided little additional information on that system.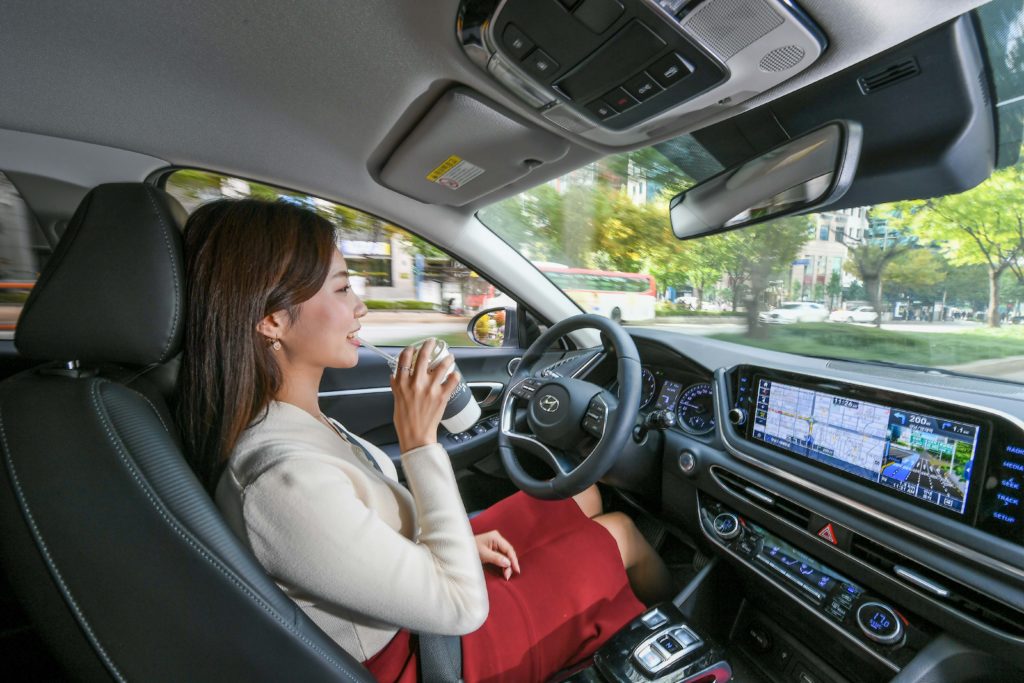 Interestingly, images accompanying the Smart Cruise Control-ML news release show a motorist without her hands on the steering wheel. This seems to suggest a hands-free-but-eyes-on system like Cadillac's Super Cruise. That technology requires the driver to keep monitoring the road at all time, but they're allowed to remove their hands from the wheel and let the car handle the vehicle operation.
More information:
"Hyundai Motor Group Develops World's First Machine Learning based Smart Cruise Control (SCC-ML) Technology"
Hyundai, Oct. 20, 2019
Hyundai SmartSense ADAS overview
Images:
Hyundai on Sunday announced it planned to incorporate a new "Machine Learning based Smart Cruise Control" into future vehicles. (Provided by Hyundai)
Hyundai in Sunday said it would have a "Level 2.5" system. The news release was accompanied by this image, which seems to indicate a hands-free-but-eyes-on system like Cadillac's "Super Cruise." (Provided by Hyundai)
Share This: