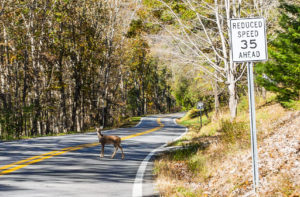 New data announced by the Insurance Institute for Highway Safety on Tuesday offers body shops in deer-intensive states confirmation of when they should expect to receive more animal hits.
The data might help shop owners and managers determine when to hire more help or when they might not want too many staffers away on vacation.
The Highway Loss Data Institute said animal strike insurance claims skyrocket to a national average of 13.8 claims per insured vehicle years in November, compared to the usual average of 6.6.
The IIHS' claim data didn't specify animal type, but the research organization thinks the timing and higher damage seen in November claims means cars are likely striking deer. The average November animal-strike claim between 2006-18 was $3,560, compared to February, which posted the lowest animal claim severity average at $2,801 during those years.
"The claims follow a very consistent pattern in line with the mating and hunting season over the years, rising rapidly in October, peaking in November, and then dropping off in December and January," HLDI Senior Vice President Matt Moore said in a statement.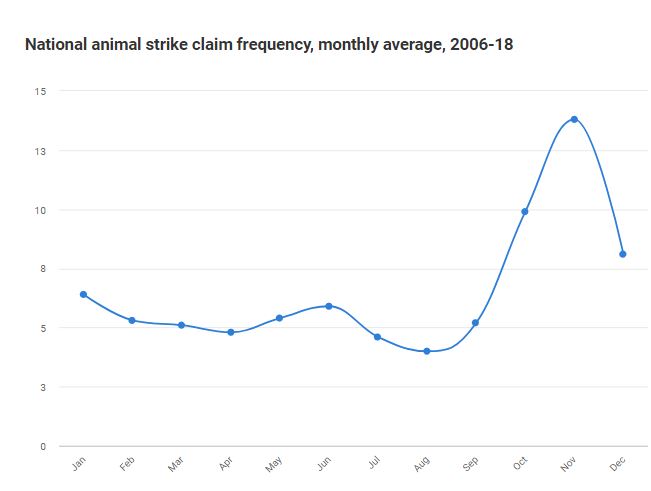 The average animal strike severity in 2018 was $3,875, up from $2,424 in 2006, according to HLDI. ($2,424 in January 2006 dollars works out to nearly $3,030 in January 2018 dollars.)
State Farm in a similar Oct. 2 study put the odds of striking an animal at 1 in 116. The statistic appeared to key off of claims data between July 1, 2018, and June 30, 2019 — which would mean the impact probably did enough damage to warrant a collision repairer's services.
West Virginia drivers were most likely to get into a collision with an animal, with odds of 1 in 38. Montana was next at 1 in 48, followed by Pennsylvania at 1 in 52.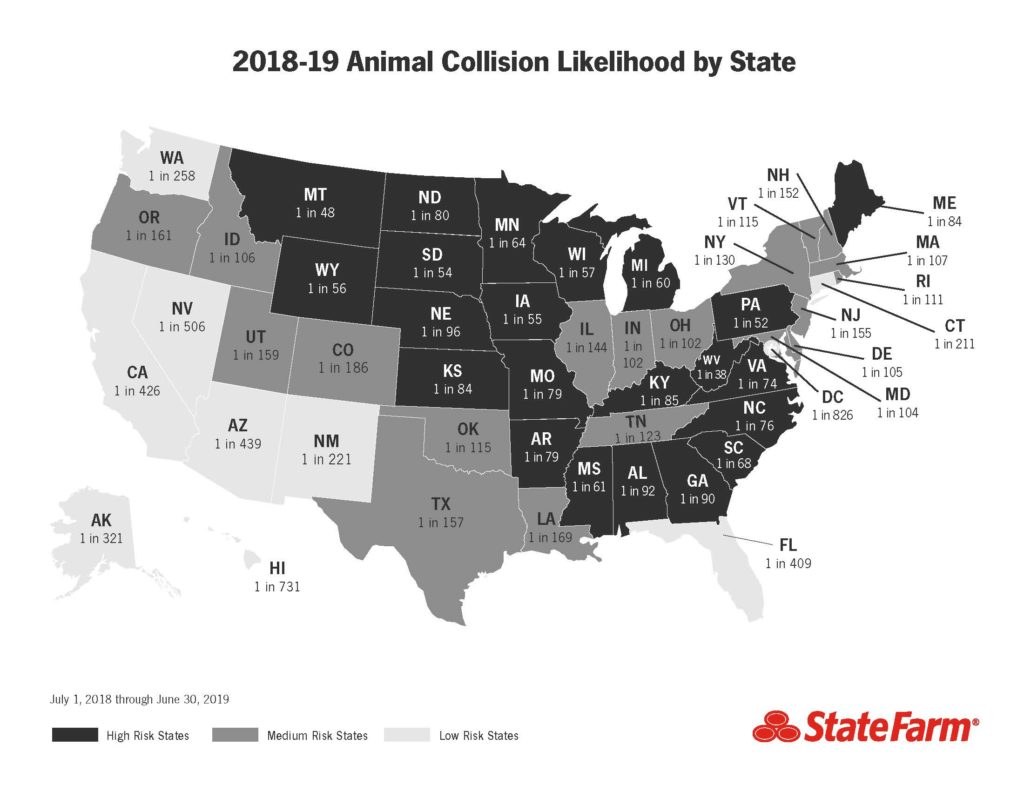 "Claims after collisions with an animal range from small dents to totaled vehicles and injured drivers and passengers," State Farm enterprise research director Michael Braaten said in a statement. "By sharing ways to help drivers be aware of the increased dangers this time of year – including inclement weather, shorter periods of daylight and students driving home after evening activities – State Farm hopes to help decrease the number of collisions and injuries."
The IIHS will make its Top Safety Pick ratings contingent on the availability of pedestrian protection ADAS in 2020, and Moore said modifying the system to avoid crashes with animals too could be helpful.
"Some automakers say their systems can also detect animals, but IIHS hasn't tested these claims," the IIHS wrote. It noted that nearly nine out of 10 animal collisions were frontal impacts, which might allow them to be alleviated by modifying the forward-looking ADAS like autobraking becoming standard on cars anyway.
Images:
"Deer season means animal strike season on the roads"
Insurance Institute for Highway Safety, Oct. 22, 2019
"Losses due to animal strikes"
Highway Loss Data Institute, May 2019
State Farm, Oct. 2, 2019
Images:
A deer is seen on a West Virginia road. (krblokhin/iStock)
State Farm in 2019 put the odds of an animal strike at 1 in 116, a figure that likely referenced claims from between July 1, 2018, and June 30, 2019. (Provided by State Farm)
New 2006-18 claims data announced by the Insurance Institute for Highway Safety on Oct. 22, 2019, offers shops in deer-intensive states confirmation of when they should expect to receive more animal hits. (Provided by Insurance Institute for Highway Safety)
Share This: