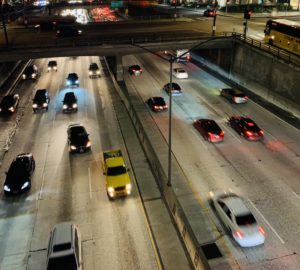 New data from the National Highway Traffic Safety Administration finds fatalities down per 100 million miles traveled in 2018, a possible indicator that advanced driver assistance systems are curtailing or mitigating some crashes.
It can be difficult to tease out if factors such as increases in miles driven are naturally increasing crash rates by default, which makes the proportional rate an interesting one to watch.
According to NHTSA, the fatality rate per 100 million miles traveled is the lowest since 2014, at 1.13. That represents a 3.4 percent decline from the 1.17 in 2017.
The first half of 2019 has seen a fatality rate estimated at 1.06, the lowest January-June rate since 2015 and a reduction of 4.5 percent.
NHTSA said the overall number of fatalities fell by 2.4 percent in 2018, with 913 fewer deaths and an overall toll of 36,560. The data is preliminary and might be adjusted during the next year, the agency said.

"This is encouraging news, but still far too many perished or were injured, and nearly all crashes are preventable, so much more work remains to be done to make America's roads safer for everyone," Transportation Secretary Elaine Chao said in statement.
The fact that fewer deaths are occurring might to some degree reflect both ADAS and the backup cameras becoming mandatory in 2018 preventing crashes from happening, or lowering the severity so that what would have been a fatal incident merely results in injuries.
NHTSA called it "too soon to speculate on the contributing factors or potential implications of any changes in deaths on our roadways," but acting Administrator James Owens on Tuesday touted vehicle technology and the agency's campaigns promoting safe practices.
"New vehicles are safer than older ones and when crashes occur, more new vehicles are equipped with advanced technologies that prevent or reduce the severity of crashes," Owens said in a statement. "NHTSA has spent recent years partnering with state and local governments and safety advocates to urge the public to never drive impaired or distracted, to avoid excessive speed, and to always buckle up."
It's another piece of data that might hint at an ADAS impact on frequency and severity — which while good for society could hurt collision repairer revenues.
CCC lead analyst and director Susanna Gotsch on Oct. 15 showed a Collision Industry Electronic Commerce Association CIECAst webinar data that she said "certainly suggests" fewer new vehicles are appearing in the overall claims mix.
"The decline in volume share for those vehicles aged 0-3 years however is larger (1.5 percentage points) for auto claims than for vehicles in use (0.6 percentage points)," she wrote in a September "Industry Trends" report discussing such data. "With nearly 50 percent of MY2019 vehicles now equipped with ADAS, where ADAS has been shown to reduce the most common time of accident by nearly 50 percent, back of the envelope math suggests the difference in volume share loss is likely best explained by growing ADAS prevalence."
Gotsch told the CIECAst property damage severity continues to rise. However, CCC, Honda, and IIHS research has found signs that repair costs or the frequency of crashes with injuries fall on vehicles with some ADAS. These statistics suggest the technology is reducing the damage done in the crash (e.g., by slowing the car a bit even if not all the way).
NHTSA did find the overall number of fatalities increase 3.4 percent and 6.3 percent, respectively, among pedestrians and "pedalcyclists" (anybody riding a unicycle, tricycle or any other two-wheeled nonmotorized vehicle). However, NHTSA didn't provide data to gauge the proportional rate per 100 million miles.
At least half of the pedestrian and pedalcyclist fatalities happened after dark and not at intersections. The pedestrian or pedalcyclist had alcohol in their system 38 percent and 26 percent of the time, respectively.
"NHTSA is examining current and planned research related to these vulnerable road users (pedestrians and pedalcyclists), including recently announced plans for upgrades to the New Car Assessment Program – the 5-Star Ratings system for new vehicles," the agency wrote in a news release. "As part of these NCAP upgrades, NHTSA will consider new technologies tied to the safety of pedestrians and bicyclists, among other vulnerable road users."
The Insurance Institute for Highway Safety will add pedestrian autobraking to its Top Safety Pick and Top Safety Pick+ ratings in 2020, so NHTSA could probably follow suit without too much objection from OEMs so long as the tests were similar. NHTSA proposed issuing a separate five-star rating for pedestrian detection and autobraking in 2015 as part of another NCAP upgrade plan, but nothing came of it.
Such technology is another ADAS element to potentially restore and recalibrate, though it's likely that at least some of the sensory equipment will be part of systems or suites already on vehicles.
Other countries also evaluate vehicle structures on how well they protect pedestrians. For example, Euro NCAP's testing includes determining what would happen to heads and legs if a vehicle struck a pedestrian at nearly 25 mph. If NHTSA emphasizes such a rule, it could also affect body repair.
For example, the front of a 2019 Honda Passport is designed to help mitigate injury to pedestrians, as are other Honda and Acura front ends. The 2019 Volkswagen Arteon and 2018 Buick Regal contain charges which blow the hood upward if the vehicle thinks it's about to hit a pedestrian.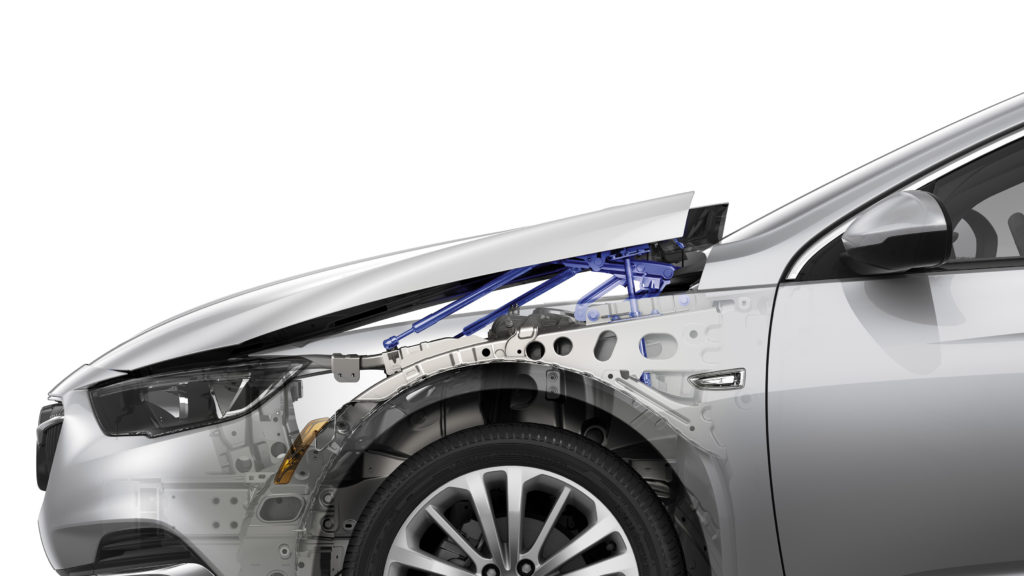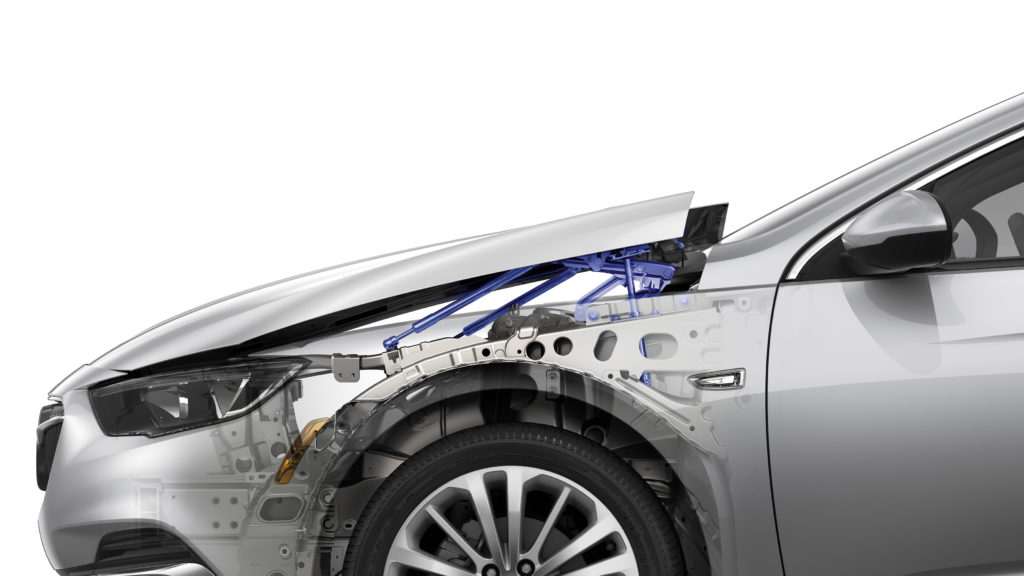 Pedestrian safety technologies are interesting in that their existence means your repair needs to be good enough to protect someone who isn't even your customer or riding in the vehicle. This opens up a whole new world of liability most shops might not have considered.
More information:
"U.S. Transportation Secretary Elaine L. Chao Announces Further Decreases in Roadway Fatalities"
National Highway Traffic Safety Administration, Oct. 22, 2019
"2018 Fatal Motor Vehicle Crashes: Overview"
NHTSA, Oct. 22, 2019
"Early Estimate of Motor Vehicle Traffic Fatalities for the First Half (Jan–Jun) of 2019"
NHTSA, September 2019
Images:
Traffic moves through Los Angeles in December 2018. (anouchka/iStock)
An active hood is standard on all 2018 Buick Regals. (Provided by Buick/Copyright General Motors)
New data from the National Highway Traffic Safety Administration finds fatalities down per 100 million miles traveled in 2018. (Provided by NHTSA)
Share This: