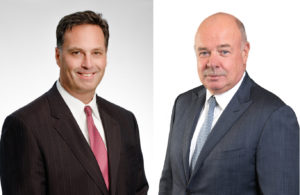 Parent company Uni-Select announced Friday that FinishMaster President and Chief Operating Officer Chris Adams will resign effective Tuesday.
"We thank Chris for his contribution to FinishMaster U.S. and wish him all the best in the next phase of his career," Uni-Select CEO Brent Windom said in a statement.
Uni-Select named board member Rob Molenaar interim president and chief operating officer while the company searches externally and internally to fill the role.
Molenaar, whose career includes career includes extensive time at AkzoNobel, has been leading what Uni-Select called on Friday a "broad performance improvement and rightsizing plan for the FinishMaster U.S. segment" announced in February along with Uni-Select's 2018 results. The company said Friday Molenaar had "significant industry-specific and restructuring expertise."
Adams started at FinishMaster in June 2018 as the senior vice president of sales and marketing, leaving a role as ABRA Western division Senior Vice President to join the distributor. He was appointed Sept. 18, 2018, to replace President and Chief Operating Officer Steven Arndt, a 25-year FinishMaster veteran.
Repairers might have noticed the effects of the FinishMaster improvement plan this year.
Uni-Select sought to generate $10 million in annual savings by the end of 2019 by consolidating its stores, cutting spending, "(o)ptimization" and recovering margins. This was on top of $25 million it hoped to save annually by 2020 across all three business units under a "25/20" plan.
Then-interim CEO André Courville said in February Uni-Select's earnings before interest, taxes, depreciation and amortization were pressured in 2018 by FinishMaster U.S.
FinishMaster sales of $830 million (up 1.9 percent) included organic growth of $11.2 million, up 1.4 percent from 2017. However, EBITDA was $74.3 million, compared to $91.3 million, and only $76 million when adjusted for "special items."
Uni-Select blamed the 2 percentage point decline on "pricing pressure and evolving customer mix" but said the 25/20 effort helped a little through "headcount reductions."
The company absorbed five company-owned stories that year.
"In light of changing market conditions, the Board of Directors, in collaboration with management, also initiated an in-depth review of the US operations along with the development of a broad Performance Improvement and Rightsizing Plan, thereby realigning the business model to adapt to a new market reality and positioning the business for long-term success," Uni-Select Chairwoman Michelle Cormier said in a statement in February.
The company at the time expected the FinishMaster performance plan to start to pay off "in the latter part of the year."
According to a Seeking Alpha transcript of the February earnings call, Uni-Select Chief Financial Officer Chief Financial Officer Eric Bussières said that while paint manufacturers had been increasing prices, competitive pressure hindered the distributor's ability to pass this on to auto body shops. He said these pressures included a FinishMaster customer base that had become more national and MSO — the company's exposure to national accounts had increased 5-6 percent — and noted the company felt this problem particularly in the second half of 2018.
According to a Seeking Alpha transcript of a May earnings call, Bussières said the company defines an MSO as anyone running at least three auto body shops, and such chains represented more than half of total FinishMaster sales.
Competition for traditional smaller auto body shops' business — typically FinishMaster's most profitable opportunity — had intensified among distributors, according to his comments in the February Seeking Alpha transcript.
Consolidating body shops also continue to work directly with the paint manufacturers and bring FinishMaster in for service, an issue exacerbated by faster-growing and -consolidating national collision chains, he said, according to the transcript. However, Bussières in August said the company has passed on some of the national manufacturers' price increases to such collision repairers, according to another Seeking Alpha earnings call transcript.
Paint technology changes requiring less refinish coatings combined with improved collision repair efficiency also saw FinishMaster selling less paint, Bussières said, according to the February Seeking Alpha transcript.
In the company's most recent earnings release, issued Aug. 7 on the second-quarter results, Uni-Select CEO Brent Windom said FinishMaster had absorbed 11 company shops in that quarter alone and was "now confident to realize more savings than originally anticipated."
Finishmaster had 180 company-owned FinishMasters and supplied more than 6,800 collision repair companies in the U.S. as of the Friday news release.
More information:
"UNI-SELECT ANNOUNCES THE RESIGNATION OF FINISHMASTER, INC. PRESIDENT AND CHIEF OPERATING OFFICER"
Uni-Select, Oct. 25, 2019
"Uni-Select Inc. Reports 2019 Second Quarter Financial Results and Quarterly Highlights:"
Uni-Select, Aug. 7, 2019
"Uni-Select Inc. reports Q4 and full year 2018 results:"
Uni-Select, Feb. 20, 2019
"Uni-Select's (UNIEF) CEO André Courville on Q4 2018 Results – Earnings Call Transcript"
Seeking Alpha, Feb. 20, 2019
"Uni-Select Inc. (UNIEF) CEO André Courville on Q1 2019 Results – Earnings Call Transcript"
Seeking Alpha, May 2, 2019
"Uni-Select Inc. (UNIEF) CEO Brent Windom on Q2 2019 Results – Earnings Call Transcript"
Seeking Alpha, Aug. 11, 2019
Featured image: Outgoing FinishMaster President and Chief Operating Officer Chris Adams, left, and his replacement, interim President and Chief Operating Officer Robert Molenaar. Molenaar is a Uni-Select board member. (Provided by Uni-Select)
Share This: