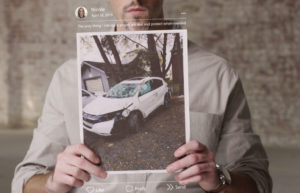 Honda on Thursday said the latest stage in Honda's "Safety for Everyone" campaign will feature accounts of how the automaker's technology saved customers from serious injury.
The stories and other content related to the pitch offer a palpable demonstration of why body shops should heed an automaker's repair instructions: Play fast and loose with a repair, and this lifesaving passive crashworthiness or active measures like ADAS might be compromised. Indications of this could be seen in a series of crash tests conducted by attorney Todd Tracy as well as Honda's own experiment with an MDX.
"The customers featured in the series were involved in major collision events, but walked away without serious injury, crediting the performance of the Honda vehicle with saving their lives," the OEM wrote Thursday.
Honda said it launched the new iteration of its campaign with an ad featuring Nicole Hart, who reached for a tissue while driving a 2018 HR-V and traveled into the path of oncoming traffic.
After hitting a trailer towed by a pickup, "her Honda HR-V rolled over multiple times," Honda wrote. She suffered only a sprained wrist and minor bruises and cuts.
"I truly believe your well-built vehicle saved my life," she wrote to Honda.
The automaker plans to feature more customers in the future. It said it started the campaign Thursday and would run the videos on "Honda social channels and on VoD." Other messages from consumers can be seen on the Safety for Everyone webpage.
Honda said it also is running a different "Safety for Everyone" ad during "primetime cable and major sports games."
Repairers attending SEMA can go beyond mere videos to learn how repairs could impact other human beings. The Tuesday, Nov. 5, Collision Industry Conference will include an interview with Matthew and Marcia Seebachan, the couple severely injured in the Honda Fit at the heart of the John Eagle litigation.
HondaLink Assist
Hart's story also offers another reminder for collision repairers: OEMs have the ability to detect a crash and react. Honda said its HondaLink Assist system noticed the crash and used Hart's phone to call a response agent, who in turn called for emergency personnel.
If a customer's Bluetooth cellphone is paired with a 2018 Honda HR-V EX or EX-L Navi, HondaLink Assist will use it to call an operator with news of a crash whenever it detects an airbag firing. A call might also be made even if the crash doesn't trigger the airbags, according to Honda. The technology appears to date back to 2013; Honda at the time discussed it first appearing on the 2014 Civic.
Honda spokesman Chris Martin said this capability is free and active as long as the phone and car are is paired.
"When an owner pairs their mobile phone to the car through Bluetooth, the display asks them whether they want to activate HondaLink Assist, and from that point on, whenever the phone is automatically paired to the car, the feature is active," he wrote.
"… At this time, HondaLink Assist requires a paired mobile phone connection.  While some Honda vehicles have subscription-based Wifi capability, those systems are not designed to handle voice communications at this time.  So, we don't currently plan to extend HondaLink Assist beyond the mobile phone connection."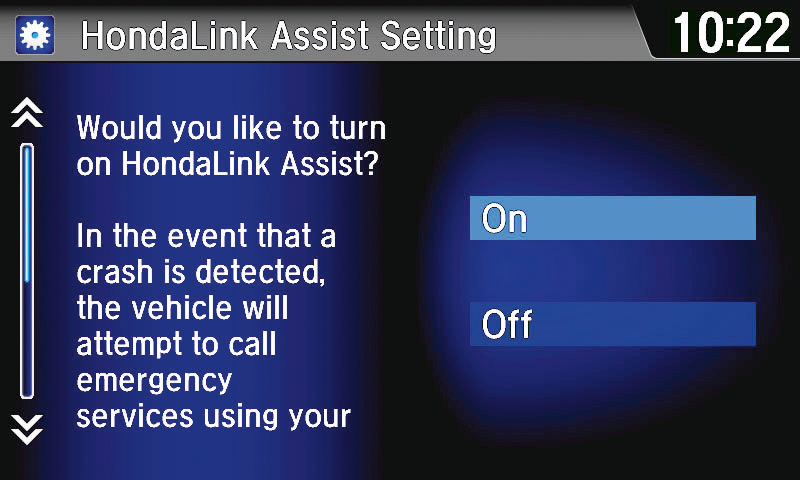 Martin said the system wouldn't recommend ProFirst certified body shops.
"The system is intended to facilitate emergency communications," he wrote. "So, it doesn't get into repair suggestions, like recommending a ProFirst Certified shop.  There is no plan to utilize this service for marketing purposes."
Nevertheless, the tech is a good reminder of what's possible on the market. Just because Honda won't use such a system for marketing certified shops doesn't mean another automaker able to pair phones to its vehicles won't. It's also noteworthy that the Honda service is free, which might increase its penetration beyond that seen in other automakers' (or even Honda's) subscription-based services. Competing OEMs reacting with similar free products would seem to increase the odds of the average motorist being contacted by some automaker not just with offers of first responders but also recommendations of certified body shops.
---
Learn more about Honda procedures, OEM networks at Repairer Driven Education
Shops seeking more help on using Honda repair procedures should attend "HELP! A comprehensive conversation surrounding accessibility to OEM procedures and technical support" Nov. 7 during SEMA. The panel featuring Toyota, Honda, FCA and Subaru experts is one of three making up this year's OEM Collision Repair Technology Summit — the headliner event of SCRS' Repairer Driven Education Series running Nov. 4-8. And if the speculation on telematics and connected cars leading to OEM network referrals has piqued your interest on getting certified, consider "Do I, or don't I? OEM certifications" on Nov. 6 featuring Jeff Wildman of BASF; Tim Kilkeary of Kilkeary's Auto Body and Austin Fife of Bentley Motors. Register here for individual courses or OEM Summit sessions or the series pass package deal., which includes every class Nov. 4-6, the OEM Summit and Sky Villa afterparty Nov. 7 and IDEAS Collide Showcase on Nov. 8.

---
See the engineers
Honda's "Safety for Everyone" webpage has already been populated with numerous short videos featuring the engineers who designed the cars to save lives.
These are worth a watch both to see the thought put into designing the vehicles and for the fascinating Honda crash simulation footage showing how every part shops handle might behave in a crash.
Now, if only we could get a couple of videos featuring the repair procedure engineers and validation. Howzabout it, Honda?
More information:
"Powerful Stories About Safety Performance from Honda Customers and Family Members Expand Honda "Safety for Everyone" Brand Campaign"
Honda, Oct. 24, 2019
Honda Safety for Everyone webpage
Images:
A message from Nicole Hart, who walked away from a 2018 HR-V crash with a sprained wrist and minor cuts and bruises, is shown. (Provided by Honda)
Honda discussed HondaLink Assist as far back as 2013. (Provided by Honda)
Share This: