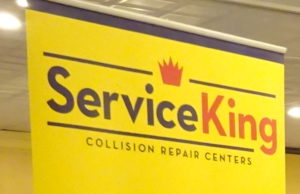 California district attorneys' investigation of Service King's trash since 2016 has led to a $2.35 million settlement against the MSO, the Alameda County DA announced Friday.
The settlement, which follows similar deals with the former Cooks Collision ($1.525 million, done prior to the company's sale to ABRA) and AutoNation ($3.38 million), should be a cautionary tale to any collision or mechanical repairer, particularly those in California. Authorities went after all three companies for alleged violations body shops might not even realize they're committing.
All three settlements contained stipulations that the companies were not admitting to any of the allegations.
"The investigation, initiated by the Alameda County District Attorney's Office Environmental Protection Unit began in 2016 when Alameda County District Attorney investigators conducted undercover inspections of Service King trash containers, which revealed the illegal disposal of large quantities of hazardous auto body sanding dust, sanding pads, automotive paints, clear coats, solvents, non-empty aerosols, and other hazardous substances used during the auto body repair process, as well as confidential customer information," the Alameda County District Attorney wrote in a news release. "District Attorney investigators from Santa Clara, San Diego, San Bernardino, and Orange counties then conducted additional inspections at Service King auto body repair shops throughout California, and found similar unlawful disposals."
Service King has 42 auto body shops in California, and district attorneys in the 11 counties housing those facilities brought the case together.
"Environmental responsibility and stewardship are critical priorities for our company," Service King said in a statement. "As soon as we became aware of this issue, we cooperated fully with these agencies, and made significant additional investments in training and compliance at our local collision repair centers to help ensure we have a best-in-class environmental program in place."
"Service King cooperated with the District Attorneys' investigation and took steps to improve its compliance with the environmental and consumer protection laws brought to its attention by the prosecutors," the Alameda County District Attorney's Office agreed in a news release.
Under the settlement, Service King will pay $1.35 million in civil penalties and must buy $500,000 worth of equipment "designed to limit the release of hazardous auto body wastes into the environment, and recycle solvents and wastewater produced during the automotive painting process." It also must pay $350,000 in investigation costs and $150,000 "towards supplemental environmental projects."
The company also must hire a full-time employee in California to handle compliance and training.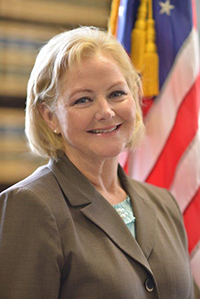 "The auto body repair industry generates many harmful waste streams and today's settlement serves to provide a cleaner environment for California by preventing the contamination of our precious natural resources when hazardous waste is mismanaged and unlawfully disposed," District Attorney Nancy O'Malley said in a statement. "We are proud to work with our district attorney partners and environmental regulators statewide to enforce California's environmental laws to ensure these hazardous wastes are handled properly."
Both the Cooks Collision and AutoNation settlements described a similar trash-checking operation and the companies having to pay the costs of the investigation.
The Yolo County District Attorney said Cooks Collision's issues includued "automotive-fluid products, batteries, and ignitable liquids," as well as "hazardous auto body sanding dust, sanding pads, automotive paints, clear coats, solvents, non-empty aerosols, and other hazardous substances used during the auto body repair process."
The Santa Clara County District Attorney alleged AutoNation had committed the "illegal disposal of hazardous automotive fluids, non-empty aerosols such as brake parts cleaner, used oil filters, electronic waste, and, at one dealership, used motor oil." That DA also alleged the AutoNation crash included "Invoices and other documents containing personal customer information  … State law requires businesses to take reasonable steps when disposing of customer records by shredding, redacting, or erasing the personal information."
Smaller shops won't avoid scrutiny
Service King, Cooks Collision and AutoNation are obviously larger players. But smaller repairers shouldn't assume authorities will ignore them in favor of bigger fish, according to Santa Clara County Supervising Deputy District Attorney Bud Porter.
"We're not just picking on the big operators," said Porter, whose responsibilities include his DA's Environmental Protection Unit and who was involved in the Service King investigation.
If his agency suspected a mom-and-pop company was illegally disposing of hazardous waste, "we would investigate that." Porter said Monday they've "absolutely" done so in the past.
He said one source of tips might be a disgruntled former employee.
As for the larger companies, if authorities suspect one location is throwing hazardous material into a dumpster, "odds are" the others are. Porter said it's "pretty consistent across the board" that what is found at one site will be found elsewhere.
Sometimes, a larger operation might have inherited "legacy waste" from a mom-and-pop business it bought; other times, the acquired mom-and-pop business might be "really good," Porter said.
Larger companies tend to have a program to address hazardous waste, they just need to do more, he said.
A business might also have what appears to be a good plan on paper, but employees at the ground level might face time pressure to do it wrong, or not be trained sufficiently, according to Porter.
Porter said the district attorney doesn't necessarily always recover its costs, and what's recovered is negotiable. He said investigator time might be more likely than attorney time, but "we're here either way" — the agency's investigations aren't dependent on its ability to recoup coups a la a contingency attorney.
The investigators must go through garbage in hazmat suits, and "it's a nasty job" which also requires a lot of training, Porter said. He said the trash will be inspected enough times to demonstrate the behavior is a pattern.
Shops who wish to ensure compliance and stave off a settlement have "plenty of resources" to find out what they need to do, according to Porter. He mentioned the state Environmental Protection Agency's Department of Toxic Substances Control, which offers assistance for generators on its website. (The site also has an auto repair facility section, but it's an archived webpage and the agency warns it might not reflect today's regulations.)
Porter said shops also would be regulated locally by Certified Uniform Program Agencies, which can include entities like a fire department or county agency. He gave the example of San Jose, Calif., whose shops would fall under the Santa Clara County Department of Environmental Health, while the nearby city of Santa Clara would be regulated by the Santa Clara Fire Department.
A shop could contact their CUPA with questions about best practices; it's not as though "they're on Mars," Porter said.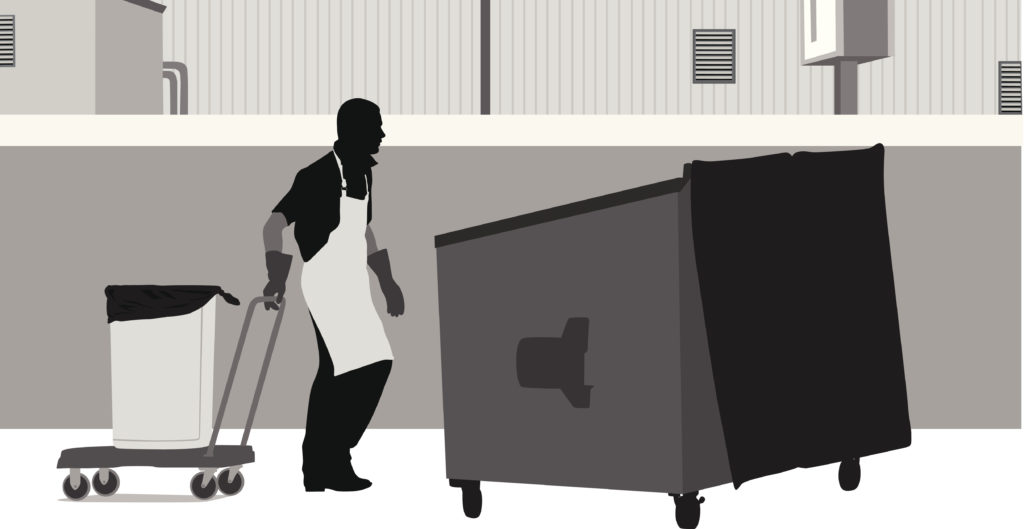 Shops warned in 2016
Jennifer Blake of KPA, Cooks President Rick Wood and Cooks operations Vice President Mike Barber warned repairers of the costs and potential for noncompliance in a 2016 Collision Industry Conference presentation.
In a nutshell, there's not much a shop can place in the trash — an industrial business like a collision repairer doesn't have nearly the kind of leeway a home does, and its trash isn't sorted either.
"Industrial trash is entirely different," Blake said in 2016. Garbage left outside for pickup also isn't private property — it's considered public in California.
Barber attended a DTSC class, and found what Cooks thought it knew was wrong. He said Cooks staff had been used to throwing everything in a single trash can, and so the business had to roll out a training plan to teach everyone the proper, compliant SOP.
"It was a very big project to undertake," he said at the time.
Wood said his company has 750 employees, and it had to retrain everyone "it no longer can go there" in a trash can. It turns out "there's very little" that can go into the trash, Barber said.
Barber at the time encouraged shops to sign up for a universal hazardous waste program immediately, which allow some wastes to be comingled and remain for up to a year on-site.
The automotive industry is a juicy target, according to Blake, and regulators often will be particularly critical of larger violators within it, both for concerns of unfair competition and because of the mindset, "'You can afford to take care of your waste.'"
Some items a shop might discard were considered hazardous waste violations at a state-specific level only, while others were on the national federal radar, according to KPA's 2016 presentation. Shops must check both their own state and federal jurisdictions to ensure compliance.
More information:
"Alameda County DA O'Malley Announces Multi-Million Dollar Settlement in Environmental Protection Law"
Alameda County District Attorney's Office, Oct. 25, 2019
 Unified Program Regulator Directory search
California Department of Toxic Substances Control website
Images:
A Service King logo appears on a display at a SEMA 2017 career fair. (John Huetter/Repairer Driven News)
Alameda County, Calif., District Attorney Nancy O'Malley is shown. (Provided by Alameda County District Attorney's Office)
California authorities might investigate your trash to see if your body shop is improperly throwing out hazardous material there. (A-Digit/iStock)
Share This: