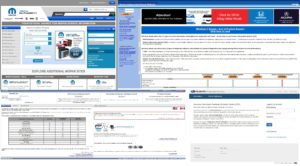 Auto body shops determined to adhere to OEM repair procedures might find themselves stymied by the organization or ambiguity of the instructions.
Help is on the way. The Society of Collision Repair Specialists on Tuesday said it will host four popular automakers at next month's OEM Collision Repair Technology Summit to give shops a hand finding and interpreting such information.
The organization announced Tuesday the OEM Collision Repair Technology Summit panel "HELP! A comprehensive conversation surrounding accessibility to OEM procedures and technical support" will run from 11 a.m. to 12:30 p.m. on Thursday, Nov. 7, at SEMA.
"Accessing, utilizing and documenting an adherence to OEM repair procedures has become one of the most prolific conversations in the collision repair industry," SCRS wrote in a news release. "But for many repair facilities, creating practices and processes that account for the variety of places OEM procedures are found, and the places that collision repair staff need to look in the technical documentation can be a challenge, even when the culture within the repair business embraces the decision to use the OEM repair manuals. Even further, following the procedures can often lead to questions that may require a degree of support or service to ensure that repairs are being performed accurately and as intended."
Collision Advice CEO Mike Anderson, whose company hosted educational videos in 2018 highlighting specific automaker procedure websites, will moderate a panel featuring Dan Black, FCA advanced body development and collision repair manager; Honda collision repair chief instructor Scott Kaboos; Subaru wholesale parts specialist Nicole Riedel; and Eric Mendoza of Toyota collision operations.
"This panel discussion will allow various automakers to discuss accessibility and use of their OEM procedures, and resources that exist in the way of help lines, technical support, and other means to support repair facility businesses who have adopted an OEM focus on repairs," SCRS wrote Tuesday.

For the record, all shops should "have adopted an OEM focus on repairs." SCRS, the Automotive Service Association, the Alliance of Automotive Service Providers, numerous state-level trade groups, the courts and I-CAR all hold following OEM repair procedures to be the industry standard of care.
SCRS on Tuesday also teased the other two sessions at the Nov. 7 OEM Summit event, the headliner of the Nov. 4-8 Repairer Driven Education SEMA series. SCRS is expected to reveal those speakers in future announcements.
9-10:30 a.m. "From substrate to surface – preparing for emerging trends in automotive technology"
3-5 p.m.: "Meeting the OEM expectation in welding"
Sign up for the OEM Collision Repair Technology Summit repair procedures panel or the Summit's trends and welding panels individually for $75 each during early registration, or get access to all three and everything else SCRS offers SEMA Week by purchasing the $375 full series pass. The latter lets you into any Monday, Nov. 4-Wednesday, Nov. 6 regular Repairer Driven Education course, the three-part OEM Summit and the $85 Sky Villa afterparty on Thursday, Nov. 7, and IDEAS Collide Showcase on Friday the 8th. Learn more at www.scrs.com/rde.
2018 OEM Summit replays
More information:
"SCRS Announces Details for 2019 OEM Collision Repair Technology Summit at SEMA Show"
Society of Collision Repair Specialists, Oct. 8, 2019
OEM repair procedures portal on NASTF
SCRS Repairer Driven Education portal
Featured images: Clockwise from top left, FCA, Honda, Subaru and Toyota OEM repair procedure websites are shown. (Screenshots from techauthority.com, techinfo.honda.com, techinfo.subaru.com and techinfo.toyota.com)
Share This: