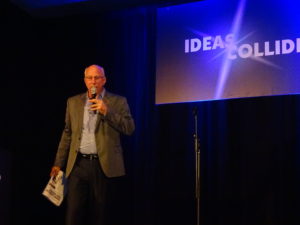 Adapt your collision repair business before vehicle technology exposes your flaws, BASF business development manager John Shoemaker warned Monday.
And if you're not willing to adapt, close up shop and do the rest of the industry a favor, he argued.
Shoemaker will teach "Position yourself for sustainability" from 3-5 p.m. Monday, Nov. 4, during the Society of Collision Repair Specialists' Repairer Driven Education series at SEMA.
"An interactive discussion about the changes in the collision industry and how they affect shop owners, the need to adapt to these changes and the consequences if shop owners do not move past status quo," a course description states. "The environment seen in some of todays shops is not the environment needed to continue doing business in the collision industry. Status quo is not positioning you for sustainability; it's treading water in a rising river.
In an interview Monday discussing the course and sustainability, Shoemaker said the biggest issue he saw was "shops aren't progressing." He gave the example of a business owner with the mindset that there's enough work and the technicians are happy, so "'I don't need to do anything""
Such businesses are "gonna get hurt," Shoemaker said. He said he wanted to snap people out of complacency with the course and recalled past work trying to get people to "wake up" or to "get out of the way."
He recalled once becoming frustrated with a shop's refusal to perform upgrades, such as subscribing to ALLDATA. Shoemaker asked if the shop owned its property, and upon being told it did, he told the repairer their best action was to "'get out of the body shop business.'"
The sentiment got him in trouble, but there's truth in it. Shoemaker later demonstrated how such a repairer could harm the rest of the industry.
A repairer who failed to educate themselves about scanning and follow best practices was "creating a hazard" for the shops who did, according to Shoemaker. Insurers can point to the lagging repairer and argue, "'He doesn't do it on every car,'" to deny covering the diagnostics OEMs mandate at least once, often twice, on every repair.

Shoemaker indicated a first step could simply be to meet the 2017 Collision Industry Conference definition of a collision repairer.
"It tells you where you need to be," he said. Shoemaker said he often sees repairers who can't even meet that criteria. (Some shops are still even plug-welding core supports years after the introduction of airbags, he also noted.)
He said that in the past, there was the notion of an A, B, and C shop, and a shop could skate by as a B, secure that they're in the middle of the road.
There was "no such thing as a B anymore," Shoemaker said. A repairer had to progress, he said.
Failure to keep up with correct vehicle repairs could certainly lead to a devastating, shop-closing lawsuit. But Shoemaker said he doesn't emphasize that risk. In our interview, he focused on a less sensational but still significant threat in making the case for shop sustainability.
He said he felt OEMs were publishing more about their vehicle technology (discussing ADAS, for example) and consumers were getting smarter.
Shoemaker cited an example from asTech's Jake Rodenroth involving a family member receiving alerts about the status of their vehicle.
Shoemaker also recalled being at a shop during an appearance by a Hyundai owner. The customer said he was told his vehicle was ready — but said Hyundai's app alerted him that the taillight was out on the side the shop ostensibly fixed.
"It's time, people," Shoemaker said.
Consumers also might detect issues through one of the post-repair inspections Shoemaker said were happening daily.
"They make those pretty public," he said.
Such complaints can hurt a company if outlined in a negative review.
Shoemaker described another scenario. The shop says they can fix the vehicle, but the sideview mirror's blind spot light fails to illuminate for a potential threat. The shop admits, "'I don't know what it is,'" and refers the customer to a dealership, as he put it.
It seems to us that the shop here was lucky to avoid a collision that could trigger litigation, but the shop's ignorance also could cost them by making the facility look incompetent. If enough customers recount this on a review or word-of-mouth, business will suffer.
Also on the topic of word-of mouth: Shoemaker said he always cautions that any collision repair work performed is shown off to five people in a residential area: one's immediate neighbors and the three houses across the street.
Sign up for Shoemaker's Nov. 4 class individually for $75 during early registration, or get access to both events and everything else that week by purchasing the $375 full series pass. The latter lets you into any Monday, Nov. 4-Wednesday, Nov. 6 Repairer Driven Education course, the three-part OEM Collision Repair Technology Summit and the Sky Villa afterparty on Thursday, Nov. 7, and IDEAS Collide on Friday the 8th. Learn more at www.scrs.com/rde.
More information:
2017 Collision Industry Conference definition of a collision repairer
SCRS Repairer Driven Education registration
Featured image: BASF business development manager John Shoemaker speaks during the 2018 IDEAS Collide. (John Huetter/Repairer Driven News)
Share This: