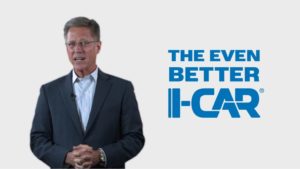 Shops and technicians who failed to qualify for I-CAR Gold Class or Platinum must now do so under more rigorous requirements I-CAR instituted this month.
I-CAR formally announced Tuesday the start of the "Even Better I-CAR," an initiative which included raising the bar for Gold Class, Platinum and welding certification, unlimited training subscriptions for Gold Class shops, more than 275 new or updated courses — a tally which doesn't include the new Spanish-language editions of classes I-CAR's also launched.
The unlimited training option had already taken effect. As of the end of June, 28 percent of Gold Class shops had subscribed to it.
"The fee per shop is $1,000 plus $325 for each shop employee working as an estimator, refinisher, non-structural or structural technician – regardless of whether the employee is a designated role rep for one of these four Gold Class roles," I-CAR wrote in an email Wednesday.
But everyone else at the shop is free — customer service representatives, detailers, owners, chief financial officers, janitors, whoever — can train as much as they want. This could help your staff improve in their current roles or advance to new ones at your facility — something which can be an important retention and workforce development tactic.
I-CAR CEO John Van Alstyne in a video posted Oct. 2 said I-CAR after listening to inter-industry feedback felt it was important to make changes "relevant, sustainable, explainable, affordable and that the enhancements solve express pain points and needs."
Any of the industry's more than 30,000 repair facilities not already Gold Class will need 100 percent of their structural technicians and half of all pools of role representatives to reach ProLevel 2 before I-CAR will now grant the title. No one person can represent more than two roles. In the past, a shop could achieve Gold Class with a single person achieving ProLevel 1 in all four roles (Estimator, Non-Structural Technician, Steel Structural Technician, Refinish Technician).
Van Alstyne in a video posted Oct. 2 said 7,896 shops were Gold Class, 992 of them achieving the title in the year to date.
Considering that OEM and insurer networks can demand collision repairers have Gold Class to join, the changes could be significant for some repairers. They also might demonstrate to consumers an even more significant quality gap might exist between body shops who achieved Gold Class and those who haven't.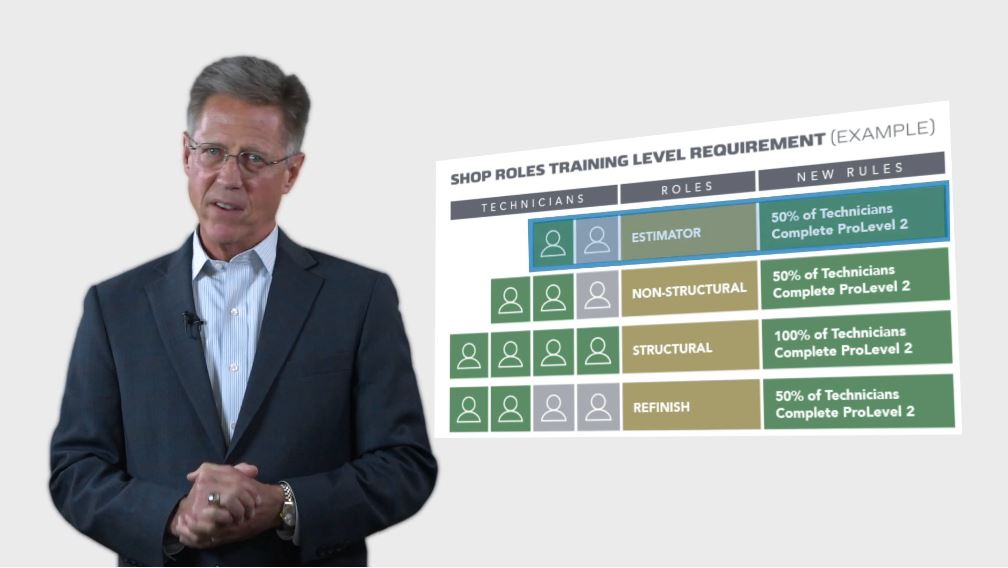 Technicians who didn't already achieve "Platinum" status will no longer be able to claim that designation without achieving ProLevel 3. (I-CAR used to give out Platinum status at ProLevel 1.)
Welding recertification will be required every three years instead of five. However, repairers won't have to take I-CAR's courses to recertify, merely demonstrate their skills, and "thus recertification will now feature a lower price," I-CAR wrote Tuesday.
Shops and technicians who made the Gold Class or Platinum cut by Oct. 1 will be grandfathered in and not have to meet the new requirements until their 2021 renewal dates, which Van Alstyne noted gives those repairers around 15 months to adapt.
"As I promised this summer, we have your back," he said.
I-CAR will also honor the renewal dates of welding certifications achieved prior to the changeover under the old five-year rules. Once that time period expires, the repairer will have to renew every three years. (For example, a technician who achieved I-CAR welding certification in September, right before the changeover, wouldn't have to renew it until September 2024. After that, they'd have to renew every three years under the new rules.)
I-CAR's more than 275 classes include an "entirely new and updated" lineup of 128 core courses. The new Spanish-language course versions are available now by calling I-CAR customer service at 800-422-7872, and they'll be accessible via the "myI-CAR" portal in the "coming 30 to 60 days," according to Van Alstyne.
I-CAR now also has cut all processing fees for Sustaining Partner Industry Training Alliance courses, which means repairers can claim free I-CAR course credit for taking qualifying classes at other companies. I-CAR had more than two dozen such partners as of May.
I-CAR also will have an improved interface to manage one's training, according to Van Alstyne. The organization this summer attributed a delay in the "Even Better I-CAR" rollout to the magnitude of its information technology overhaul, mentioning the challenge in switching 5 million student records to the new system. Repairers will note a new I-CAR.com look and myI-CAR portal.
"Our enhanced core education and recognition programs are designed to equip collision shop owners and technicians with the most advanced knowledge and tools they need to conduct complete, safe and quality repairs in the face of the 'Technical Tsunami™,'" Van Alstyne said in a statement. "The use of new technologies, including advanced driver assistance systems (ADAS) and highly engineered structural materials, is quickly changing the approach to collision repair from the way technicians work with materials to the equipment and methods they must now apply. With our new course offerings, we're utilizing technology to our advantage by incorporating significant upgrades to the myI-CAR®learning portal to streamline the training experience and enable technicians to access web-based course content on demand."
The new core requirements for Gold Class shops, Platinum techs and welding requalification have remained unchanged since Van Alstyne unveiled the program in August 2018.
At that time, he presented a slide of "Strong Industry Support" from the automaker, repairer and insurer sectors. He said he had discussed the changes with the brands featured on the slide, many of which had Gold Class built into their network programs.
More information:
"I-CAR® LAUNCHES ENHANCEMENTS TO ITS CORE EDUCATION AND RECOGNITION PROGRAMS"
I-CAR, Oct. 8, 2019
"The Even Better I-CAR Has Launched!"
I-CAR YouTube channel, Oct. 2, 2019
I-CAR "Train to Gain" website outlining changes
Images:
I-CAR CEO John Van Alstyne discusses the "Even Better I-CAR" initiative launched in October 2019. (Screenshot from I-CAR video on YouTube)
I-CAR CEO John Van Alstyne stands next to an example of what a shop must do to achieve Gold Class under the "Even Better I-CAR" initiative launched in October 2019. (Screenshot from I-CAR video on YouTube)
Share This: