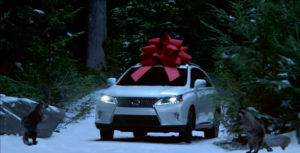 Merry Christmas!
If you weren't happy with the presents you got for the holidays, why not console yourself with the bounty of free stuff others in the collision industry have bestowed upon your body shop?
Building off a similar article from 2017, here's some goodies available free online — and they're likely just the tip of the iceberg. (Apologies if we left your particular resource off the list; drop us a line and we'll take a look at adding it.) This might be an expensive industry to join, but it's also a very generous one.
Most of these are fairly self-explanatory, but we've added some notes for newcomers unwrapping these gifts for the first time.
Estimating
The SCRS Guide to Complete Repair Planning: Are you really billing for everything you did on the vehicle? Find out what operations you're probably doing but forgetting to include on your estimate — which means you're spending the time but not being paid for that labor.
Database Enhancement Gateway: A great place for adjusters and repairers to "settle a bet" by asking the three information providers questions of how to interpret P-pages. Also, offer suggestions for how to make them more accurate or user-friendly. It also contains links to the three sets of P-pages and delivers free weekly tips.
ASA guides to not-included procedures on new and LKQ parts: Other items you might be forgetting. Also useful when making the business case to a customer or insurer that a new OEM part is actually cheaper overall to buy and install than an alternative because of the additional scut work on the latter.
"Who Pays for What?" surveys: The results are free for shops. Prove that your shop isn't the "only one" charging for a particular operation and that Top 10 carriers in fact do "pay for that."
Estimate Scrubber: EstimateScrubber.com lets you scrub your estimates for certain items gratis.
OEM procedures
Collision Advice "Learn to Research, Research to Learn" series: Collision Advice CEO Mike Anderson and OEM representatives teach shops how to navigate official automaker repair procedure websites in this series new for 2018. Anderson also did a Toyota repair procedure video not contained in the other playlist; find it here.
Collision Hub "Repair University: OEM Edition" series: The "Repair University" gang also teaches viewers about OEM collision repair websites in another new series. Given the importance of both the estimate and proper repair procedures to your business and your customers, it's worth watching both sets of films.
OEM1Stop.com: A portal to many OEM repair procedure websites, curated by the automakers themselves. Also a repository of some — but not all — major position statements.
NASTF scan tool resource center: Get links and data related to factory scan tools.
ASA-Auto Alliance OEM Resource Center: Another free portal with links to OEM repair procedures and scan tool information.
I-CAR Repairability Technical Support portal: Articles discussing a variety of technical factors and links to many OEM repair procedure websites. Much content is free, and I-CAR waives subscription fees to basically every responsible shop or tech making an effort to stay educated.
"Ask I-CAR": I-CAR touts this as a speedy and effective way to get answers from an OEM on a technical question not clear from the repair procedures.
Genuine GM Parts: Free collision repair procedures. However, you still need the mechanical instructions and more dynamic collision repair procedures on the paid site to perform an actual repair.
Mopar Repair Connection: Free FCA collision repair procedures. Again, you need the mechanical instructions and more dynamic collision repair procedures to do an actual repair.
Honda Service Express: No free repair procedures, but the Body Repair Manuals are a great way to learn some of the key collision repair concepts Honda expects for its new vehicles.
Technical information
SCRS free 2017 educational video series on collision repair procedures
SCRS refinishing position statements
BASF manual and TDS repository
LORD/Fusor adhesive instructions
Collision Hub YouTube channel: "Repair University Live" became free for 2018, so make sure to catch those in particular. But there's other great videos here as well.
Running your business
CCC "Crash Course": Annual free overview of the industry, chock full of data you'd normally have to buy off CCC. Plan your business and career based on it. (Hint: Change the year on the URL to see past editions.)
CCC monthly industry trends videos: Bite-sized versions of Crash Course. Lead analyst Susanna Gotsch picks a couple of trends to spotlight.
Mitchell mPower/Industry Trends Reports information: Mitchell's version of "Crash Course" and trend analyses articles. Mitchell has been shaking up the format but quarterly data has historically included Enterprise length of rental information — a good way to benchmark your cycle time — details about those three months' repair costs and average quarterly labor rates for key states.
Collision Advice: Anderson's website has an incredible treasure trove of links related to the repair process, estimating and running your business.
Webinars
Elite Body Shop Solutions' free webinars. The company runs a series of free monthly webinars on various body shop topics.
VeriFacts Guild 21 webinars: Take the Guild 21 pledge and sign up for free monthly webinars on a variety of topics.
CIECAsts: The Collision Industry Electronic Commerce Association hosts free webinars periodically. Some involve the nonprofit's data standards, while others involve broader collision repair subjects. You can see older CIECAsts by digging around CIECA's menu or its YouTube channel.
Featured image: A Lexus with the iconic red bow is seen in this 2014 promotional image. (Provided by Lexus)
Share This: