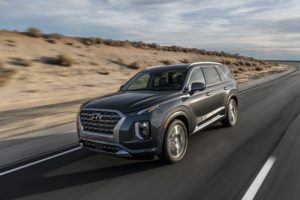 Hyundai last month revealed its brand-new "flagship" three-row SUV the 2020 Palisade, describing a steel body with a 13.7 percent higher average tensile strength than its next-generation 2019 Santa Fe.
"Palisade has a very rigid structure, with strategic use of Advanced High Strength Steel (AHSS) in key suspension and crash areas to provide increased tensile-strength," Hyundai wrote Nov. 28. "Use of Advanced High Strength Steel has several benefits: lighter overall vehicle weight and greater vehicle strength and rigidity without the excessive costs of more exotic lightweight materials.
"Palisade is expected to achieve TSP+ from the IIHS and a 5-star NHTSA rating. Robust underbody and side structures are designed to increase energy absorption and cabin intrusion in a severe collision, especially in the small overlap test. Further, its underbody uses multiple load paths to better disperse potential crash energy in the event of a collision."
Hyundai also boasted that the Palisade would have "best-in-class body torsional rigidity through a variety of methods, including a multiple ring-shaped structure and hot-stamped door-ring parts that provide greater strength and rigidity."
Even a Palisade with a sunroof has a "nearly identical" torsional rigidity to a traditional-roof Palisade, according to Hyundai. (This is a little confusing, as Hyundai images suggest the vehicle can have two sunroofs, with the news release suggesting a fixed-glass rear sunroof is  actually standard. But the takeaway still remains: Hyundiai's engineers built an impressively rigid body.)
The Palisade's front steering knuckles and rear carriers are aluminum. We asked if Hyundai incorporated more aluminum for lightweighting, but product and advanced powertrain PR senior manager Derek Joyce said the OEM's lightweighting was restricted to suspension components.
"We use a lot of Advanced High Strength Steel throughout the structure," Joyce wrote in an email, apparently suggesting Hyundai didn't use aluminum on the vehicle exterior. Considering that the broader Hyundai conglomerate includes a steel works, this makes sense.
The OEM didn't give a more precise breakdown of its advanced high-strength steel ratio, but the company's latest-generation vehicles have generally adopted more than repairers experienced in the past.
This trend, the higher average Palisade tensile strength compared to the light Santa Fe and Hyundai's general description of the Palisade's structure would suggest a great deal of higher-strength steel in the flagship SUV. These steels often carry sectioning and heat restrictions given their role in channeling energy and their metallurgy, which means repairers will need to take care to avoid compromising the structural integrity of the family-focused vehicle.
But delivering the right repairs on such a vehicle could be extremely difficult, as Hyundai is the only major OEM that doesn't provide collision repair procedures to the U.S. (Mechanical procedures are available, however.) Some repairers have even advocated automatically totalling the vehicles rather than attempting to guesstimate one's way through a Hyundai repair.
Hyundai has promised to deliver the instructions to the U.S., and SCRS and I-CAR had been working with the OEM on this topic in 2018. The Palisade isn't slated to hit dealerships until summer 2019, so perhaps a body repair manual will be available by then.

Body parts
Collision repairers should also take note of some other body-related features on the mammoth SUV:
NVH: Hyundai said the vehicle's noise, vibration and harshness will be curtailed with "generous under-hood insulation."
Suspension: The front lower arms "have been optimized and lightened via a new engineering design."
Lamps: LED headlights are optional. It's unclear from the news release wording if the LED turn-signal lights on the mirrors and the LED daytime running lights are optional or standard. The tailights are vertical and LEDs.
Exterior: Body lines could complicate work on panels and closures. "Full volume over-fenders and body sides offer muscular detailing," Hyundai wrote. "The rear view emphasizes a wide and stable stance via sinuous detailing."
The body — and notably, the underbody — provides a series of aerodynamic features contributing to the SUV's low 0.33 coefficient of drag.
"Palisade achieves this low drag coefficient with specific design cues that include a fast A-pillar angle, a rear spoiler side garnish, an optimized front cooling area with an extended internal air guide, aero underside panels, and rear wheel aero deflectors," Hyundai wrote.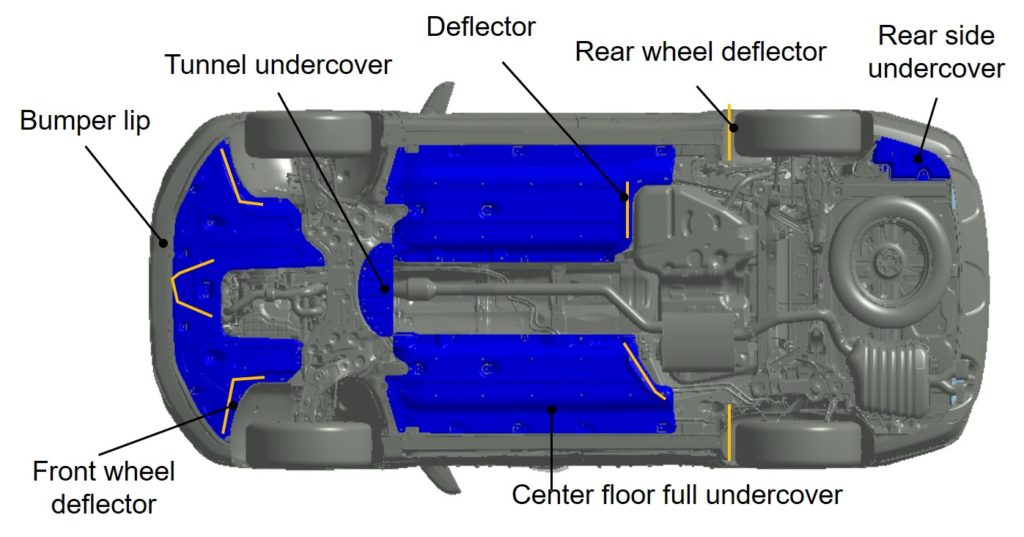 The Palisade's colors include "Beckets Black, White Cream, Lagoon Silver, Steel Graphite, Sierra Burgundy, Moonlight Cloud and Forest Rain," according to Hyundai; it's unclear if any of these would require an additional stage during refinishing. It's also possible to get interior molding accent colors tied to the exterior color.
Airbags: The vehicle has seven standard airbags, including a full-length side-curtain airbag that even reaches the third row.
HUD: A heads-up display is available as an option, potentially affecting whether aftermarket glass could be used in the vehicle. (Of course, Hyundai already instructs shops not to use anything other than new OEM parts anyway.)
"Hyundai Palisade's exterior and interior design clearly reflect its unique flagship identity with a premium, distinctive and bold road presence," Hyundai Design Center head SangYup Lee said in a statement. "As the lead for Palisade design, it was a pleasure to work with our global design teams throughout its development and ultimately present this phenomenal product before you today."
"The new 2020 Hyundai Palisade clearly evokes design imagery worthy of Hyundai's flagship SUV, with new levels of all-road, all-weather capability, technology, safety, roominess and efficiency, all packaged in cutting-edge design," Hyundai America product, corporate and digital planning Vice President Mike O'Brien said in a statement. "This new Hyundai SUV is the ultimate family vehicle for practical, comfortable daily use and memory-making road trips whenever the appeal of the open road should beckon."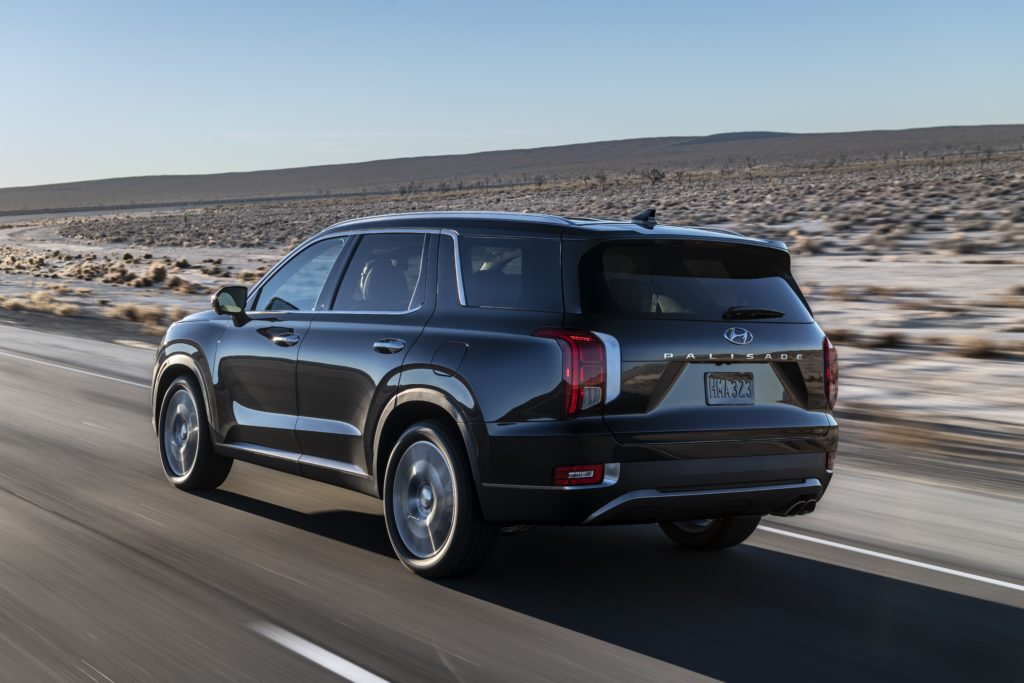 Other items
Other items possibly of interest to collision repairers too:
Steering and suspension: Certain collisions might affect the Palisade's driving modes and require extra consideration by shops. Hyundai describes an all-wheel-drive option with Normal, Sport and Smart modes, and "a wider range of torque distribution variability than many competitive systems and has been tuned to conditions such as straight-line acceleration, medium- or high-speed cornering, and hill starts." Another option is the new "Snow Mode," which "adjusts front and rear torque distribution, left and right wheel slip control, engine torque and shift patterns according to available traction levels."
ADAS: Many advanced driver assistance systems are standard, which likely means you or a dealership will have to calibrate them and take pains not to compromise them.
The Palisade comes standard with autobraking, including for pedestrians; "Blind Spot Collision-Avoidance Assist," which appears to also steer to prevent the driver from hitting something in the blind spot instead of just sounding an alert; rear autobraking; adaptive cruise control; automatic lane centering; automatic high beams; "Safe Exit Assist," which sounds an alert if someone tries to open the door with a car coming and won't permit the child safety lock from being deactivated either; and driver monitoring. (The latter doesn't appear to watch drivers' faces, but it predicts driver drowsiness or inattentiveness based on how the vehicle is moving.)
An optional "Rear Occupant Alert" system uses an ultrasonic sensor to detect whether or not there's a kid or pet in the back of the SUV. "The system is designed to prevent children and pets from being forgotten in the car, but it also helps in case children accidentally lock themselves in," Hyundai wrote.
An optional "Blind View Monitor" displays whatever's on the side of the car when you hit the turn signal.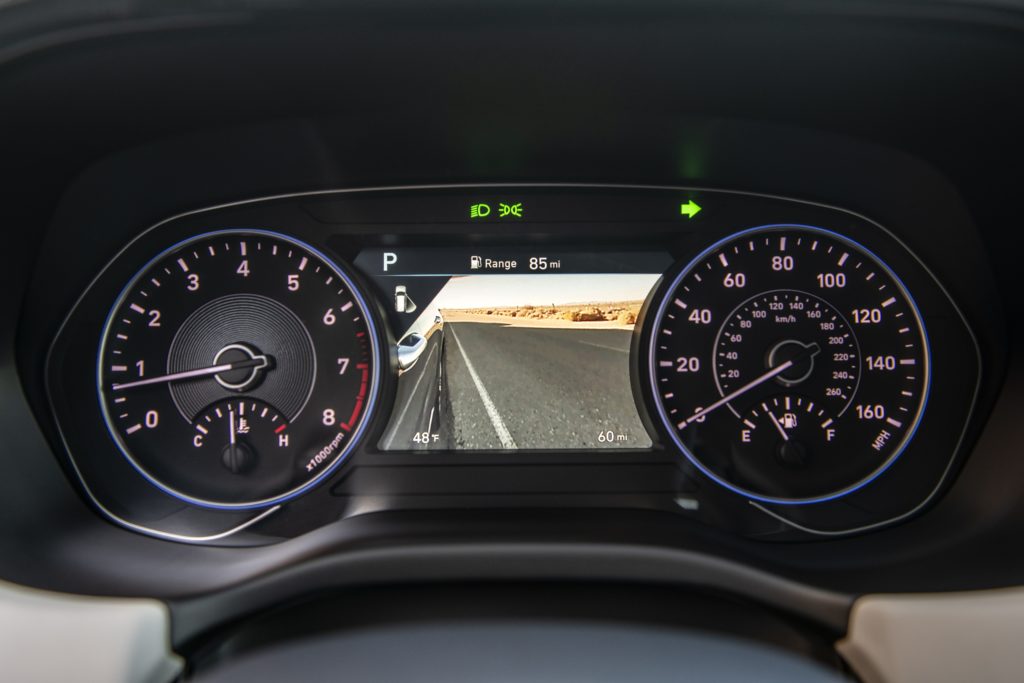 Connectivity: Drivers get three years of Blue Link free. This could be used at some point to recommend Hyundai-certified shops at the moment of a crash, if Hyundai follows other OEMs' lead.
More information:
"All-New 2020 Hyundai Palisade Mid-size SUV Makes its Global Debut at the 2018 Los Angeles Auto Show"
Hyundai, Nov. 28, 2018
Hyundai SmartSense webpage (includes some, but not all of 2020 Palisade's ADAS features)
Hyundai mechanical repair procedures
Images:
The 2020 Hyundai Palisade is shown. (Provided by Hyundai)
The 2020 Hyundai Palisade has a 13.7 percent higher average tensile strength than the 2019 Santa Fe, and the OEM predicts the steel-intensive Palisade will win top IIHS crash-test honors. (Provided by Hyundai)
The 2020 Hyundai Palisade has an 0.33 coefficient of drag, in part because of its underbody design. (Provided by Hyundai)
An optional feature on the 2020 Hyundai Palisade shows a side view whenever you hit the turn signal. (Provided by Hyundai)
Share This: