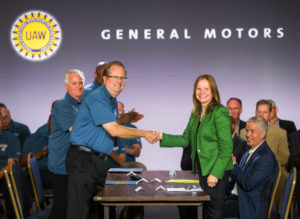 The United Auto Workers and General Motors on Friday announced the union's lengthy strike had ended and a deal had been reached.
The UAW said "workers will begin to report to work as instructed by General Motors." It called the strike the union's longest automotive strike in 50 years.
General Motors spokesman Jim Cain wrote in an email Friday that GM was "immediately putting in motion plans to resume normal operations as quickly as possible. He said the parts distribution network was one of the automaker's "top priorities," and the OEM planned to add shifts.
"One of our top priorities is to restore the health of our parts distribution network," Cain wrote. "To speed up recovery and get parts flowing to dealerships, comprehensive plans are in place to maximize capacity by adding shifts, streamlining the hiring process for additional resources, and executing a balanced operation across receiving, network replenishment and shipping.  Customer Care and Aftersales will continue to prioritize critical customer orders.  The process of restarting our vehicle assembly operations is already underway. Many of our production suppliers have trailers filled and ready to ship, which will allow us to restart our component plants and some assembly plants over the weekend. By early next week, we expect to have our entire production system up and running."
The UAW said it would announce if FCA or Ford was "the next pattern bargaining company,' but Ford manufacturing and labor communications manager Kelli Felker confirmed Friday the UAW had notified it had picked Ford to be next.
"As America's No. 1 producer of vehicles and largest employer of UAW-represented autoworkers, we look forward to reaching a fair agreement that helps Ford enhance its competitiveness and preserve and protect good-paying manufacturing jobs," Felker wrote.
Asked about the company's plans for parts should a strike occur, she wrote, "I wouldn't want to speculate."
Asked the same question, FCA manufacturing and labor spokeswoman Jodi Tinson called it "Far too early to speculate or comment as bargaining now moves to (Ford)."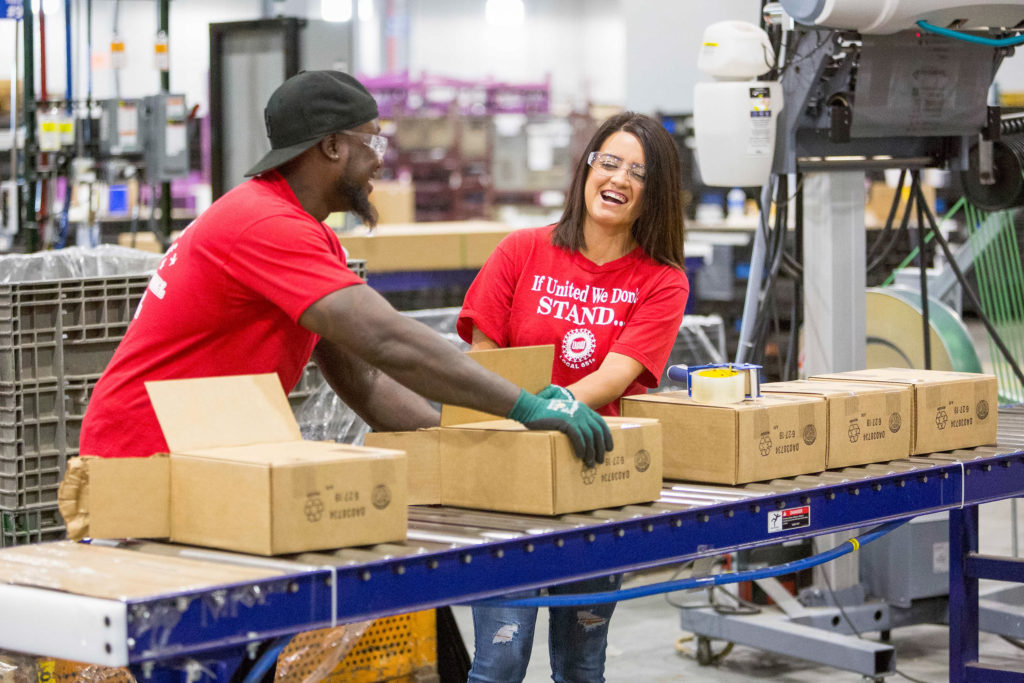 The four-year GM-UAW deal includes a $11,000 signing bonus per regular worker and $4,500 per temporary staffer, according to GM. No cap will exist on profit-sharing, and employees can have either 3 percent wage increases or 4 percent lump sum payments every year of the contract, GM said.
GM said health care will remain at a 3 percent cost to UAW employees. The average American worker pays 28 percent, according to the UAW.
Temporary workers can become permanent ones after three years, GM wrote.
"General Motors members have spoken," UAW Vice President and UAW-GM director Terry Dittes said in a statement. "We are all so incredibly proud of UAW-GM members who captured the hearts and minds of a nation. Their sacrifice and courageous stand addressed the two-tier wages structure and permanent temporary worker classification that has plagued working class Americans."
"We delivered a contract that recognizes our employees for the important contributions they make to the overall success of the company, with a strong wage and benefit package and additional investment and job growth in our U.S. operations," GM CEO Mary Barra said in a statement Friday. "GM is proud to provide good-paying jobs to tens of thousands of employees in America and to grow our substantial investment in the U.S. As one team, we can move forward and stay focused on our priorities of safety and building high-quality cars, trucks and crossovers for our customers."
The deal's planned spending in the U.S. includes "an all-new electric pickup truck assigned to Detroit-Hamtramck Assembly" and 1,000 battery cell manufacturing jobs. It's a sign GM remains committed to electric powertrains and that repairers will need to prepare for more of such vehicles in the near future.
More information:
"GM Team Members Complete Ratification of New Four-Year Agreement"
General Motors, Oct. 25, 2019
"UAW GENERAL MOTORS MEMBERS RATIFY CONTRACT"
United Auto Workers, Oct. 25, 2019
Images:
United Auto Workers President Gary Jones, left, and General Motors CEO Mary Barra pose at the opening of contract negotiations on July 16, 2019. (John F. Martin for General Motors)
General Motors employees work at the brand-new ACDelco and GM Genuine Parts processing center in Burton, Mich., on Aug. 9, 2019. August 5, 2019 in the Flint, Michigan, suburb of Burton. GM says the facility would employ more than 800 and process as many as 120 million service parts annually. The Flushing View newspaper reported Sept. 19, 2019, the plant is affected by the strike. (Jeffrey Sauger/for General Motors)
Share This: