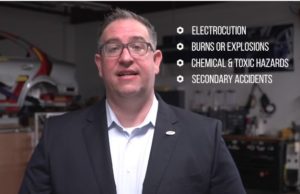 Collision repairers are poised to witness an increase in electrified vehicles in the coming years, a trend which could present new safety and logistics issues to an auto body shop, according to a new SCRS video.
The short film posted on the SCRSCollision YouTube channel Thursday highlights some of these possible considerations, in some cases presenting specific examples from OEM repair procedures. However, repairers must not treat the film as a substitute for the true manufacturer instructions, a point stressed by narrator Aaron Schulenburg, SCRS' executive director.
Official OEM repair procedures can be accessed via the OEM1Stop or NASTF portals. (NASTF's has links to OEM not found on OEM1Stop, such as Tesla.)
Safety concerns
"It's critical that your staff understand the safety implications of working with and around high-voltage systems before accepting responsibility for the vehicle," Schulenburg said. Hybrids, plug-in hybrids and battery-electric vehicles all feature high-voltage elements, according to the video.
The SCRS video advises having a documented procedure plan both for the intake of an electric vehicle and the actual work upon it. It suggested identifying high-voltage vehicles with signage as soon as they arrive, and noted that some OEMs might require specific storage or even quarantine procedures.
Painters and technicians performing curing operations might also have to consider logistical changes when working on such a vehicle. The video presents Audi instructions warning of battery cell damage at temperatures greater than 158 Fahrenheit (70 Celsius) and banning on such a vehicle spending more than an hour in a paint dryer or combination booth. The shop would have to dry things off with technology like gas-drying radiators or infrared driers.
Work on the vehicle itself should be done by qualified personnel and on vehicles placed into what Jaguar Land Rover calls an "electrically dead state," the video states. SCRS defined this as a vehicle placed at 0 voltage and disconnected from all live systems.
Both Volkswagen and Audi say their systems must be de-energized by high-voltage technicians before any straightening on a bench, welding, sanding or cutting, according to the video. Those technicians might be required to transport and monitor Audi batteries before body work, according to SCRS. Schulenburg pointed out that as of the video's Oct. 10 release, the only high-voltage technicians available were dealers and field staff.
Work also should not proceed on a vehicle which is being charged, according to SCRS.
The video also highlights Tesla's "Service Mode," a feature which a repairer can activate to lower the power available and prevent owners from manipulating the vehicle remotely.
"Enable Service Mode when a vehicle is brought in for repair and do not disable Service Mode until the vehicle is returned to the customer," Tesla advises in a repair bulletin.
Schulenburg said all employees had a "duty" to institute safety rules and comply with them.
---
Learn more about vehicle technology and trends at Repairer Driven Education
Find out more at SEMA about vehicle technology and trends with "Repair process 2020" featuring Doug Craig of LORD; "Mobility: The Future of Automotive Protection and Beautification" with Jennifer Boros, Gareth Hughes and Ranju Arya of PPG; "Auto industry disruption: Win despite change!" with Frank Terlep of asTech; and "Unraveling the Mystery of Structural Bonding Adhesives" with Shawn Collins of 3M. The sessions are part of the Society of Collision Repair Specialists Repairer Driven Education Series running Nov. 4-8. Register here for individual courses or the series pass package deal, which includes the entire week of classes, all three parts of the OEM Summit, IDEAS Collide and the Nov. 7 Sky Villa afterparty.

---
Besides the obvious threat of electrocution, electrified powertrains can pose a risk of burns or explosions, chemicals and toxic hazards, according to SCRS. There's also a threat of what Schulenburg called "secondary accidents," giving the example of an employee with an electric medical device experiencing an issue.
Working on an electric vehicle while carrying a device like a pacemaker, insulin pump "and even hearing aids" could be in violation of an OEM warning, Schulenburg states.
Repairers also need to wear appropriate personal protection equipment and remove nonmedical conductors, such as cellphones, metal glasses, piercings, coins, etc.
Growth in electrification
J.P. Morgan in October 2018 predicted more than 38 percent of North American light vehicle sales in 2025 will be either battery electric (e.g. a Tesla Model 3), a full or mid hybrid (e.g. a Toyota Prius), or a plug-in hybrid (e.g. the Chevy Volt).
It also projected that this year would see more than 8 percent of vehicles having one of those three types of powertrain.
Full and mid hybrids were expected to be more popular and grow more significantly than the other two formats.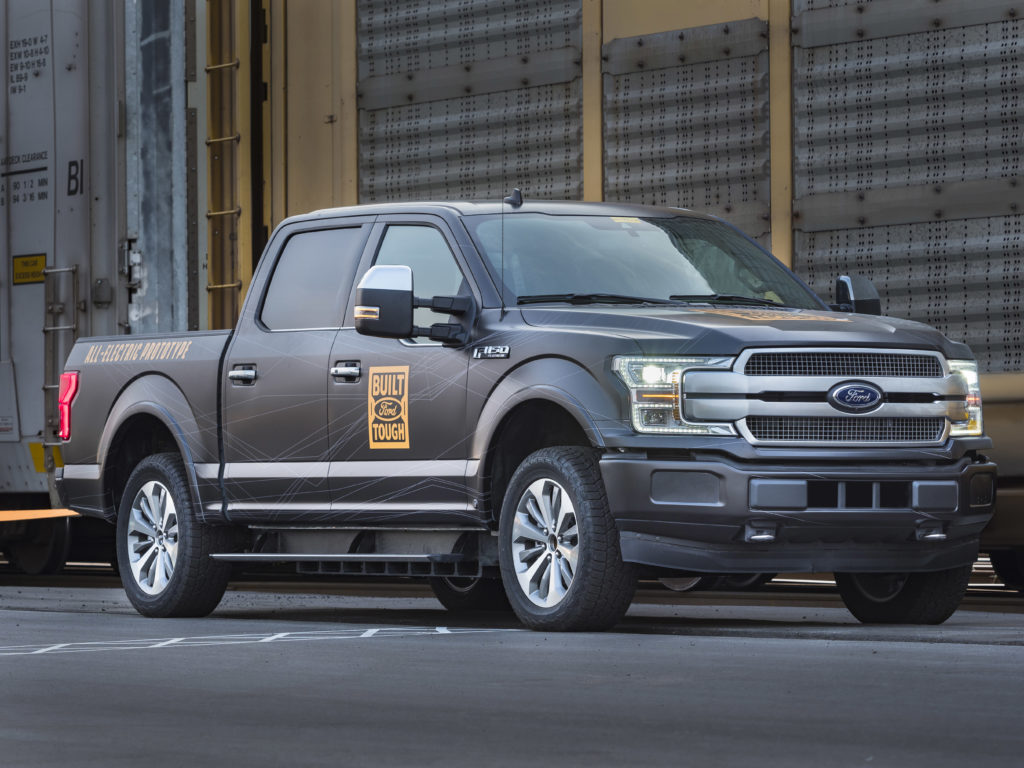 M.J. Bradley and Associates in May estimated that the cost of a battery has fallen from $1,000 per kiloWatt-hour in 2010 to $176/kWh this year. MJB&A said "general industry consensus" holds that at below $100/kWh, the cost to own an electric vehicle is identical to an internal combustion engine one — without any tax breaks.
"While some industry experts believe this could happen as early as 2021, most believe it will happen around 2025," MJB&A wrote. It said analysts predict batteries would fall to $62-$72/kWh by 2030.
MJB&A predicted that 81 either fully battery-electric or plug-in hybrids would be for sale in the U.S. in 2022, up from 55 this year. It said by 2021, at least five models will cost less than $30,000 without tax breaks and be able to go 250 miles on a charge.
Considering that body shops fix newer vehicles — the average repairable age is 5.9 years, according to CCC — you're likely to start seeing these trends reflected in your vehicle mix.
(5.9 years in 2025 would be 2019's vehicles, which using J.P. Morgan's data for napkin math works out to 8 percent of your repair orders being at least somewhat electric.)
More information:
"Electric Vehicle and High-Voltage System Safety in Collision Repair"
Society of Collision Repair Specialists, Oct. 10, 2019
"Driving into 2025: The Future of Electric Vehicles"
J.P. Morgan, Oct. 10, 2018
"Electric Vehicle Market Status: Manufacturer Commitments to Future Electric Mobility in the U.S. and Worldwide"
M.J. Bradley & Associates, May 2019
Audi OEM repair procedures (Internet Explorer seems to work well)
Volkswagen OEM repair procedures (Internet Explorer seems to work well)
JLR TOPIx OEM repair procedure website
OEM1Stop OEM repair procedures portal
NASTF OEM repair procedures portal
Images:
Society of Collision Repair Specialists Executive Director Aaron Schulenburg describes threats electrified vehicles might pose. (Screenshot from SCRS YouTube video)
An all-electric Ford F-150 prototype towed more than 1.25 million pounds in a test. (Provided by Ford)
Share This: