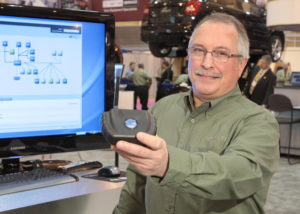 FCA recently altered its position statement to remove a longstanding reference to the asTech device, but the OEM confirmed this week the popular tool may still be used by its certified shops.
Scan tools using the "Right to Repair" SAE standard J-2534 to run FCA's official scanning software are also acceptable, FCA head of international communications Arial Galivan confirmed.
FCA's recommendation is still for shops to use its official WiTECH scan tool. It's the only thing the OEM can truly be sure is working right.
"They are acceptable substitutes, as long as they can connect to all modules to ensure that the system is fully connected and functional," Galivan wrote in an email Tuesday. "However, as do with our parts portfolio, we recommend technicians to utilize our wiTECH tool to ensure all modules and Diagnostic Trouble Codes are captured in the scanning process and are up to date and operating at optimal performance."
Other aftermarket scan tools license OEM scan tool software. However, they might modify it, and their version might also lag behind the OEM original. An automaker can't be sure the scan will work the way it's supposed to.
"Use of the Mopar® *wiTECH vehicle diagnostic tester ("Mopar Scan Tool") is an important part of FCA vehicle service and maintenance," FCA wrote in the revised position statement. "This tool contains software that aftermarket tools may not contain and can assess whether any of an FCA's vehicle's safety and security systems contain active or stored Diagnostic Trouble Codes (DTCs)."
The J-2534 standard, however, lets a repairer subscribe to FCA's official software and run it as-is through a scan tool or even a laptop "J-Box." Under the "right to repair" agreement, most OEMs promised to make their official diagnostic software available in this manner or under the ISO 22900 standard by a 2018 model-year deadline. (Which is why you might not be able to use a J-Box on some older vehicles.)
AsTech also has been deemed an acceptable scan tool substitute for some automakers' certified networks, for it connects remotely to an official OEM scan tool held at an asTech facility.
FCA mentioned the device specifically as OK for determining the status of airbag squibs in its original 2016 scanning position statement. Its exclusion in the new statement prompted us to check that certified shops who'd been using it for three years didn't need to buy a new scan tool.
While we looked at the position statement primarily from the perspective of certified shops, FCA's guidance and equipment requirements matter to the entire industry.
---
Learn about scanning and insurers, FCA procedures at Repairer Driven Education
Find out more at SEMA about diagnostic scanning in "Overcoming objections to scanning" by Jake Rodenroth of asTech and Mike Anderson of Collision Advice. And learn more about using FCA repair procedures with "HELP! A comprehensive conversation surrounding accessibility to OEM procedures and technical support," featuring Toyota, Honda, FCA and Subaru. The sessions are part of SCRS' Repairer Driven Education Series running Nov. 4-8. Register here for individual courses or OEM Summit sessions or the series pass package deal., which includes every class Nov. 4-6, the OEM Summit and Sky Villa afterparty Nov. 7 and IDEAS Collide Showcase on Nov. 8.

---
As Collision Hub director of industry relations Jason Bartanen pointed out Thursday, an automaker requiring a piece of equipment for its certified shops doesn't remove the responsibility on uncertified shops to meet that standard. The OEM is still saying that set of specifications (or specific model, in some cases) is what's necessary to fix the vehicle correctly.
You also can't do a proper repair with a position statement alone. You must consult FCA's repair procedures — the paid ones, not the free ones.
"Any repairs performed without using Mopar Parts, and not following published repair guidelines and procedures may expose current or future vehicle owners and occupants to unnecessary risk," FCA wrote in the news release. "If faults were stored in the DTC memory for any safety or security systems, then these systems MUST be serviced according to the repair procedures in Service Information. After performing repairs, re-check the system to determine if any active or stored DTCs remain; if so, take appropriate service action to ensure proper function." (Emphasis FCA's.)
FCA reiterates: Scan before and after repair
The meat of the FCA position statement remains unchanged from the document released in 2016. (And emailed at the time to Allstate, Amica, Erie, Esurance, Farmers, GEICO, Kemper, Liberty Mutual, Metlife, Nationwide, Progressive, Safeco, Shelter, State Farm, Travelers and USAA.)
FCA wants you to scan everything before and after a repair — particularly airbags. Even "minor" damage, "battery disconnects," removing parts like bumpers, glass or interior trim can trigger a diagnostic trouble code.
As FCA writes:
Safety and security related systems such as anti-lock brakes, Supplemental Restraint Systems (SRS) (airbags), Occupant Restraint Controller (ORC), seat belts, active head restraints, forward facing camera and radar, blind spot monitoring and other automated electronic driver assistance systems MUST be tested for fault codes (DTCs) that could possibly be active (current) or stored following a collision. Use of the Mopar *wiTECH vehicle diagnostic tester (scan tool) is necessary before and after collision repair.
ANY of the following conditions could trigger DTCs prior to or during collision repairs which could result in improper vehicle performance:
• Vehicle is involved in an accident or collision, even though the damage may appear minor.
• Vehicles have been in an accident with or without airbag deployment.
• Voltage loss, including battery disconnects and Hybrid battery disabling.
• Significant vehicle disassembly including, but not limited to, bumpers, door handles, headlamps and mirrors.
• Interior trim repair or removal.
• Glass removal and replacement operations. (Emphasis FCA's. Minor formatting edits.)
As noted above, FCA particularly warns that you need to check to ensure the airbags' initiators really cycled before you try to remove them.
"Multistage airbags with multiple initiators (squibs) MUST be checked to determine that all squibs were used during the deployment event," FCA wrote. "The Driver Airbag (DAB) and Passenger Airbag (PAB), are deployed by electrical signals generated by the Occupant Restraint Controller (ORC) through the driver or passenger squib circuits (up to 3) to the initiators in the airbag inflators. Typically, all initiators are exhausted and all potentially hazardous chemicals are burned during an airbag deployment event.
"However, it is possible for only one initiator to be exhausted; therefore, you MUST always confirm that all initiators have been cycled, in order to minimize the risk of improper handling or disposal of potentially live pyrotechnic or hazardous materials. This procedure should be performed using the Mopar wiTECH diagnostic scan tool to verify the status of all airbag squibs, prior to removing deployed airbags from the vehicle for disposal." (Emphasis FCA's.)
More information:
"SCAN TOOL POSITION STATEMENT"
FCA, Sept. 25, 2019
Paid FCA Mopar Tech Authority OEM repair procedure site
Images:
Chrysler dealer technical operations and global service director Al Motta displays the wiTECH in 2009. (Provided by FCA)
FCA updated its scanning position statement on Sept. 25, 2019. (Provided by FCA)
Share This: