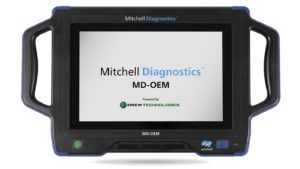 Mitchell on Wednesday announced its new "MD-OEM" diagnostic device had been approved for General Motors-certified shops.
The news would seem to illustrate how the Right to Repair agreement between automakers and the aftermarket has opened the door for body shops to run authorized OEM software without having to buy OEM scan tools.
General Motors had already approved certified shops using AirPro and Drew Technologies devices which "Runs GDS-2 locally on a computer on-site with the vehicle" as alternatives to its official Global Diagnostic System 2 scan tool. The automaker wants devices "Utilizing the Multiple Diagnostic Interface 2 (MDI-2) or any SAE J2534 compliant device."
GM now also permits certified shops to use the new Mitchell MD-OEM tool, according to Mitchell. (GM hadn't as of Friday updated its tools list to reflect this.) The device was developed under a partnership with Drew, the IP said.
"The new Mitchell MD-OEM diagnostic product, when scanning GM vehicles uses GM's proprietary GDS-2 software on the device directly at the vehicle's location, as is required for use in the GM Collision Repair Network," Mitchell wrote in a news release. "Scanning and diagnostic services are available for other OEMs, in each case using the OE's factory diagnostic system and software."
Mitchell spokeswoman Katie Pierini (Market Street Group) said the MD-OEM was "a Windows 10 platform with capacitive touch-screen and dual-core Intel processor with a fully integrated SAE J2534 interface."
Mitchell said the MD-OEM will integrate with Mitchell's existing MD-200 and MD-350 aftermarket scan tools, which based on GM and Mitchell information aren't approved for certified shops. Mitchell for most repairers suggests combining the MD-OEM with one or the other device, though it says a large shop might use all three.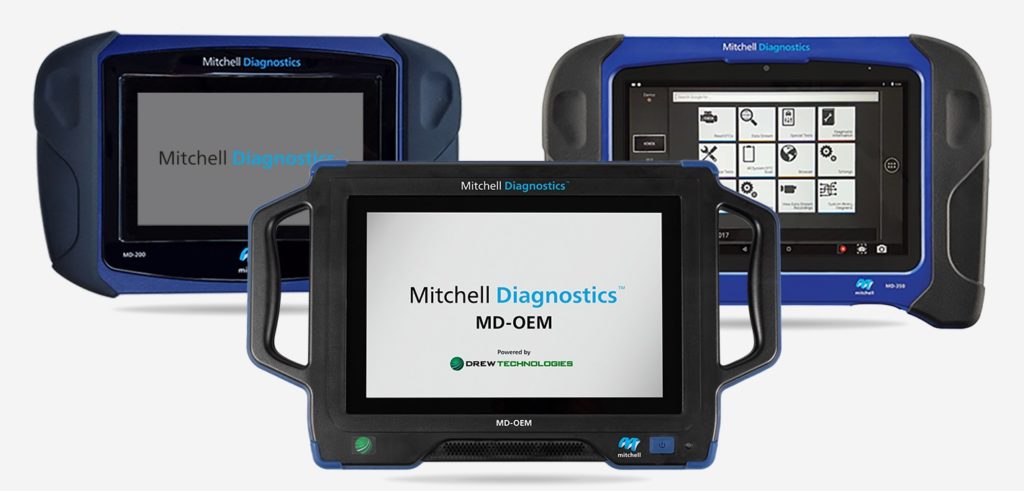 "Drew has a well-earned reputation as an industry leader in OEM diagnostics," Mitchell general manager and Executive Vice President Debbie Day said in a statement Wednesday. "Mitchell's Freedom platform was designed to deliver the industry an open set of solutions linked with best-in-class partners. The new Drew Technologies partnership gives our customers a complete suite of diagnostic solutions and is a great example of our core value of partnering well—in this case, to enable collision repairers with the most fully-featured solution on the market—and continues Mitchell's support of proper and safe repairs."
"We are pleased to partner with Mitchell, a leader in the collision and auto claims technology space and a company that has been an innovation leader in diagnostics for collision repairers, to leverage our latest technology into a Mitchell offering," Drew President Brian Herron said in a statement. "We look forward to working together to further our work in providing collision repair shops with the most advanced diagnostics capabilities, helping them to more efficiently and accurately complete diagnostic scans, repairs, and reprogramming in-house."
Many aftermarket scan tools license and incorporating information from automakers like GM, and the head of NASTF said Wednesday the ensuing third-party tools can actually work better than the OEM tools in some cases. This assessment was also shared at the Collision Industry Conference Thursday by a regional MSO with extensive in-house scanning experience.
But the aftermarket software might also rely on out-of date OEM information, be unintentionally incomplete, and miss items too. The OEM (and repairer, for that matter) can't guarantee that the scan tool manufacturer's programmers didn't have a bad day and screw up something in integrating the automaker's software. Not surprisingly, automakers don't appear to be approving those devices' use by certified shops.
However, automakers under the landmark 2014 Right to Repair agreement must also release their official, current software to be downloaded and used by devices compliant with standards like the Society of Automotive Engineers' J-2534 format or ISO 22900. You're running the OEM's official operating system, not a version baked into an aftermarket operating system.
The beauty of this system is that with the OEMs' approval, a certified shop could buy a single "J-Box" like Mitchell, AirPro or Drew's and use official OEM software to scan vehicles from multiple certifying automakers. You wouldn't need to buy separate OEM scan tools to deliver OEM-quality scanning. In theory, you could also buy a subscription to the OEM software, a J-2534 interface and a sufficiently powered laptop and build your own scan tool.
Automakers weren't required to be compliant on this R2R point until the 2018 model year. (Nissan, for example, won't approve J-Boxes because they won't work on pre-2018 model year vehicles — a certified shop couldn't scan older cars.)  OEMs also can withhold security-related data.
But GM's approval indicates that an automaker who embraces the spirit of the R2R repair can be comfortable permitting the additional scan tool flexibility it grants — which in turn benefits aftermarket repairers working on multiple brands. (And indirectly might lower cost of ownership.)
In this vein, a GM-certified shop with a single "J-Box" might be able to leverage the same scan tool for Honda ProFirst certification.
"HDS/i-HDS software can be purchased and run on any laptop that meets minimum system requirements," Honda collision repair training and technology national assistant manager Scott Kaboos wrote in May. 
We'd asked him if both AirPro and asTech were allowed for ProFirst, since both could run Honda's i-HDS software. (The asTech links to an official Honda scan tool offsite.)
"Any J2534 connection device should theoretically work with the HDS/i-HDS software but the only one validated by Honda Motor or American Honda is the Denso DST-I," Kaboos also wrote.
Subaru is more nuanced on its certified shops regarding the J-2534 standard.
"Our goal is that scanners using our official Subaru software can be used in our network," Subaru national wholesale parts manager John Lancaster wrote Friday. "But, we have two versions of software SSM4 and SSM3. The SSM4 will work with J-2534 devices but the older SSM3 portion does not have that capability. So, for older cars you must have the DST-I for communication on cars older than the 2015-2016 era. No one has been able to get the J-2534 to work with the SSM3 software at this point."
National Automotive Service Task Force Executive Director Donny Seyfer further discussed the standard at the Collision Industry Conference on Wednesday.
He said there are 5 versions of the J-2534 standard, and most of the industry is still on J-2534-2 even thought J-2534-5 exists.
He also noted that cloud OEM software would always be current, noting that the Toyota and Ford scan tools update themselves every time a user logs in.
Clarification: Mitchell clarified Monday that it recommended a shop use the MD-OEM with either the MD-250 or MD-300. While it says a large shop could combine all three, the IP suggests for most shops using just one or the other scan tool with the new MD-OEM. The article has since been edited to reflect this.
More information:
"Mitchell Announces Partnership with Drew Technologies to Deliver OEM Scanning and Remote Diagnostic Support"
Mitchell, July 24, 2019
2014 "Right to Repair" memorandum of understanding
General Motors certified collision repair requirements
Images:
Mitchell on Wednesday announced its new "MD-OEM" diagnostic device, front, had been approved for General Motors certified shops. (Provided by Mitchell)
Mitchell on Wednesday announced its new "MD-OEM" diagnostic device, front, had been approved for General Motors certified shops. The existing MD-200 and -350 devices lack such approvals but can be integrated with the MD-OEM, according to Mitchell. (Provided by Mitchell)
Share This: