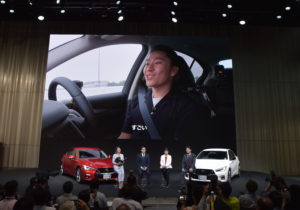 Nissan last week revealed its refreshed Skyline, confirming a May promise that the car would come with hands-off ProPILOT 2.0 highway driving.
The debut on the Japanese car could signal a technology coming eventually to U.S. roads and collision repairers' shops. Infiniti Americas corporate communications director Kyle Bazemore said the Skyline is based off of the American Infiniti Q50, which pioneered a drive-by-wire system he called a "building block for the autonomous vehicles of the future."
Cadillac has already brought a similar hands-free system, Super Cruise, to market on CT6s in the U.S. In June, Cadillac said motorists had already traveled a combined 2.5 million miles with Super Cruise active.
As Nissan described the technology Jan. 15, it operates similarly to Super Cruise.
ProPILOT is meant for use on designated Japanese highways between on- and off-ramps. While the driver doesn't need to keep hands on the wheel, he or she is still required to pay attention to the road, and in-cabin monitoring confirms they're doing so.
If the driver doesn't respond to an alert, ProPILOT 2.0 hits the hazards and slows to a stop. The car will also alert a call center to see if emergency assistance is needed.
Drivers might also be asked to confirm vehicle decisions, according to Nissan.
"The new ProPILOT also enables hands-off driving while cruising in a given lane," Nissan wrote. "When the vehicle approaches a road divide, or when passing a slower vehicle is possible, the system judges the appropriate timing of branching off or passing, based on information from the navigation system and 360-degree sensing. The driver receives intuitive audio and visual guidance and is prompted to put both hands on the steering wheel and confirm the start of these operations with a switch."
The system will also tell the driver if it can't handle a particular road.
"The hands-off feature is not available on roads that have two-way traffic, in tunnels, on winding roads, in tollgate areas, merging lanes, or areas with a decreasing number of lanes, and in areas where manual control is required," Nissan wrote in a footnote July 15. "When entering a road section where hands-off driving is not available, the system will alert the driver in advance so the driver can take manual control of steering."

Nissan said it would make ProPILOT standard on all hybrid grades of the Skyline.
The technology could alter physical damage collision repair as well as the scope of a repairer's electronics-related work.
Nissan on July 15 discussed how the technology was incorporated into the vehicle front.
"Prominently displayed in the center of the grille is the front radome, which integrates a radar sensor used with ProPILOT 2.0 and the Nissan badge," the OEM wrote.
Diagrams from a May news release about the Skyline's ProPILOT 2.0 highlight a whole lot of ProPILOT-related sensory technology in locations commonly damaged in collisions.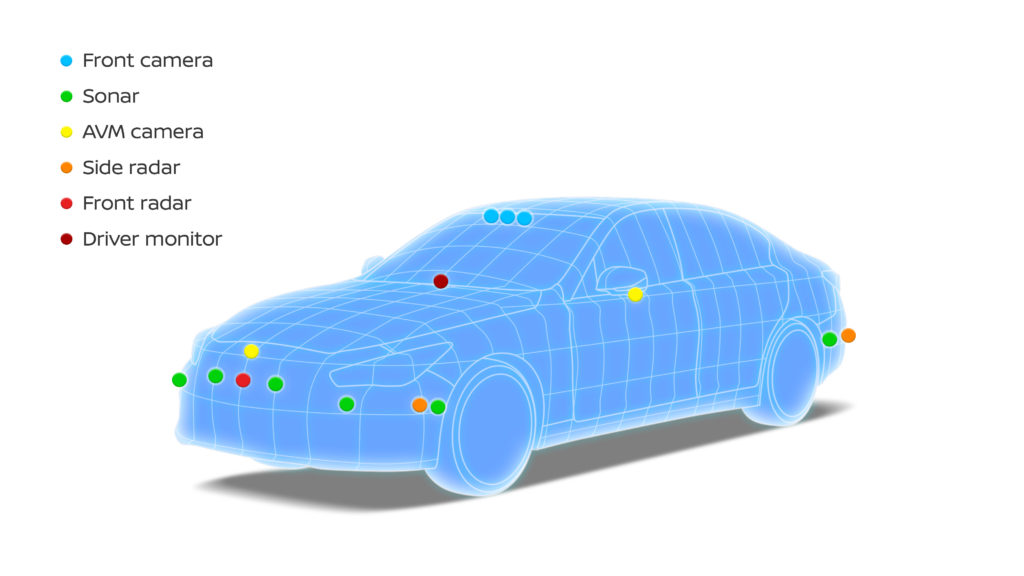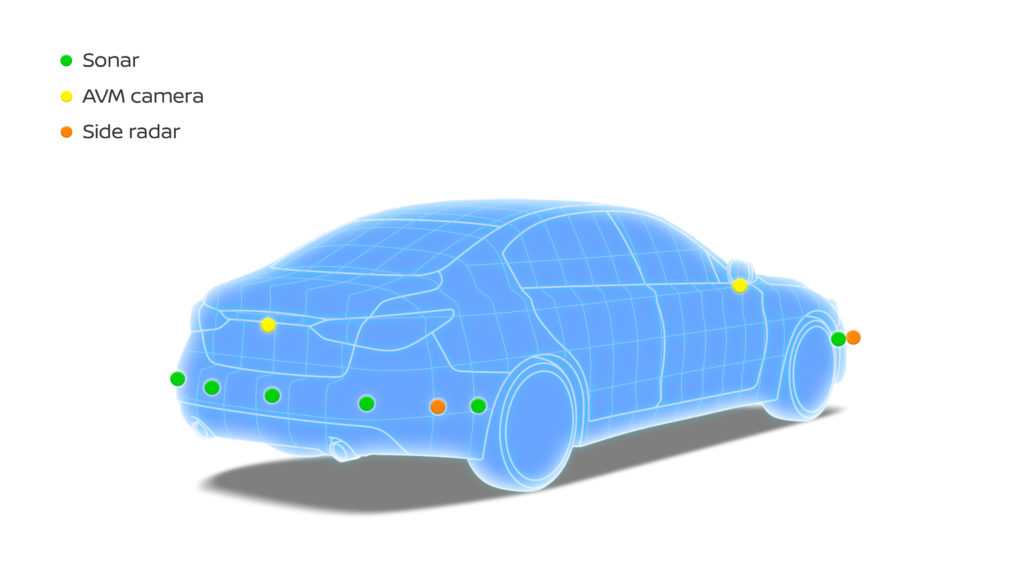 Automotive News on Monday also offered some additional perspective in what the technology meant for vehicle design. These lessons would seem relevant to collision repairers and might explain some of Nissan's guidance to shops.
For example, Nissan already has warned shops not to use any bumper fascia which aren't new OEM because of the potential effect on sonar. It also forbids any repair near blind spot monitoring radar behind the rear fascia.
Automotive News cited Nissan design chief Alfonso Albaisa to report that the front fascia of the Skyline "had to be extended and smoothed to accommodate all the new sensors needed for the ProPilot 2.0 system. Sensors under the sheet metal don't see well through fancier creasing and more angular styling."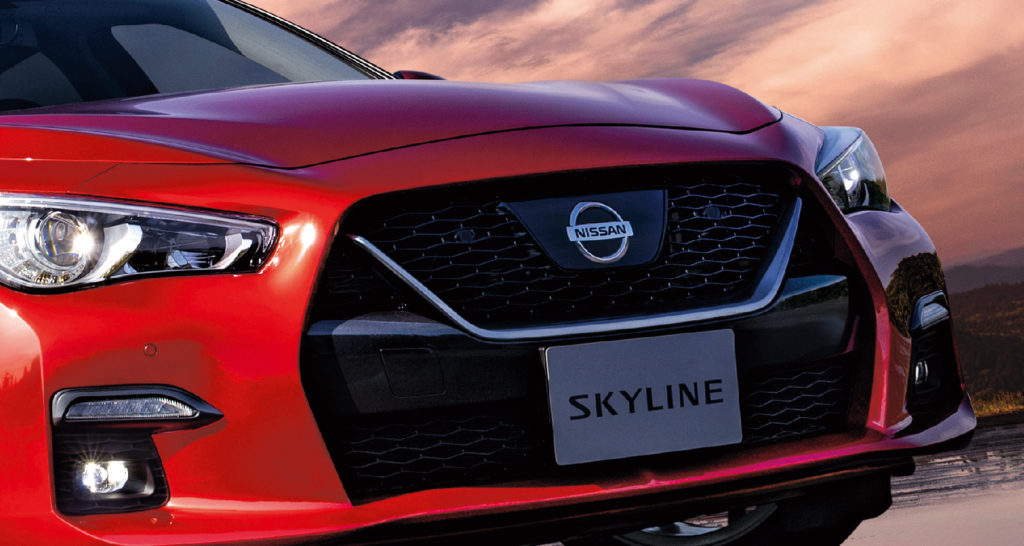 The Skyline will go on sale in the fall in Japan. It only starts at 4,274,640 yen, which worked out early Monday afternoon to about $39,613.
Even if that price refers to the internal combustion engine version of the Skyline, it still suggests the technology might be relatively affordable for Infiniti and even Nissan drivers in the U.S. should Nissan bring it here.
GM in 2018 said it would expand Super Cruise to other Cadillacs — followed by "other General Motors brands," which also suggests that tech won't require a CT6-caliber bankroll soon either.
Super Cruise development included mapping roads down to less than 4 inches, and Bazemore said the need for detailed maps would keep ProPILOT 2.0 confined to Japan for now.
"The announcement for the Nissan Skyline is a system that can only be offered in Japan right now because of the availability of highly detailed 3D mapping that is required for its operation," Bazemore wrote. "Mapping is being carried out in other parts of the world to the same standard, and will take time for this to be achieved."
More information:
"Nissan unveils new Skyline with ProPILOT 2.0 driver assistance system"
Nissan, July 15, 2019
"ProPilot 2.0 alters Nissan's curves"
Automotive News, July 22, 2019
"Nissan to equip new Skyline with world's first next-gen driver assistance system"
Nissan, May 15, 2019
Nissan (U.S.) position statements
Nissan collision repair procedures website (use Internet Explorer)
Infiniti (U.S.) position statements
Infiniti collision repair procedures website (use Internet Explorer)
Images:
The Japanese Nissan Skyline will have the hands-off but eyes-still-on-the-road feature ProPILOT 2.0, Nissan said. (Provided by Nissan)
Sensory technology found on a Japanese Nissan Skyline with ProPILOT 2.0. (Provided by Nissan)
The front of the Japanese Nissan Skyline is shown. (Provided by Nissan)
Share This: