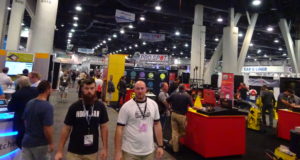 Certain pieces of collision repair equipment are now vital, but shops must also pay attention to the specifications of that gear, according to one industry expert.
Jason Bartanen, director of industry relations at Collision Hub, will be one of the panelists educating shops on "Repair process 2020" during SCRS' Repairer Driven Education series at SEMA. Given the buying opportunity afforded by SEMA, we had asked Bartanen if he saw the industry's repairers often lacking any particular piece of equipment for that "Repair Process 2020."
Bartanen said much confusion appears to exist in the market on ""What exactly do I need?'" from an equipment perspective.
"That's probably been historical," he noted.
Shops might be wondering when they should invest in a rivet gun, scan tool, MIG brazing system or spot welder, he said.
"We all need to have those right now," Bartanen said. He noted that MIG brazing was particularly important if a shop did a lot of Hondas.
Within the next 3-5 year range, riveting would grow far more common as a repair technique, Bartanen predicted. He felt conventional gas-metal arc welding would soon become "antiquated" except for perhaps sectioning outer panels, and even aluminum metal inert gas welding would decline in importance.
Joining by rivets, adhesives and other mechanical fasteners would boom, and steel would primarily be connected using spot welding and MIG brazing, Bartanen predicted.
A shift to mixed-material vehicles and more advanced — but also heat-sensitive — steels is affecting how a repairer can attach parts. Bartanen
Bartanen predicted the days of purely steel or purely aluminum vehicles are "shortly gonna be behind us." He cited as an example the current-generation BMW 7 Series, which features aluminum, steel and carbon-fiber.

The industry also seems to be confused on OEM equipment requirements, Bartanen said. Repairers will see a tool listed as a requirement for a certified auto body shop but buy a lower-level version, he said. The assumption is that as the shop doesn't plan to join the OEM's network, they don't need the specified gear.
But network status is "irrelevant," Bartanen said. The tool's specifications are still required to fix the vehicle.
"I think there's a little confusion there," Bartanen said.
As for technicians' own tool collections, Bartanen said he generally didn't see any glaring void there. Instead, "its the knowledge," he said.
They need training on the new equipment a shop buys, and the facility should arm them with repair procedures, Bartanen said. He said the latter might even be the responsibility of a full-time position ("'I'm the research guy'") held by a skilled person who can gather the information and work with estimators on technicians on applying it.
Bartanen said he spends significant time delving into OEM repair procedures daily as part of his job, and even he has difficulty finding certain information. "It's a lot of work," he said.
He said too many people continue to wing it through a repair instead of using OEM repair procedures. However, he did note that social media traffic seems to suggest a shift in the industry. What had once been about 5 percent of techs seeking to do the work correctly had grown to about a "50-50" split between them and the so-called "real body man" contingent, he estimated.
Bartanen will be one of three panelists participating in the "Repair Process 2020" discussion, scheduled for 9:30-11:30 a.m. Tuesday, Nov. 5, and  moderated by Doug Craig, Fusor field technical training manager at LORD. They'll be joined by panelists Kelly Logan, Car-O-Liner director of technical services; and Jake Rodenroth, asTech industry relations director.
Craig said the course will examine six elements of a body shop's business: information/research, relationships, repair planning, training, product selection and quality control.
Echoing Bartanen to some degree, Craig said use of the proper information was one current industry problem, as was "training, training, training."
He said that while repairers insist they've been doing collision work for 20 years, he still takes daily phone calls reflecting repairers not knowing how to use a particular product. He gave the example of a shop attempting to use an old pneumatic caulker to apply a substance that must be pushed with a rod. Applying air pressure like that meant "you only get one part" of the necessary chemical reaction.
"Guys, this is every week," he said. Did the shop read the instructions?
He advocated the industry "being trained on every product" in a technician's hand.
Sign up for Craig, Bartanen, Roberts and Rodenroth's Nov. 5 class individually for $85, or get access to it everything else that week by purchasing the $400 full series pass. The latter lets you into any every class Nov. 4-6, the OEM Summit and Sky Villa afterparty Nov. 7 and the IDEAS Collide Showcase on Nov. 8. Learn more at www.scrs.com/rde.
More information:
NASTF OEM repair procedure portal
SCRS Repairer Driven Education
Share This: