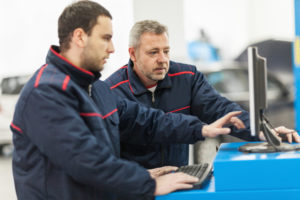 Recognizing the repair procedures which can be added to an estimate can lead to a vehicle fix being more profitable for a body shop, according to Database Enhancement Gateway Administrator Danny Gredinberg.
Gredinberg, industry educator Toby Chess of Kent Automotive and Precision Body & Paint owner Ron Reichen will teach "Capturing Every Procedure: What are you missing?" from 12:30-2:30 p.m. Wednesday, Nov. 6 during the Society of Collision Repair Specialists' Repairer Driven Education SEMA series. Gredinberg, a former estimator and luxury tech, gave us a breakdown of the class and discussed the idea of capturing procedures during an interview Oct. 25.
Gredinberg said the class will involve the audience by presenting the base time for included procedures on a repair operation and asking what else was needed to complete the work.
Many common collision repair actions aren't included at all in the labor times, something clearly spelled out in the Audatex, CCC and Mitchell P-pages. An estimator or adjuster must manually add these and the associated labor hours or other charges to an estimate.
Gredinberg offered examples of not-included operations including welder setup, destructive weld tests, filling and topping off fluids.
Assuming such labor is included or forgetting to include the work manually on the sheet can mean a piece-rate tech loses hours and the body shop itself is working for free while still incurring expense (overhead, etc.).
"Just using the basic P-pages" — learning what's included and what isn't — can deliver a major impact on a shop, according to Gredinberg.
Consulting the OEM procedures also can indicate more items needing replacement or extra labor steps.

Gredinberg suggested that better familiarity with operations meriting inclusion can lead to a domino effect which further fleshes out one's estimate.
He described how accounting for labor can lead to the shop recognizing additional materials to be reimbursed and additional operations which might be required, such as verifications like scan or calibration, which in turn can affect parts.
Asked how to deduce the time for such not-included operations — by definition, the estimating service doesn't give you one — Gredinberg said the repair planner must have an overall understanding of the process.
He described examining "every step involved" from the moment the technician gets the key to the car to the vehicle being brought to 150 grit. (The point at which the estimating services tend to stop and work tends to shift to the paint department.)
He'd also work with a technician to determine at time in "conjunctive feedback" as well as checking prior repair orders.
Asked about piece-rate techs inflating a time in such a consultation, Gredinberg said he'd have no problem getting a second or third opinion. As the estimator, he'd be the one getting the repair approved, and he must be confident during the discussion, he said.
If the entire team is on the right page and employees aren't all out for themselves, "you don't have to worry about that."
The estimator also could put his or her own interests above other staff, and so technicians needed to hold estimators accountable too. The estimator takes care of the technician, and vice versa.
"It's a two-way street," he said.
For a fascinating example of what adding not-included operations and knowing repair procedures can mean for an estimate, we'd refer readers to the "OMG Camry" by Larry Montanez III and the late James Moy. It demonstrates how replacing a quarter panel on a 2010 Camry can lead to a $12,400 estimate if a shop remembers to include all the work it must perform.
Sign up for Gredinberg, Chess and Reichen's Nov. 6 class individually for $85, or get access to it and everything else in the Repairer Driven Education lineup next week by purchasing the $400 full series pass. The latter lets you into any every class Nov. 4-6, the OEM Summit and Sky Villa afterparty Nov. 7 and the IDEAS Collide Showcase on Nov. 8. Learn more at www.scrs.com/rde.
More information:
SCRS Repairer Driven Education registration
Featured image: Using an estimating service's P-pages can have a major impact on a shop, according to Database Enhancement Gateway Administrator Danny Gredinberg. (Geber86/iStock)
Share This: