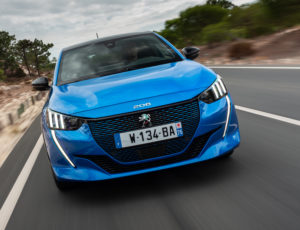 FCA and Groupe PSA (Peugeot S.A.) on Thursday announced plans to combine and be the world's fourth largest automaker at 8.7 million vehicles.
Groupe PSA's offerings include brands like Peugeot, Opel, Vauxhall, and Citroën. It doesn't sell anything in the U.S., and FCA noted in a news release the complementary nature of the companies' footprints.
"At its inception, the combined company would realize among the highest margins in the markets where it would operate, based on FCA's strength in North America and Latin America and Groupe PSA's in Europe," FCA wrote Thursday.
The OEM said neither company expected to close any factories either.
Together, the companies would represent profit of more than $12.26 billion based on 2018 results (not counting Magneti Marelli and Faurecia) and sales of nearly $189.47 billion. They expect $4.12 billion in synergies with only a one-time $3.12 billion expense needed to accomplish it.
The parent company for the merging OEMs will be headquartered in the Netherlands. FCA shareholders and PSA shareholders will split ownership 50-50, and the board will have "balanced representation" and feature a majority of independent directors.
FCA board Chairman John Elkann will stay chairman of the new company's board, while PSA managing board Chairman Carlos Tavares will be CEO and also a board member.
"The merged entity would bring together the companies' extensive and growing capabilities in the technologies shaping the new era of sustainable mobility, including electrified powertrain, autonomous driving and digital connectivity," FCA wrote.
Asked what the merger would mean for collision repairers doing business with FCA and certified shops. spokesman Shawn Morgan wrote "it's still too early for those details."
He pointed out that the two parties don't have a formal memorandum of understanding yet. PSA described plans to continue negotiations and reach one "in the coming weeks."
A role for FCA CEO Mike Manley wasn't described in either the FCA or PSA news releases, but it appears he'll be staying post-merger. Both he and Tavares described plans to work together in the new company.
"This convergence brings significant value to all the stakeholders and opens a bright future for the combined entity," Tavares said in a statement, "I'm pleased with the work already done with Mike and will be very happy to work with him to build a great company together."
"I'm delighted by the opportunity to work with Carlos and his team on this potentially industry-changing combination," Manley said in a statement. "We have a long history of successful cooperation with Groupe PSA and I am convinced that together with our great people we can create a world class global mobility company."
More information:
"Groupe PSA and FCA Plan to Join Forces to Build a World Leader for a New Era in Sustainable Mobility"
FCA, Oct. 31, 2019
"Groupe PSA and FCA plan to join forces to build a world leader for a new era in sustainable mobility"
Groupe PSA, Oct. 31, 2019
Featured image: A Peugoet e-208 is shown. Groupe PSA's electrification experience could help bolster FCA's electric portfolio. (Provided by Peugeot)
Share This: