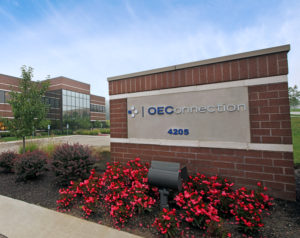 OEConnection on Tuesday delivered a message to CollisionLink users declaring the company's commitment to protecting collision repairer customer information.
"Estimate data received from collision shops is shared with dealerships and OEMs for the purposes of accurately filling part orders and facilitating OEM part programs," the OEConnection software stated, according to a screenshot provided to Repairer Driven News. "OEC does not and has never provided or sold data to CarFax, AutoCheck or any other vehicle history reporting company." (Emphasis OEConnection's.)
Society of Collision Repair Specialists Executive Director Aaron Schulenburg in July said repairers seem to be experiencing more issues with customer vehicles mysteriously flagged by vehicle history companies.
In the past, such incidents have been "one-off" and infrequent, but lately, the concerns and questions from SCRS members seem to have come in at a "very increasing pace," he told an SCRS open board meeting in the summer. The volume suggests it's no longer an anomalous issue, according to Schulenburg.
OEConnection made a similar point in its message.
"It has come to our attention that collision shops have increasingly expressed concerns regarding the data sharing practices of collision industry technology providers, particularly regarding private customer information from collision repair estimates," the company wrote. "OEC understands these concerns, and we would like to highlight our data sharing and privacy practices for data received from collision shops. …
"OEC wants you, a trusted CollisionLink and OEC customer, to know we value your business and are committed to protecting your data."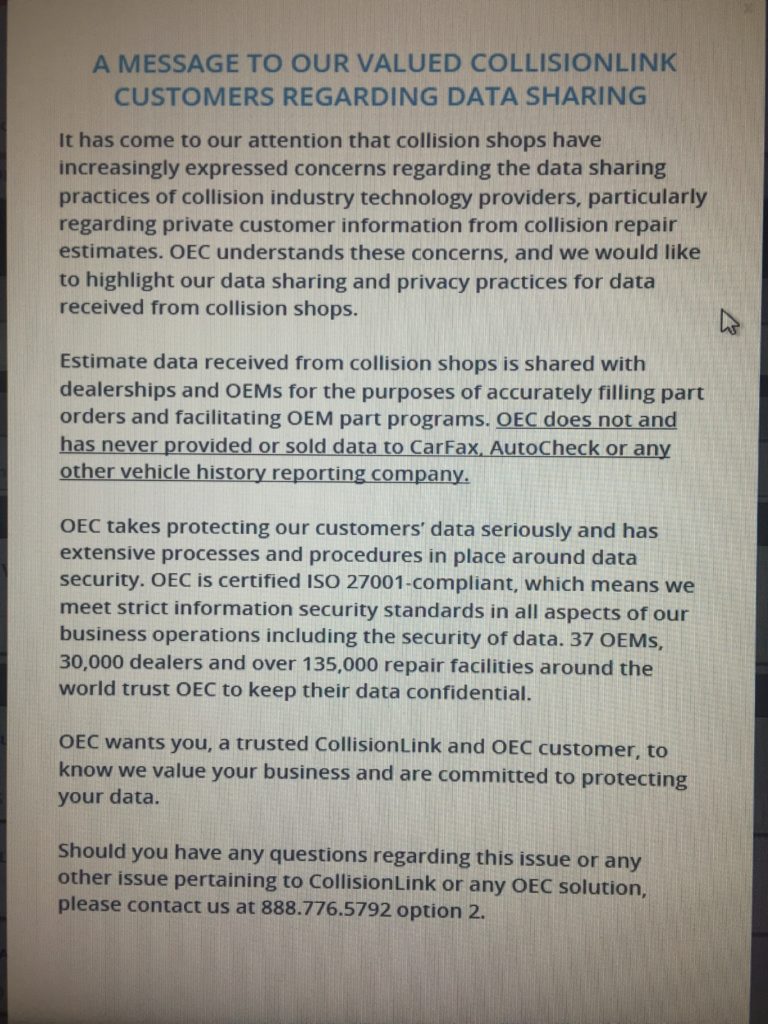 OEConnection said its ISO 27001 compliance "means we meet strict information security standards in all aspects of our business operations including the security of data."
It said repairers with any questions on the topic could should call it at 888-776-5792 and choose Option 2 when prompted.
The company declined to comment further on the communique.
Know what happens to your data
Most repairers would say no if asked if they share data, but "the reality is: The answer is yes," Schulenburg said in July.
Shops might not realize the business partner's access to EMS data files leads to more customer information shared than they expect, he said. EMS files are created when the estimate is, he said.
"Data pumps" installed by various business partners to facilitate software B2B communication can also capture EMS data on estimates for which they have no role.
A shop might be secure in the companies with which they do business; the issue might be who those companies do business with, Schulenburg said.
See some more discussion of the issue and how to manage data pumps here and here.
Repairers might wish to read software terms of use and check what various companies say they'll do with your data; not all might be as committed to protection as OEConnection. It might also behoove a shop to require vendors and other business partners to agree to the repairer's own set of conditions and confirm they'll act as the shop desires regarding data.
Images:
The OEConnection corporate headquarters in Ohio. (Provided by OEConnection)
OEConnection in fall 2019 greeted users with a message declaring the company's commitment to protecting collision repairer customer information. (Screenshot from OEConnection software)
Share This: