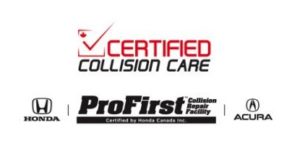 Assured Performance Canadian branch Certified Collision Care announced Thursday that Honda has tapped it to manage its ProFirst certification program in that country.
Certified Collision Care said Honda Canada had previously handled ProFirst in-house. The new arrangement will be exclusive, the certifier said.
Joining the ProFirst Network will require a dealer sponsorship, and shops which were already in the Certified Collision Care network will have to meet additional Honda certification requirements. However, they won't have to pay any additional fees to add Honda.
Certified Collision Care Canadian operations Vice President Leanne Jefferies said many ProFirst shops had already been affiliated with her company's network.
"The impact on shops will be positive," she wrote in an email Friday. "They will see a lower cost due to the elimination of a separate audit and separate enrollment fees. …
"Many of the existing ProFirst shops are already a part of Certified Collision Care, so this represents a big savings!"
Honda's in-house ProFirst program charged shops $3,950 CAD. Certified Collision Care membership costs $2,950, "which includes all OEM programs a shop is qualified to participate in."
Like Assured Performance in the U.S., Certified Collision Care certification for one OEM can be applied to another affiliated automaker. The Canadian company also oversees certification for FCA, Ford, Kia, Nissan and Toyota.
Jefferies said the $2,950 Certified Collision Care price wouldn't increase with the addition of Honda to the mix.
"We are looking forward to working with Certified Collison Care to expand our existing Collision Repair Facility Program, ensuring that Honda and Acura drivers across Canada are able to select a ProFirst Collision Repair Facility in their community. Certified Collison Care will help us manage our certified collision network," Honda Canada parts and service Vice President Dave Jamieson said in a statement.
Certified Collision Care also recently announced its requirements were deemed sufficient enough to qualify a repairer for $15,000 in one-time payouts from Saskatchewan Goverment Insurance.
SGI has established a new training and equipment benchmark body shops must meet by March 2021 to be considered accredited. Right now, the accredited rate is $92.68 CAD. After March 2021, repairers who don't reach the new bar will only be paid a non-accredited rate of $46.50 CAD.
The insurer will give shops $6,000 each in a one-time payment for meeting the new benchmark and another $9,000 lump sump "if they invest enough to reach an industry-recognized level of certification."
Getting an OEM certification from Certified Collision Care checks both of these boxes.
"This recognition of the Certified Collision Care program by SGI shows the importance of becoming certified," Jefferies said in a statement Oct. 28. "We are extremely pleased that collision repair facilities in Saskatchewan will see an immediate financial benefit of achieving our certification through the training and tooling incentive of $15,000 from SGI. When combined with the Certification marketing tools and OEM referrals that our certified shops are provided with, becoming a part of Certified Collision Care is a proven way to bring cars to your door and increase the value of your business."
Goverment-affiliated auto insurance companies are a factor for some provinces' collision repairers. CBC News reported April 2 that in Saskatchewan, "Most shops rely on a share of SGI's 80,000 claims per year for the bulk of their income."
More information:
"Certified Collision Care Selected as Exclusive Strategic Partner to Manage Honda and Acura ProFirst Collision Repair Facility Program in Canada"
Certified Collision Care, Nov. 1, 2019
"Saskatchewan Government Insurance Officially Recognizes Certified Collision Care Program"
Certified Collision Care, Oct. 28, 2019
Featured image: Assured Performance Canadian branch Certified Collision Care announced Thursday that Honda had tapped it to manage its ProFirst certification program in that country. (Provided by Certified Collision Care)
Share This: