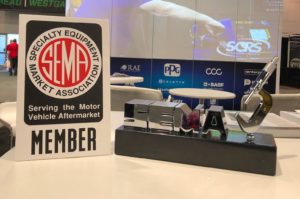 SEMA on Tuesday named the Society of Collision Repair Specialists' "Guide to Complete Repair Planning – Blueprint Optimization Tool" the best new product of 2019 in the collision repair and refinish category.
"Thank you, and what an honor," SCRS Chairman Brett Bailey (A&B) said Tuesday after accepting the award at the SEMA New Product Awards Breakfast.
"The SCRS Blueprint Optimization Tool software is an automated version of the Guide to Complete Repair Planning," a SEMA product description states. "The application provides collision repair facilities with an intelligent, easy to use estimate analysis tool. It immediately identifies labor operations, line items and customizable charges that could be overlooked on an estimate."
The "Guide to Complete Repair Planning" book contains more than 1,000 operations potentially needed during a collision repair. The static document will remain available as a free PDF resource for the industry even after the commercial launch of the software version.
SCRS said it intends to let shops download the Blueprint Optimization Tool software from the SCRS.com website in the first quarter of 2020; members will receive a discount on the monthly subscription price. The initial version will be compatible with CCC estimates but "will soon be expanded to additional estimating platforms," according to SCRS.
SCRS will demo the software 10 a.m. and 2 p.m. Wednesday and Friday in the organization's SEMA booth, No. 11173 in the North Hall.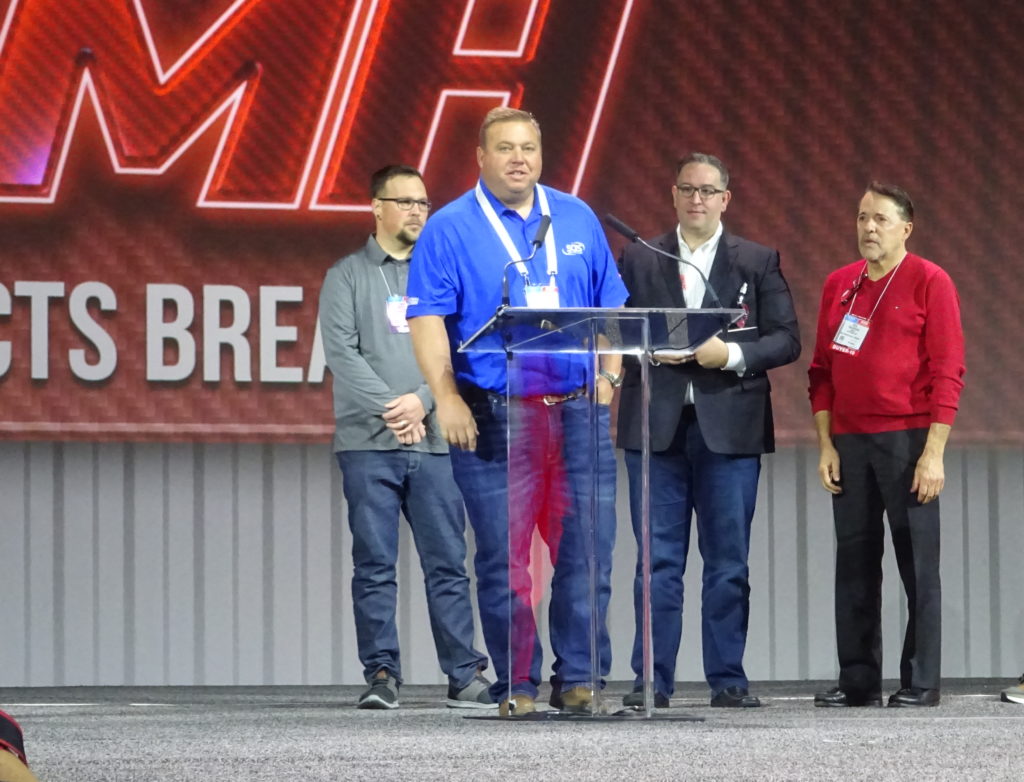 According to SCRS, a shop could minimize supplements by checking its own estimates with the software before starting a repair. The program could also point out procedures an insurer had overlooked on its own estimate, the trade group said. SCRS also said the tool could also help train new employees and ensure consistency among staff repair planners.
Bailey thanked SEMA on Tuesday, noting SCRS was in the "tenth year of this partnership." SCRS' Repairer Driven Education series started at SEMA 2009.
He also thanked NuGen IT founder and employee owner Pete Tagliapietra and his team "for helping us put this product out" and the SCRS board members and committees who worked "tirelessly to make this product possible."
SCRS beat out two other finalists, along with whatever other new collision products were entered in the competition. More than 3,000 products were entered into the 16 SEMA New Product Awards categories.
"Presented across 16 categories, the awards spotlight innovative and cutting-edge specialty-equipment products either already on the market or soon to be introduced," SEMA wrote in a news release. "Judging criteria for the awards encompasses quality, craftsmanship, technical achievement, marketability and consumer appeal."
Collision repair and refinish New Product runners-up included the Guniwheel from Guniwheel and the AirFlowCashFlow Remote Spray Booth Monitoring System from Spray Booth Services.
The Guniwheel allows repairers to keep a vehicle mobile, according to a SEMA description.
"The world's first universal vehicle and trailer mounting system with a tire & wheel design," the SEMA product description states. "Use as an alternative to jack stands and mounts to keep vehicles in a mobile state, safely and securely mounted to the wheel hub. The GUNIWHEEL 45, for 4 & 5 lug patterns increases productivity and revenue in Body Shops, Dealerships, Tire Stores and more."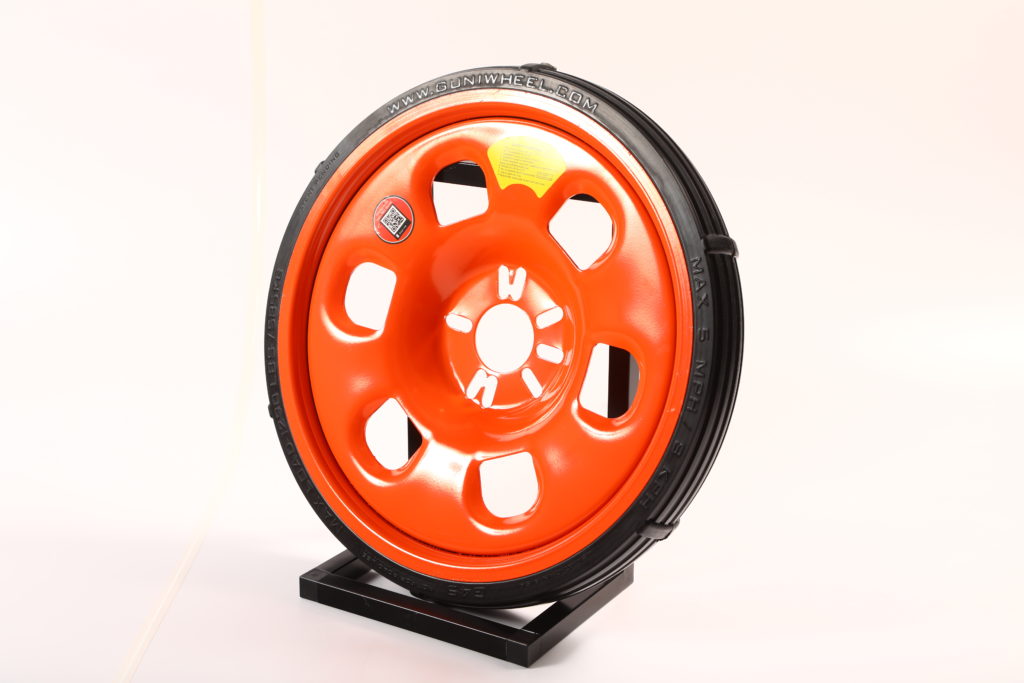 The Spray Booth Services monitoring system keeps an eye on your booth's airflow, according to a SEMA description.
"Poor airflow in a spray booth will cost you money by minimizing the amount of jobs completed and having extra time by polishing defects," the product description states. "Our proprietary monitoring system checks the airflow of the booth(s) and emails you when there are issues; if not fixed, the system sends a follow up email to a second email address. Includes 24/7 online portal."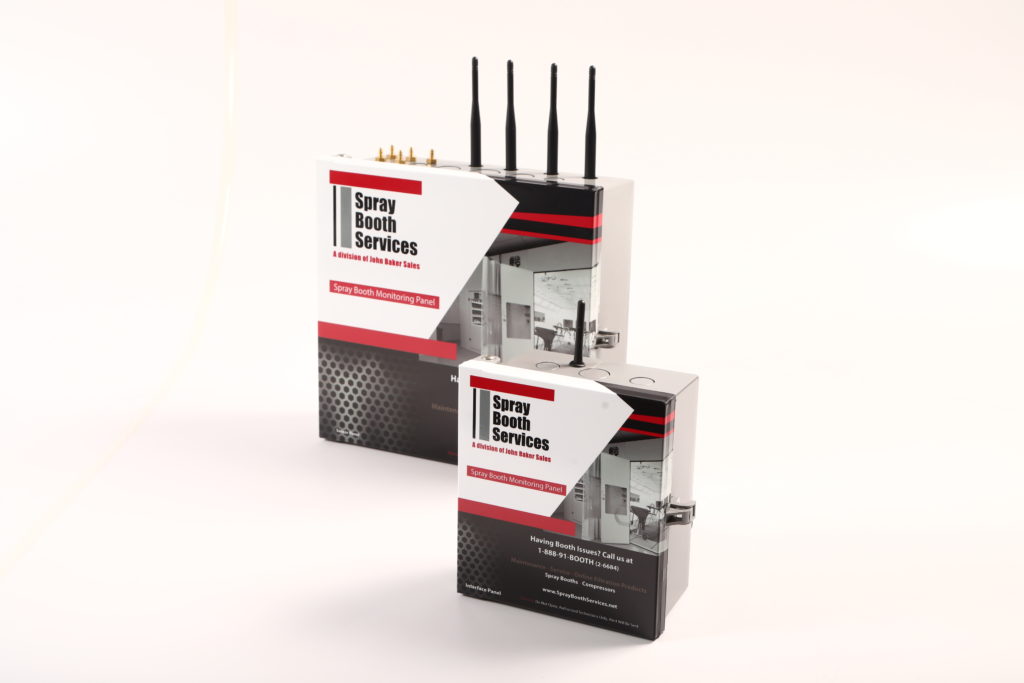 More information:
"2019 SEMA Show New Product Awards Winners Announced"
SEMA, Nov. 5, 2019
Society of Collision Repair Specialists "Guide to Complete Repair Planning – Blueprint Optimization Tool" New Product SEMA webpage
Guniwheel Guniwheel New Product SEMA webpage
Spray Booth Services Remote Spray Booth Monitoring System New Product SEMA webpage
Images:
SEMA on Tuesday named the Society of Collision Repair Specialists' "Guide to Complete Repair Planning – Blueprint Optimization Tool" the best new product of 2019 in the collision repair and refinish category. (Provided by Society of Collision Repair Specialists)
From left, Database Enhancement Gateway Administrator Danny Gredinberg, Society of Collision Repair Specialists Chairman Brett Bailey (A&B), SCRS Executive Director Aaron Schulenburg, and NuGen IT founder and employee owner Pete Tagliapietra are shown at the SEMA New Product Awards Breakfast on Nov. 5, 2019. (John Huetter/Repairer Driven News)
SEMA on Tuesday named the Guniwheel by Guniwheel a runner-up for best new product of 2019 in the collision repair and refinish category. (Provided by SEMA)
SEMA on Tuesday named the "Airflow = Cashflow" Remote Spray Booth Monitoring System from Spray Booth Services a runner-up for best new product of 2019 in the collision repair and refinish category. (Provided by SEMA)
Share This: