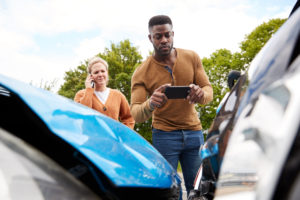 Major multi-shop operations on Monday said they have been using photo estimating as a customer service option, news that comes amid CCC and Tractable reporting new shop-facing photo estimating tools
The comments by vendors and repairers offer a glimpse into what one's collision competitors might be doing in a particular market. They also suggest a potential broader customer expectation that must be either met or — if the repairer opposes the idea of promoting the technique — managed through education or other communication methods.
Gerber Western U.S. operations Senior Vice President Vince Claudio told the MSO Symposium on Monday the company has probably handled near 10,000 photo estimates so far to date this year.
Claudio said the company is examining different applications, such as during a catastrophic event when resources are strained. He said the majority are arising from customers engaging Gerber Collision through its website who want that option. Such consumers want to manage the entire process themselves, he said.
Fellow MSO Symposium panelist Driven Brands collision President Michael Macaluso (whose division includes CARSTAR) said he thought that customer wanted that noninterference method. It was something which would need to be embraced, he said.
Caliber Chief Operating Officer Mark Sanders said his company had offered in-house photo estimating for multiple years and generally used it as a customer service tool. He said that in cases of "very small claims" in which the customer accepts the repairs, Caliber can even use the photo estimate as a basis to preorder parts.

Certified Collision Group Chief Operating Officer Marty Evans, whose banner company encompasses 406 independent repairers, agreed shops could use photo estimating as a selling opportunity.
CCC doesn't yet have official data, but it's anecdotally hearing from repairers that offering photo estimating produces a higher capture rate, market solutions Vice President Mark Fincher said.
"Photo Estimate is another great tool from CCC that has made our shop more profitable and productive," Schooover Bodyworks & Glass CEO Michael Schoonover said in a statement accompanying Tuesday's announcement of CCC Engage Photo Estimate. "CCC Engage helps us with all of our digital touchpoints from online appointment scheduling and digital lobby check-in to repair status updates. Photo Estimate is already helping us convert more leads into opportunities. We appreciate CCC for always thinking of ways to bring more cars to our door and for making us more productive in managing the work we get."
Body shop photo estimating allowed customers the opportunity for self-service and avoiding a phone call, and it also created transparency for a consumer, he said. CCC was seeing a high rate of consumers opting for such a process, according to Fincher.
However, a photo estimate could also be a negative for a repairer as well, Evans said, noting the existence of statistics about the inaccuracy of photo estimates.
He said the use of a photo estimate creates a customer expectation — "that is all they know" — and the reality can be "vastly different" from what is forecast in the photo estimate.
Macaluso said two important considerations are expectations and consistency. He said stakeholders currently have various reasons for photo estimating, but a consistent approach and the right experience would truly yield benefits.
Sanders said he felt it was getting abused, used as a "cashout tool" for many customers, including in fairly significant hits. This created a challenge from a safety perspective. He felt "there's a risk there" in that what appeared to be minor damage would be cashed out and go uncalibrated.
Claudio agreed. He said it feels like it's easier to do business but could create a "significant risk" — a seemingly simple bumper repair could mask "pretty significant" damage underneath and issues with the repair.
Fincher, however, said consumers didn't expect a photo estimate to be as accurate as a post-teardown one. (Nevertheless, he still called it important to let consumers know the estimate was only an initial one, describing that communication "very critical.")
New products
Tractable North America head Julie Kheyfets in an interview last month said its artificial intelligence photo estimating tool could "most definitely" be purchased by collision repairers today.
The company had at first targeted insurers but has expanded, "especially throughout this year," she said. Tractable now worked with "a variety of players in the ecosystem," she said.
And CCC on Tuesday announced the launch of the CCC Engage photo estimating system for shops, though it still has yet to extend one augmented by artificial intelligence to repairers. (Insurers have been able to use the AI-powered Smart Total Loss and Smart Estimate for a while now.)
Fincher said CCC would look to incorporate the AI photo estimating options "in the future," but this was the "first version" of the solution.
"There's a lot of benefit for repairers here," Kheyfets said. She said shop feedback to Tractable had been very good.
Kheyfets said body shops could automate appraisals or identify total losses up front, which she called a "really interesting use case."
Typically, insurers determine a total loss through questions asked during the first notice of loss — did the airbags blow, for example — according to Kheyfets.
"No one is actually looking at the vehicle," she said.
Only 30 percent of total losses are identified then; the other 70 percent wind up at a body shop, Kheyfets said.
The insurer, repairer and customer all wind up unhappy under the latter scenario, according to Kheyfets. (Though one collision industry school of thought argues that labor and storage associated with determining a total and awaiting its departure can be a profitable business line.)
If a vehicle appeared at the shop without the repairer having a prior opportunity to triage it, the repairer might be able to use an AI as a second opinion to convince an stubborn adjuster or customer that the car is a total. Kheyfets described this as almost a secondary benefit.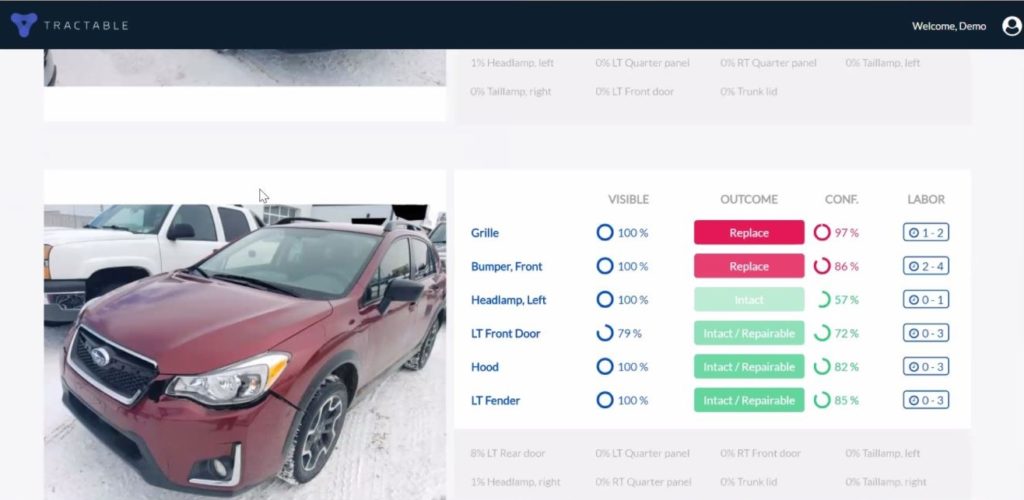 CCC Engage could help repairers capture keys by offering a convenient means for consumers to book repairs. But CCC market solutions Vice President Mark Fincher said it also offered value by helping customers know if their vehicle even merited a claim.
In this regard, it seems like photo estimating could help educate and capture customers who might not have even patronized any shop at all, assuming the damage to be "not that bad."
Fincher said CCC saw the claim/no-claim decision as the most common use case. Customers often had no idea how much a particular piece of damage would cost to fix, he said.
Fincher expected that consumers wouldn't use photo estimating for significant damage, instead using it to see if situations like a shopping cart hit merited a claim. He said CCC had noticed this already. "These are smaller hits," he said.
"Photo Estimate provides an efficient means for consumers to make a decision about filing a claim or self-pay," Fincher said in a statement.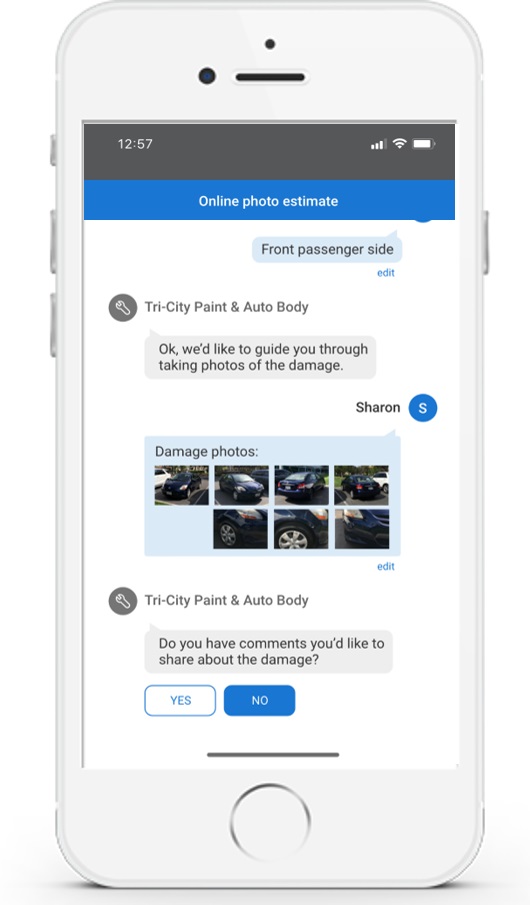 Other IPs
Considering the Tractable news, we thought repairers might be interested to hear about the other IPs and AI photo estimating for shops.
Mitchell last month also announced the release of Mitchell Intelligent Estimating system, an artificial intelligence system able to "predict and pre-populate all possible portions of an estimate" from photos.
Mitchell said it would offer the service to "early-adopter carriers" in the first three months of 2020. Auto physical damage solutions Senior Vice President of sales and service, repair Jack Rozint said MItchell was talking to a number of large companies in the auto body repair sector too and has seen a "high degree of interest" in a version of the platform.
"Solera doesn't have anything to share at this time, but we will keep you updated of any announcements in the future," a spokeswoman wrote on behalf of Audatex.
Correction: An earlier version of this article incorrectly identified the companies Driven Brands collision President Michael Macaluso oversees. The article has since been updated to correct this.
More information:
"CCC Delivers Powerful Lead Capture Tool for Collision Repairers"
CCC, Nov. 5, 2019
Images:
Photo estimating might be a tool for body shops as well as insurers. (monkeybusinessimages/iStock)
From left, Gerber Western U.S. operations Senior Vice President Vince Claudio, Certified Collision Group Chief Operating Officer Marty Evans, Driven Brands collision President Michael Macaluso and Caliber Chief Operating Officer Mark Sanders participate Nov. 4, 2019, in the 2019 MSO Symposium. (John Huetter/Repairer Driven News)
Tractable's AI evaluates a 2017 Subaru Crosstrek with damage. (Screenshot from Tractable demo; redaction by Repairer Driven News)
CCC announced CCC Engage Photo Estimate for shops on Nov. 5, 2019. (Screenshot provided by CCC)
Share This: