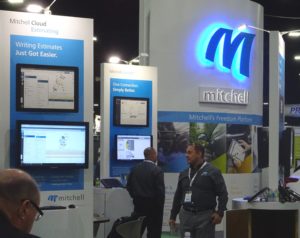 Mitchell on Tuesday announced the release of Mitchell Intelligent Estimating system, a system able to "predict and pre-populate all possible portions of an estimate" from photos.
The system uses Google computer vision "expertise" and Google Cloud's processing power, according to Mitchell.
"An estimate no longer needs to be written from scratch," Mitchell wrote in a news release Tuesday. "The Mitchell Intelligent Estimating solution is designed to predict and pre-populate all possible portions of an estimate. It also allows appraisers to further complete, review and/or approve a pre-written estimate. This break-through solution generates detailed auto physical damage estimates—including parts, operations and labor details—based on photos of vehicle damage transmitted by a policyholder, a repair facility or a staff appraiser."
Mitchell auto physical damage solutions Senior Vice President of sales and service, repair Jack Rozint said Thursday that Mitchell Intelligent Estimating analyzes images to determine which part of the vehicle was depicted.
It's an open platform; the client may substitute different software to perform the image analysis instead of using Mitchell's first-party tech for this initial part of the process, according to Rozint. He said "a lot of people" were developing image analysis systems now, and Mitchell felt it would be "hubris" to assume it would be the "ultimate solution" years from now. (Though "that's our goal," he said.)
The rest of the process is Mitchell's. The information provider then maps the damage classified at the image analysis stage into an estimate. Rozint noted this process can be more difficult than it seems, for the system needs to work out variables such as OEM parts numbers, aftermarket parts availability and tax rates and labor rates in the vehicle's location and adapt the estimate to reflect all of these.
Mitchell's AI also can triage vehicles based on photos to determine if a vehicle is a total loss or is repairable with light, medium or heavy damage.
"That level of triage is available," Rozint said.
Refining the estimate
It would then be up to a human to review the computer's findings. Rozint said the output is envisioned as an "initial estimate" that in almost every case will need to be refined by a human. Competitor CCC has provided similar guidance about its own AI photo estimating system.
On a practical level, the human estimator taking the baton probably couldn't rubber-stamp Mitchell's AI estimate even if they wanted to — at least at first.
Rozint said Mitchell's image damage analysis is able to assess whether a component likely can be repaired or merits replacement. But it's not declaring specific labor times, like "'That's a four-hour dent,'" according to Rozint.
However, "that's coming soon to a theater near you," he said.
Mitchell's thought was that the system would provide a "first level of fidelity," Rozint said. It would aid a human adjuster, or perhaps help a customer decide whether to file a claim, he said.
"We make it clear" that any medium- or heavy-hit should be torn down completely to capture additional damage the AI can't see, Rozint said.
---
Become a better estimator at Repairer Driven Education
Learn more from Database Enhancement Gateway Administrator Danny Gredinberg during SEMA at "Educate consumers on safe repairs with owner's manuals," on Nov. 5, a session which also features Mike Anderson of Collision Advice. Then come back again Nov. 6 for "Capturing Every Procedure: What are you missing?" featuring Gredinberg, Toby Chess of Kent Automotive and Ron Reichen of Precision Body & Paint. Estimators should also check out "Make more money: Improve overall gross profit," Nov. 4 with Steve Trapp of Axalta and "Completing 'Thorough and Workmanlike' repairs," featuring David Smith of Auto Damage Experts. The sessions are part of the Society of Collision Repair Specialists Repairer Driven Education Series running Nov. 4-8. Register here for individual courses or the series pass package deal.

---
We asked if the AI would also prepopulate estimates with no-brainer, perform-on-every-repair-type operations like scanning and measuring.
Rozint said Mitchell's estimates would be tailored to "who's flying the plane." However, he said the user couldn't customize how the AI classified damage, such as "'100 percent replace everything.'"
"Not at this moment," he said.
The software would output whatever damage assessment Mitchell's AI produced into the estimating system. Then whatever profile rules the Mitchell user had established would be applied, according to Rozint. (Like on an estimate today.)
Going on sale
Mitchell said it would offer the service to "early-adopter carriers" in the first three months of 2020.
"We are processing estimates from end to end today," Rozint said.
Asked for clarification — could any insurer buy the system in the first quarter? — Rozint said the carriers should contact Mitchell. He explained Mitchell would need to know the answers to various nuts-and-bolts-type questions to integrate the system with a particular insurer's infrastructure.
Such a system could obviously be useful for an auto body shop as well. Asked if it would sell it to collision repairers, Rozint said Mitchell was talking to a number of large companies in the sector and has seen a "high degree of interest" in a version of the platform.
Google Cloud, USAA
Mitchell pledged to build other "cloud-based insurance solutions" on Google Cloud.
"Google Cloud is honored to work with Mitchell to enable a complete, end-to-end automated estimating solution for top carriers," Google Cloud Machine Learning Solutions head Mikey Kindler said in a statement. "We have found Mitchell to be an exceptional partner to help bring images to life using the latest machine learning. Mitchell's unique editorial and estimating expertise enables a true modern automated claims solution."
Mitchell and Google Cloud also collaborated with USAA on an AI photo estimating system announced last month by the carrier and Google.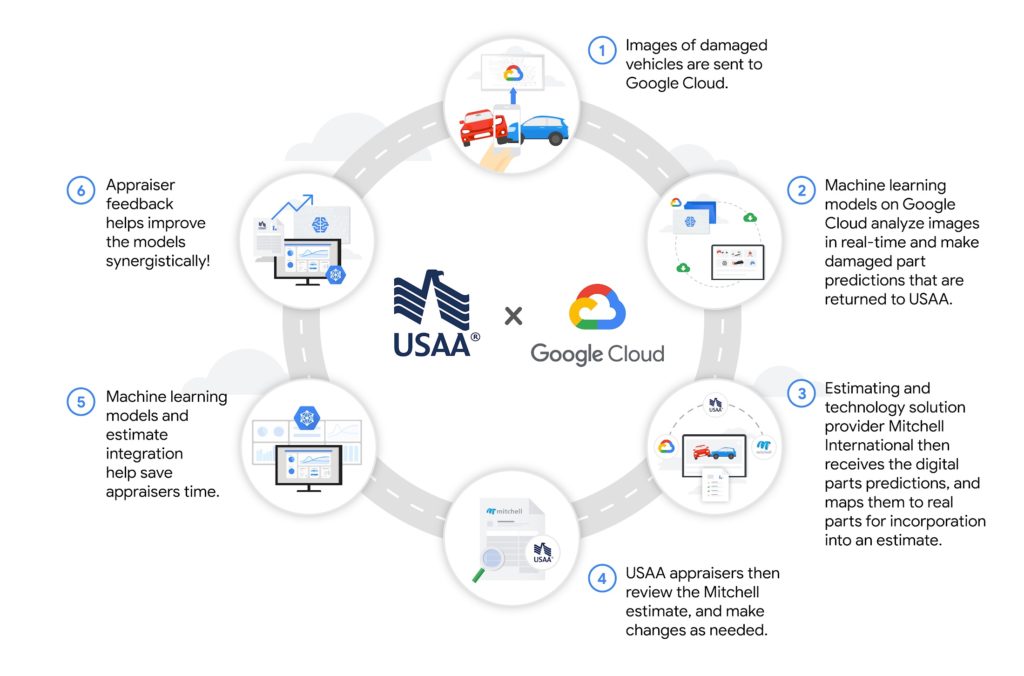 "Here is how it works: First, images of damaged vehicles are sent to Google Cloud. The images are then analyzed by Google Cloud models in real-time, which makes damaged part predictions that are returned to USAA," USAA wrote Tuesday. "Next, the predictions are sent digitally to estimating and technology solution provider Mitchell International, whose platform maps the predicted parts to real-parts and incorporates them directly into an actual estimate. USAA appraisers then review the Mitchell estimate, and make changes as needed. The machine learning models and estimate integration help save appraisers time, and the appraiser feedback helps improve the models synergistically."
"It's the same platform," Rozint said. USAA just plugged Google's image classification system into the process instead of Mitchell's, but Mitchell handled the rest of the work the same as in the system announced Tuesday.
More information:
"Mitchell Announces Launch of Intelligent Estimating Solution"
Mitchell, Oct. 1, 2019
Images:
Mitchell's booth at NACE 2018 is shown. (John Huetter/Repairer Driven News)
USAA announced Sept. 24, 2019, it and Google Cloud have developed an artificial intelligence-based process to "allow for nearly instant vehicle damage estimates from digital images." (Provided by Google Cloud)
Share This: