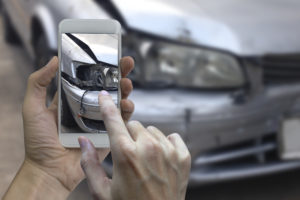 USAA announced Tuesday it and Google Cloud have developed an artificial intelligence-based process to "allow for nearly instant vehicle damage estimates from digital images."
The insurer said the end goal was "touchless claims," a reference to the idea of handling an insurer's role in a loss completely through automation. Homeowners and renters insurer Lemonade is already handling some property claims like this today.
"Here is how it works: First, images of damaged vehicles are sent to Google Cloud. The images are then analyzed by Google Cloud models in real-time, which makes damaged part predictions that are returned to USAA," USAA wrote Tuesday. "Next, the predictions are sent digitally to estimating and technology solution provider Mitchell International, whose platform maps the predicted parts to real-parts and incorporates them directly into an actual estimate. USAA appraisers then review the Mitchell estimate, and make changes as needed. The machine learning models and estimate integration help save appraisers time, and the appraiser feedback helps improve the models synergistically."
Mitchell said Wednesday its role was not limited solely to providing parts pricing.
"Mitchell is doing more than feeding parts prices, our intelligent platform outputs a Mitchell Cloud Estimate that is bundled as part of a claim package," Mitchell auto physical damage solutions Senior Vice President of sales and service, repair Jack Rozint wrote in an email Wednesday.
USAA said early testing found the machine learning "able to predict damage across a diverse vehicle set with a high degree of accuracy. USAA will continue to add features, unlocking the potential for end-to-end touchless claims in the future."
It said AI would let it shift appraisers to "focus on complex cases and eventually supporting end-to-end touchless claims."
"The damage estimation process can be a complex, emotionally charged event, and we always aim to reduce friction and improve the member experience," USAA innovation Vice President Ramon Lopez said in a statement. "The future of customer experience in insurance is more convenient, cost effective solutions, backed by machine learning and computational power."
"This technology now gives claims teams the opportunity to focus more deeply on connecting and providing guidance to our members, during what can often be a trying time," Lopez also said, according to Google Cloud.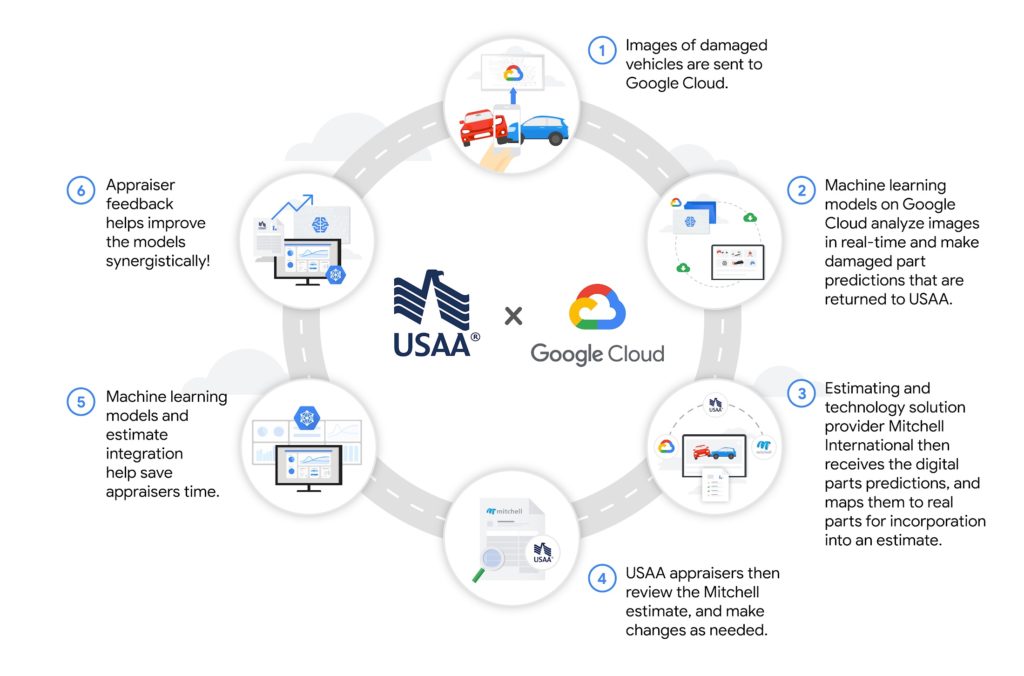 We asked USAA what the software was determining — was it just flagging parts that showed damage, or was it making repair/replace decisions? We also asked for more details about Mitchell's role and if the system would be able to classify total losses up front.
USAA released the following statement in response:
This capability is in an early testing phase–the technology has been successfully tested by select appraisers on popular makes and models of vehicles. Moving forward, further development by USAA will focus on improved accuracy across a broader scope of vehicles and damage types. Images are funneled through Google Cloud; all estimates are reviewed and approved by USAA appraisers.
We put the same part determination and total loss questions to Google Cloud. The company repeated some of USAA's blog post verbatim or nearly verbatim, but it did offer a couple of additional pieces of information, notably in response to our total loss question.
"The models running on Google Cloud are able to detect scratches, dents and other types of damage with high accuracy," a spokesperson said in the total-loss answer. "Additionally, the degree and type of damage help inform if there is a total loss."
---
Hear about insurance disruption, complete estimates at Repairer Driven Education
Learn more at SEMA about writing a complete sheet at "Capturing Every Procedure: What are you missing?" with Toby Chess, Kent Automotive; Ron Reichen, Precision Body & Paint; and Danny Gredinberg, Database Enhancement Gateway on Wednesday, Nov. 6.  And hear about another bold claims disruption idea with "What if your customer could file a claim right at your shop without having to talk to their insurance company?" by Ryan Taylor of Bodyshop Booster, one of the 10-minute talks at the rapid-fire IDEAS Collide event Nov. 8. Both are part of the Society of Collision Repair Specialists Repairer Driven Education Series running Nov. 4-8. Register here for individual courses or the series pass package deal, which includes the entire week of classes, all three parts of the OEM Summit, IDEAS Collide and the Nov. 7 Sky Villa afterparty.

---
The Google Cloud spokesperson also said:
USAA and Google Cloud have been in a working relationship to digitally transform the claims process. The companies are jointly developing machine learning models that predict vehicle damage based on digital images. Those images are then funneled to repair information software company Mitchell to allow for real-time, image-led estimates.
Asked if the technology Google Cloud is using with USAA was available to a small business or cost-prohibitive for anyone but larger firms, the spokesperson said Google Cloud worked with all sizes of companies.
"We specifically worked on this project with USAA, tailored to its specific needs. However, we continue to work with insurers of all sizes—including through our large partner network—on various technology initiatives," the spokesperson wrote. They said more information was available here.
Body shops will still have to tear down the vehicle and develop their own estimate based on things the AI or even a real-world adjuster wouldn't catch from a exterior inspection. (Hidden damage, OEM repair procedures, measurement results, scan results, etc.) A live human on the insurer's end might still have to review that.
On the other hand, it's entirely possible that an AI could just review the shop's estimate too. If it deems the record to fall within whatever parameters machine learning and USAA rules have concluded are acceptable, the system approves payment instantaneously. (Considering that vendor or claimant fraud only occurs in about 10 percent of claims, even a moronic AI that rubber-stamps everything would still theoretically be right 90 percent of the time.)
Machine learning tends to work by drawing conclusions based on patterns it finds in massive amounts of data. As shop estimates are likely to end up in that pool of data, it seems more important than ever that repairers write complete estimates based on OEM repair procedures. Otherwise, software like this might learn the wrong thing and create more headaches for the consumer and repairer. Even if a shop makes a business decision to perform certain operations for free, it would probably behoove the repairer and the industry to still record the existence of those operations on the estimate anyway. (It also probably helps as documentation of a proper repair should the shop be sued over their workmanship.)
More information:
"USAA and Google Cloud Work Together to Improve Claims Experience"
USAA, Sept. 24, 2019
"USAA and Google Cloud work together to speed auto claims"
USAA, Sept. 24, 2019
Images:
USAA is working with Google Cloud and Mitchell on an artificial intelligence-powered photo estimating system. (LaymanZoom/iStock)
USAA announced Sept. 24, 2019, it and Google Cloud have developed an artificial intelligence-based process to "allow for nearly instant vehicle damage estimates from digital images." (Provided by Google Cloud)
Share This: