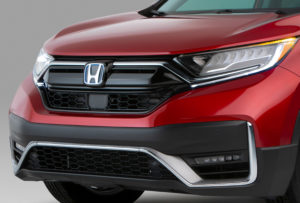 Honda this month announced it would offer the company's Honda Sensing advanced driver assistance system suite standard on all trims of the 2020 Honda CR-V.
The technology means fewer collisions could occur at all. Honda Sensing as of now includes lane and road keeping, traffic sign watching, autobraking and adaptive cruise control. According to the IIHS, most of these technologies are proven to reduce frequency — and severity.
"On safety, we're moving aggressively to fulfill our Safety for Everyone commitment, which includes making Honda Sensing standard on every vehicle in our lineup," American Honda automobile operations Vice President Art St. Cyr said Sept. 18 in introducing the 2020 CR-V, according to remarks provided by Honda. "We now have over 2.5 million Honda Sensing-equipped-vehicles on U.S. roads, which is helping reduce both the frequency and severity of collisions.
"These technologies are also helping build customer understanding and confidence for the highly automated vehicles of the future.
"For the 2020 CR-V, we're bringing Honda Sensing down to our LX Trim, which will take us to 90% application of Honda Sensing for the Honda lineup."
St. Cyr said the LX accounts for a quarter of CR-V sales. American Honda sold 379,013 CR-Vs last year.
Honda Sensing and repair procedures
The decision on Honda's No. 1 seller makes it even more imperative that repairers research follow Honda OEM repair procedures to avoid delivering an improperly calibrated or uncalibrated system.
Honda in a May position statement warns the industry against assuming an advanced driver assistance system needing calibration or aiming will throw a diagnostic trouble code saying so.
"In addition, these driver assistive systems often will not display DTCs during a vehicle scan unless there is damage to the applicable system, so aiming and/or calibration may be required," Honda wrote in the May 2019 document. "Refer to the published procedures on aiming and calibration in the appropriate service information available on ServiceExpress by searching the keyword Aiming." (Emphasis Honda's.)
---
Learn about vehicle checks, calibration at Repairer Driven Education
Find out more at SEMA about diagnostic scanning and calibration in "Overcoming objections to scanning" by Jake Rodenroth of asTech and Mike Anderson of Collision Advice. The Wednesday, Nov. 6, session is part of the Society of Collision Repair Specialists Repairer Driven Education Series running Nov. 4-8. Register here for individual courses or the series pass package deal, which includes the entire week of classes, all three parts of the OEM Summit, IDEAS Collide and the Nov. 7 Sky Villa afterparty.

---
It said certain safety and driver assistance systems need "inspections, calibration, and/or aiming" after body repairs. It gives a variety of guidance, including:
Certain systems might not work after reconnecting the 12-volt battery.
The front passenger seat weight sensor must be checked and, if necessary, recalibrated  "after any collision, regardless of damage, even if no airbags have deployed." (Emphasis Honda's.) If you removed "front passenger seat components," calibration could automatically be necessary, according to Honda, which refers shops to its full OEM repair procedures to learn more.
Honda Sensing historically has relied on a millimeter-wave radar unit and a camera in the windshield. According to the May position statement, any collision damage to the front bumper/grille area or windshield "may require aiming procedures to be done."
Honda in a 2018 position statement also warned collision repairers that aftermarket windshields and incorrect grilles might affect advanced driver assistance systems in models dating as far back as 2013.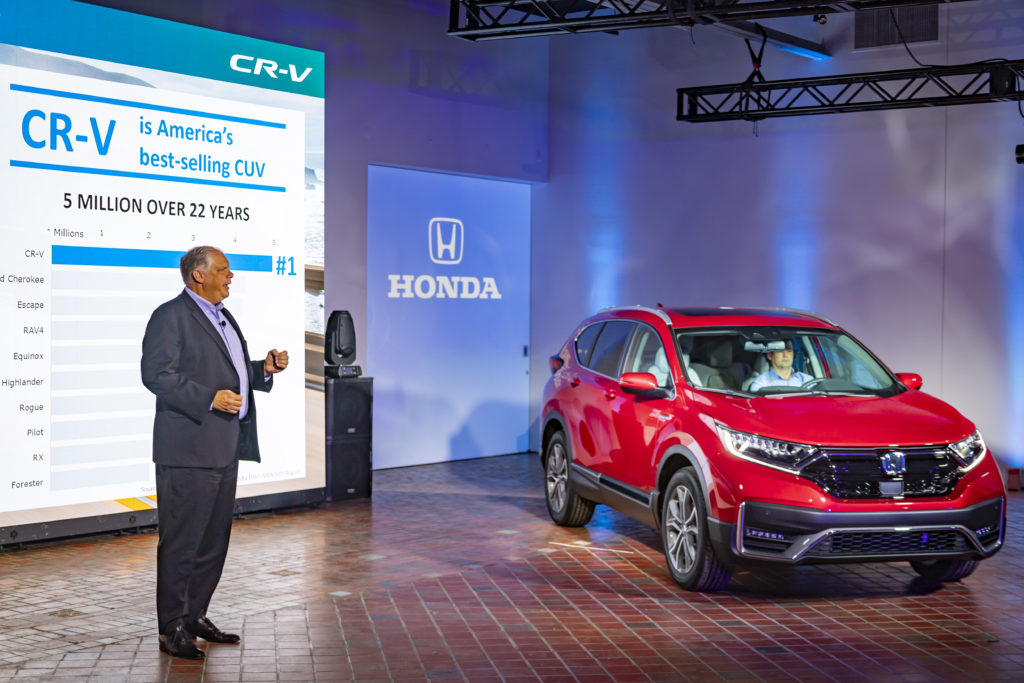 Hybrid
The OEM also said Sept. 18 it would offer a hybrid version of the 2020 CR-V for its first electrified crossover or SUV in the U.S. The company wants to have two-thirds of all of its sales worldwide coming from electrified vehicles by 2030.
In North America, Honda expects "its advanced two-motor hybrid-electric technology" — rather than fully electric vehicles — to be the best way to meet that goal.
Honda said it sold 42,270 electrified vehicles in the U.S. through the end of August, up 67.9 percent from a 2018 that had seen a record year of sales for those powertrains at 49,914 units.
"The Honda CR-V is the best-selling CUV over the past two decades and the updates we've made to the 2020 model, including a new hybrid-electric variant, solidify its position as a leader in the compact SUV market," American Honda automobile sales Senior Vice President Henio Arcangeli Jr. said in a statement. "The CR-V Hybrid also signifies our direction to bring Honda hybrid-electric technology to all core models and to invest in the production of electrified vehicles in America."
The National Highway Traffic Safety Administration has required all hybrid and electric vehicles manufactured Sept. 1, 2020, to make noise up to 18.6 mph or in reverse. A phase-in period has already started; as of Sept. 1, 2019, half of the hybrid or electric vehicles needed to be in compliance. The move is designed to keep pedestrians from overlooking and being struck by a vehicle without an internal combustion engine's noise.
Honda said it would stick a speaker in the front bumper to accomplish this.
"CR-V Hybrid models benefit from a new Acoustic Vehicle Alerting System (AVAS) designed to increase awareness by pedestrians when travelling under electric-only power," the OEM wrote. "A speaker mounted in the front bumper generates a distinct audible alert that varies in volume depending on vehicle speed and is easily noticeable to pedestrians, but nearly inaudible to the driver or passengers under most circumstances."
Honda said it mounted the "compact intelligent power unit (IPU), containing the hybrid battery pack and its control systems," under the cargo floor. It said the two-motor hybrid powertrain is the same as the one on the Accord Hybrid. However, the CR-V's will be able to use all-wheel drive — and St. Cyr said it will be standard on all trims.

Exterior
Honda also refreshed the CR-V's look for 2022.
"In front, broad openings for the fog lights are fully integrated into the bumper, giving the 2020 CR-V a more aggressive look, while the chrome grille is more pronounced," Honda wrote. "CR-V EX, EX-L and Touring trims get round LED fog lights, while CR-V Hybrid models in the same trims get distinctive bar-type fog lights with five LEDs. …
"In the rear, all CR-V trims feature sophisticated new dark-tinted taillights and a new dark chrome treatment for the garnish below the rear glass, better integrated with the more darkly tinted rear window."
Non-hybrids receive an exclusive new color option, "Aegean Blue Metallic." Both types of CR-V are able to use the two other new colors available, "Radiant Red Metallic" and "Sonic Gray Pearl."
The EX and EX-L also get a new wheel design, while the Touring trim gets a larger 19-inch wheel and an inch larger tire.
Honda said the hybrid will also receive another emblem and a blue version of the Honda logo on the grille.
More information:
"2020 Honda CR-V: America's Most Popular CUV Gets New U.S.-Built Hybrid-Electric Version, Standard Honda Sensing® and Freshened Styling"
Honda, Sept. 18, 2019
"Executive Remarks from the 2020 Honda CR-V Debut"
Honda, Sept. 18, 2019
"SUBJECT: POST-COLLISION DIAGNOSTIC SCAN AND CALIBRATION REQUIREMENTS FOR HONDA AND ACURA VEHICLES"
Honda, May 2019
Honda position statement: "DRIVER ASSIST / SAFETY SYSTEMS MAY FAIL UNLESS OE PARTS USED"
Honda, June 2018
Images:
The 2020 Honda CR-V Hybrid is shown. Note the blue color on the Honda logo. (Provided by Honda)
American Honda automobile operations Vice President Art St. Cyr speaks at the reveal of the 2020 Honda CR-V hybrid. (Provided by Honda)
The 2017 and 2020 Honda CR-V are shown. (Provided by Honda)
Share This: